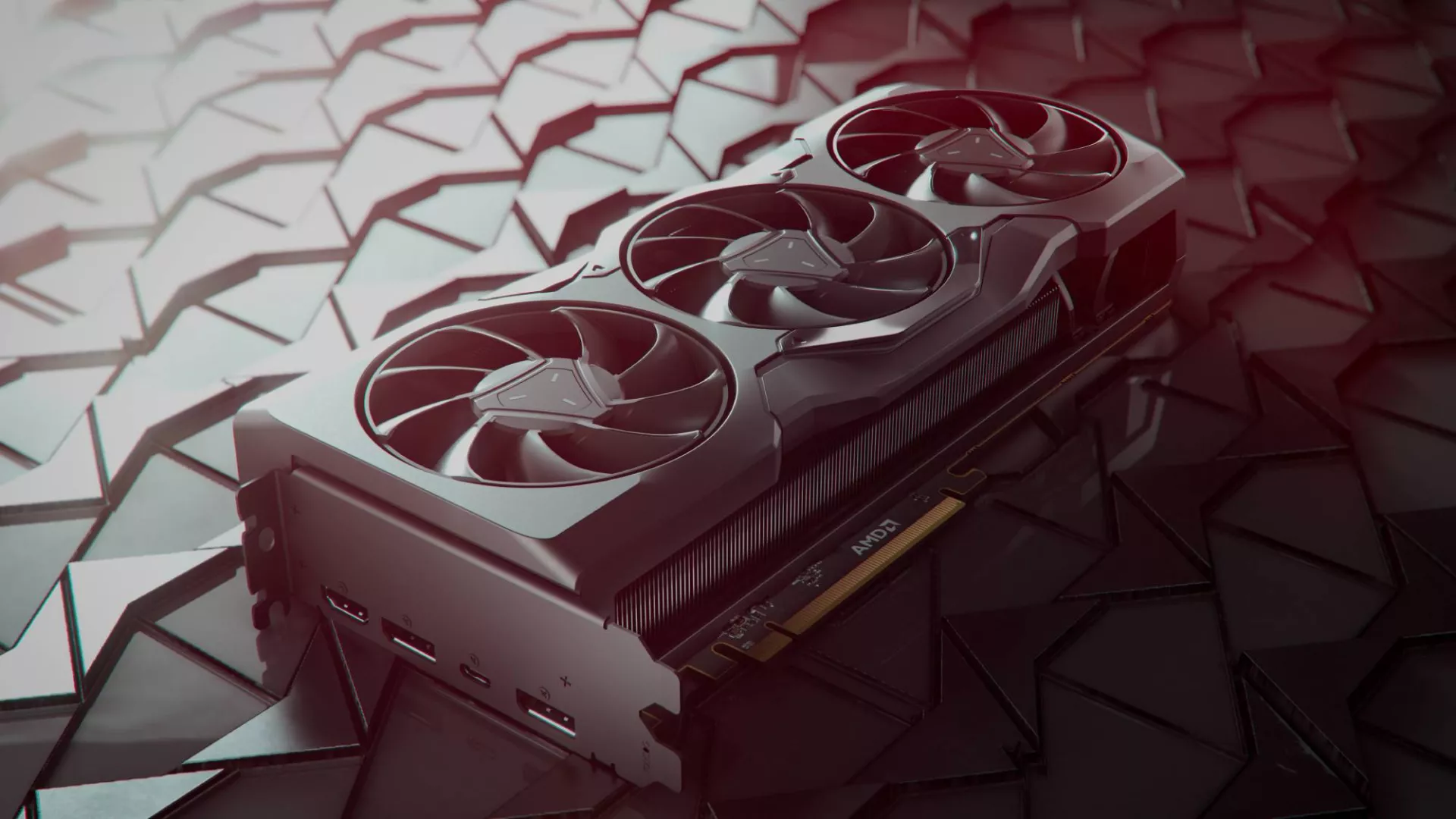 In the first slide of the show, AMD compares the Radeon RX 7900 XT and RX 7900 XTX to the GeForce RTX 4080, setting the "target" for its graphics cards in terms of performance and essentially showing users what they can expect in the performance department. . As you can see, the company is comparing RDNA3 Computing Units (CUs) to Stream Multiprocessors (SMs) in an NVIDIA graphics card, which is an interesting comparison.
Given that in the case of the RDNA3 architecture the compute unit includes 64 shader units and in the case of the NVIDIA Ada Lovelace architecture there are 128 CUDA cores per SM, as if AMD declares that 1 shader unit of its own is equal to 2 CUDA cores.
In another slide, AMD compares the "memory subsystem" of its graphics cards to the RTX 4080. The Radeon RX 7900 XT and Radeon RX 7900 XTX graphics cards have 20GB and 24GB of GDDR6 memory while the GeForce RTX 4080 has 16GB of memory. GDDR6X memory. The memory bus is also wider in the case of two AMD graphics cards, at 320-bit and 384-bit versus 256-bit for an NVIDIA graphics card.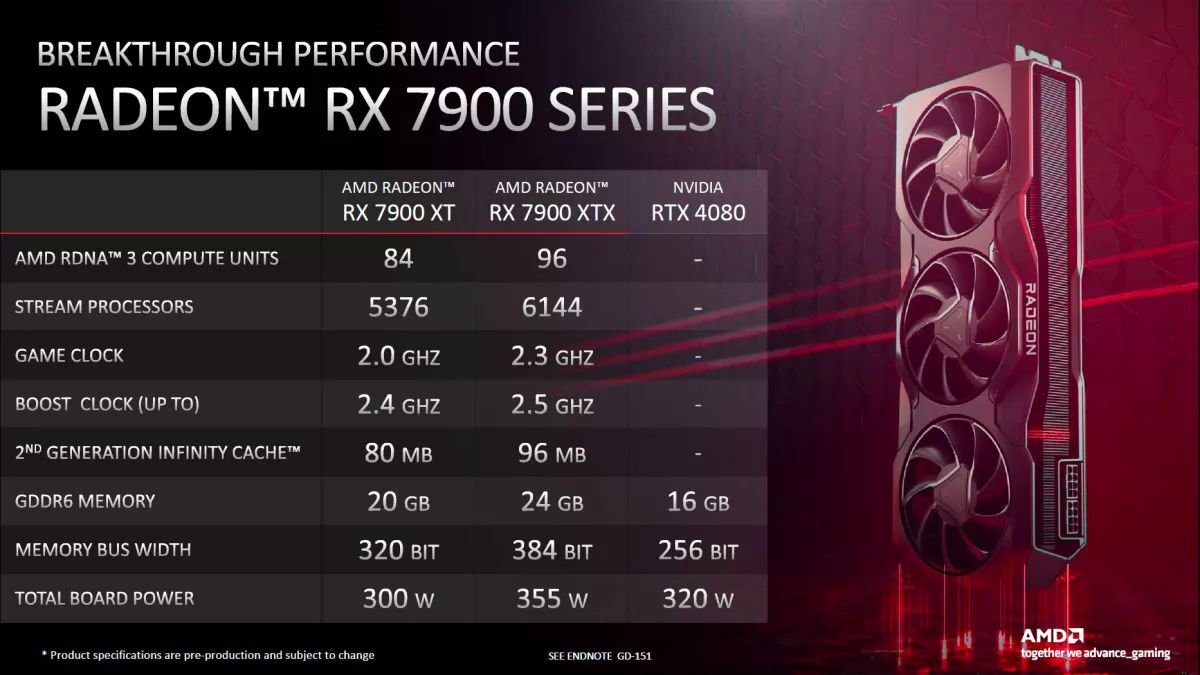 In the same slide, AMD in Phase 1 compares the theoretical performance of graphics card shaders (Shader FLOPs), with the Radeon RX 7900 XT and Radeon RX 7900 XTX performing 52 TFLOPs and 61 TFLOPs and the GeForce RTX 4080 performing 49 TFLOPs. It also reminds us that its graphics cards have a DisplayPort 2.1 connector, when the GeForce RTX 4080 is limited to DisplayPort 1.4.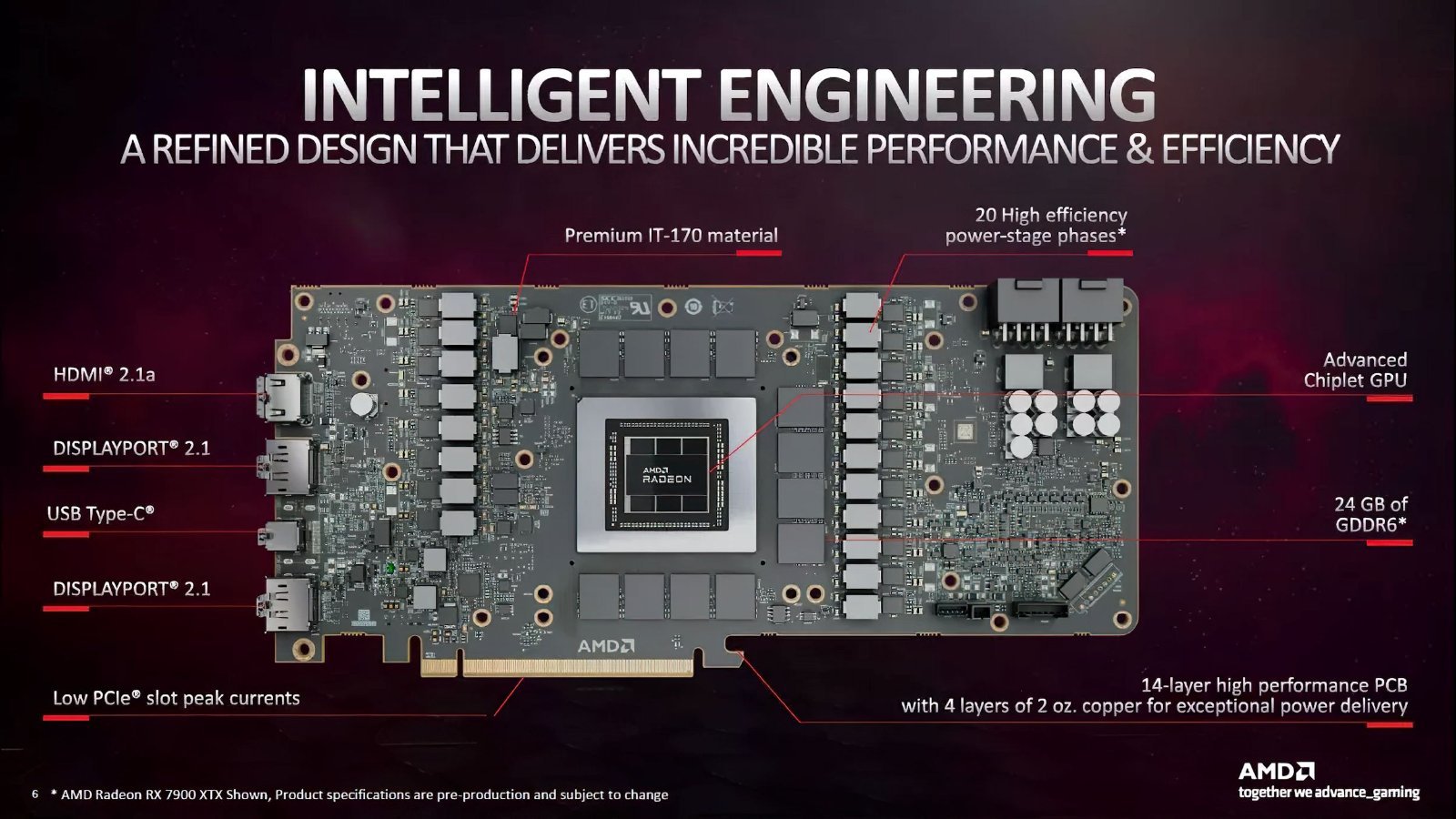 In the next slide, AMD notes that both the older Radeon RX 6950 XT and RX 7900 XT/XTX are shorter and thinner than the RTX 4080. Also, while NVIDIA's graphics card requires the new – and potentially problematic – 12VHPWR connector, AMD is still using Standard 2x 8-pin PCIe connectors.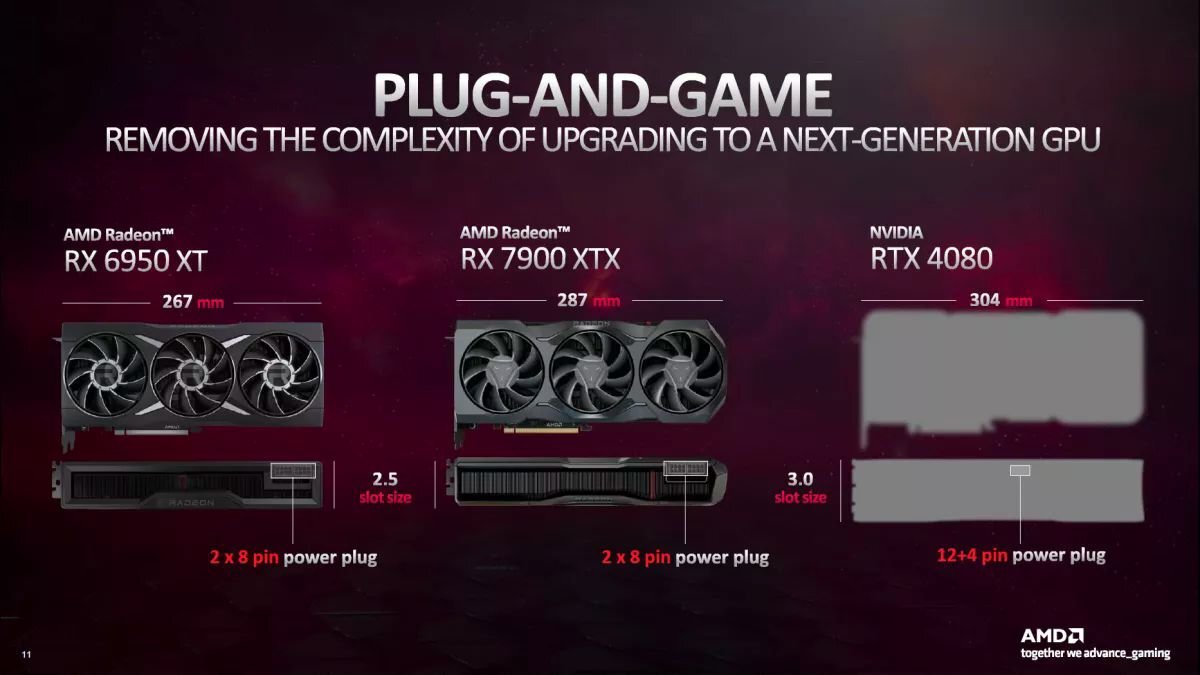 The Radeon RX 7900 XT and XTX also have USB-C (which the NVIDIA card doesn't offer) supporting a maximum video bandwidth of 54Gbps over UHBR 13.5 while the GeForce RTX 4080 reaches 32.5Gbps. AMD Radeon RX 7900 series graphics cards also support 8K at 165Hz and 4K at 480Hz while NVIDIA graphics cards support 8K at 60Hz and 4K at 300Hz.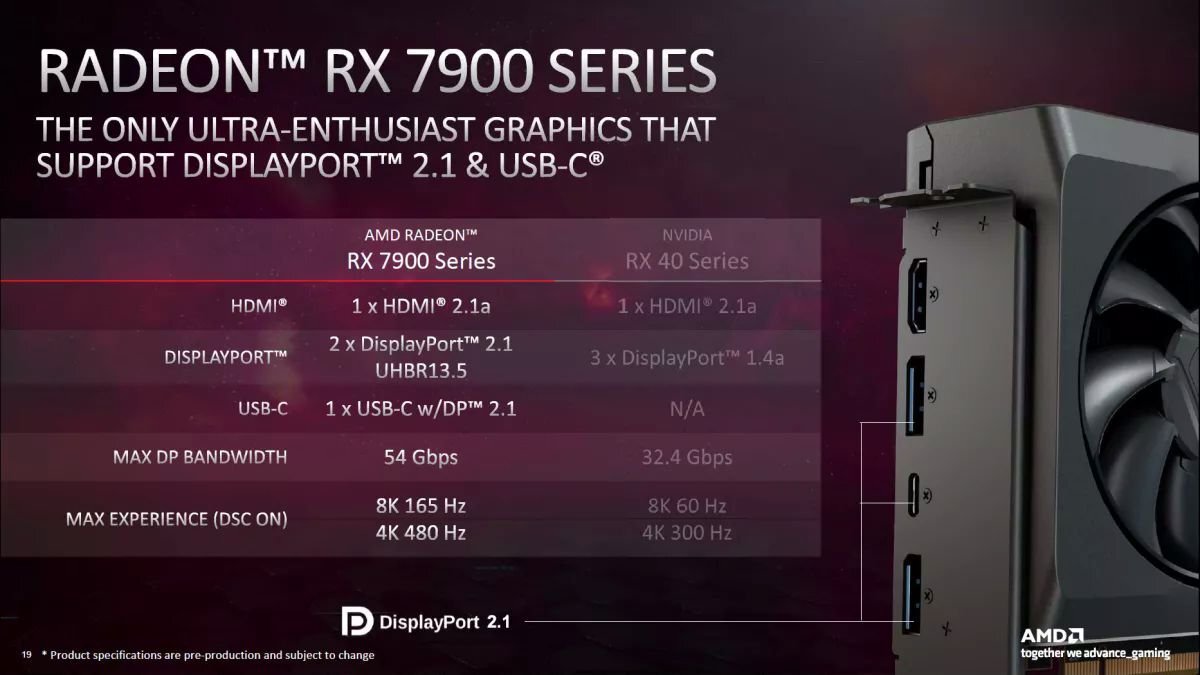 Continuing the presentation, AMD shares some benchmarks in several popular games/benchmarks highlighting that the new RDNA3 graphics cards deliver up to 67% improved performance in rasterizing workloads compared to the Radeon RX 6950XT and up to 82% higher performance in Workloads in ray tracing. Of course, it didn't fail to show performance with FSR on/off either.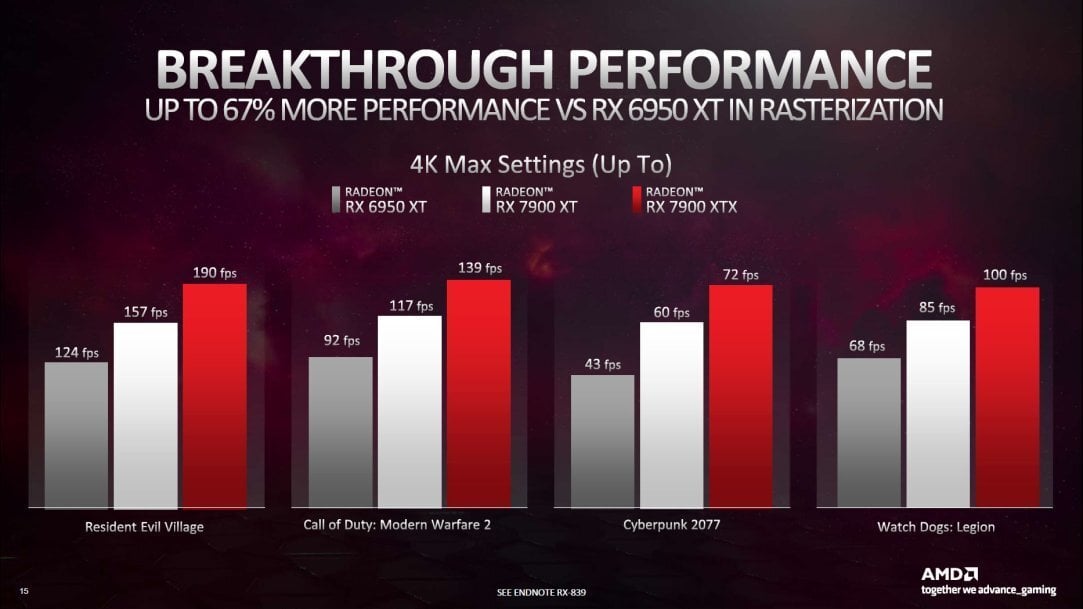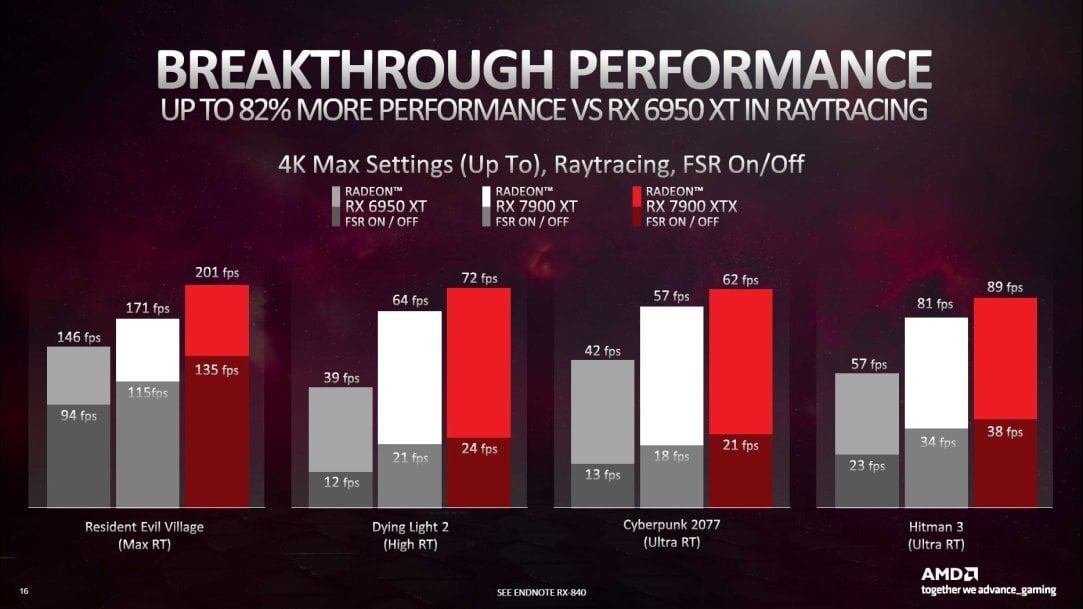 "Total alcohol fanatic. Coffee junkie. Amateur twitter evangelist. Wannabe zombie enthusiast."