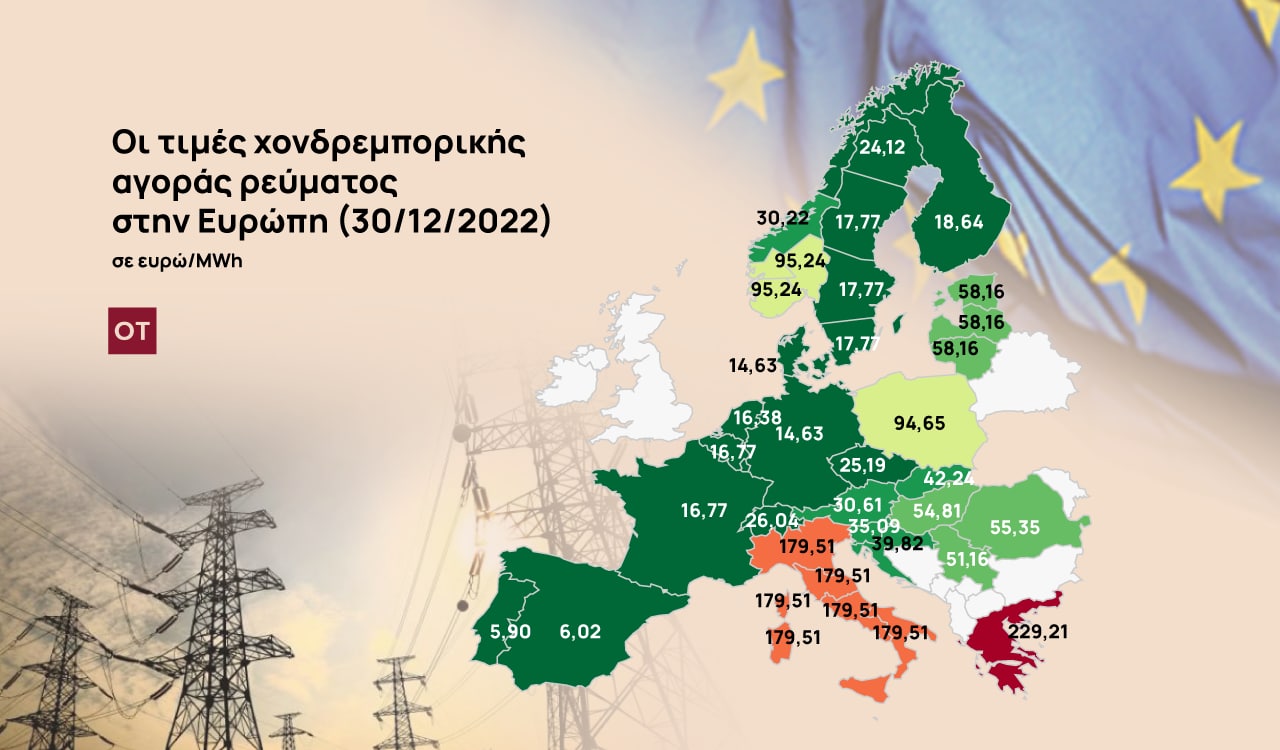 The Greek inconsistency with its values ​​appeared again ElectricityIn the last days of 2022, our country was the most expensive in Europe in terms of electricity market price But it is still among the cheapest states in retail, i.e. to households and businesses.
Electricity: price map in Europe
the prices
In particular, in recent days, the opposition parties SYRIZA and PASOK have highlighted with official statements the fact that Greece is more expensive than the rest of European countries in the wholesale electricity market. Even while TTF natural gas prices have fallen to low levels of €72-74 per MWh. Indeed, on December 30, 2022, the average electricity market price in Greece was €229.21 per MWh, in Spain only €6.02 per MWh, in Portugal €5.90, in Germany €14.63, in Italy €179.51. On December 31, again, prices between Greece and other countries had a chaotic difference: in Greece it was €284.49 per MWh, in Spain only €2.65, while in Germany it was negative -0.79 € per MWh.
The four reasons
But where are these differences attributed?
The large differences in prices are due to four reasons, as indicated by the competent players in the energy market.
Strong winds, RES and storage systems
1. In the rest of Europe there have been strong winds in the previous days. And in combination with the large number of wind farms, compared to our country, the energy mix was dominated by cheap RES. On December 30, for example, the share of renewable energy in electricity consumption in Greece was only 15.9%, while in Spain it was 75.2%, in Germany 84.4% and in Denmark 140.1%. For this reason, the wholesale price of electricity in Greece was the highest. Winds in Greece ranged from weak to non-existent. Only 100 MW wind turbines were operating for a total of 4 GW.
When she was in Europe on the above-mentioned day as well as the day before, there was a wind of such strength that all the wind farms produced electricity with a total capacity of more than 100 gigawatts. In addition, European countries have already developed electricity storage systems (batteries, hydropower, pumped storage) which has led to the availability of cheap electricity.
In our country, penetration of energy storage systems is still in the licensing stage.
And PPC's cheap hydroelectric plants currently have a small stake in the electricity system in order to conserve water reserves for a possible summer drought.
Pricing of natural gas and lignite
2. Also in Greece, as in other European markets, players in the natural gas market have a different approach to pricing the quantities of fuel they purchase for power generation units. They get the previous month's prices and not the spot market prices. Thus, gas in Greece for power plants in December was more expensive even though TTF gas was lower. Our country is favored with this model when TTF is expensive because it took the lowest prices in the previous month.
In addition, the degree of dependence of electricity generation on natural gas in Greece is high, around 40%. So gas units determine the wholesale market price. And this happens to a very large extent whether it's windy or not…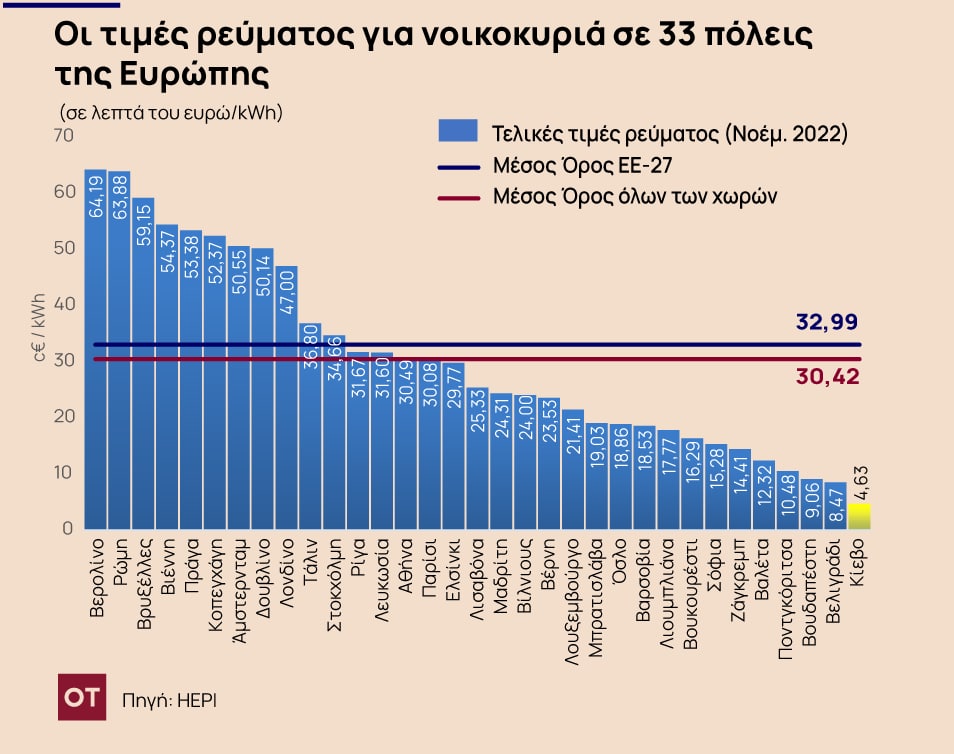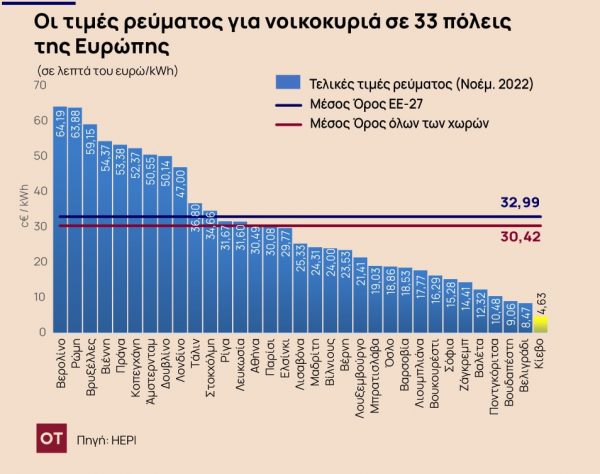 But also the increasing participation of the expensive lignite in power generation – which has been determined for reasons of security of supply – is driving up wholesale electricity prices. As long as RES remains in our country with a small participation in the system and as long as storage systems are not developed, prices in Greece will be higher compared to Europe.
International electrical connections
3. The international mains connections are of low carrying capacity.
Major projects, such as additional connectivity with Bulgaria, are now under development. Thus, our country lacks the ability to import more cheap energy.
According to market players, if the new electrical interconnection of Bulgaria had been implemented and additional 500 MW photovoltaics had been developed, the wholesale electricity price in Greece would have been €100 per MWh lower.
Support for electricity bills
4. However, despite the fact that wholesale prices are high, Greece, according to HEPI data, has one of the lowest electricity prices in Europe. This is due to the support policy followed by the government to provide relief to homes and businesses.
The result is that despite higher wholesale prices, household consumers and small businesses pay the lowest electricity rates in Europe, according to monthly HEPI surveys, reducing the burden of wholesale electricity increases.
"Avid problem solver. Extreme social media junkie. Beer buff. Coffee guru. Internet geek. Travel ninja."