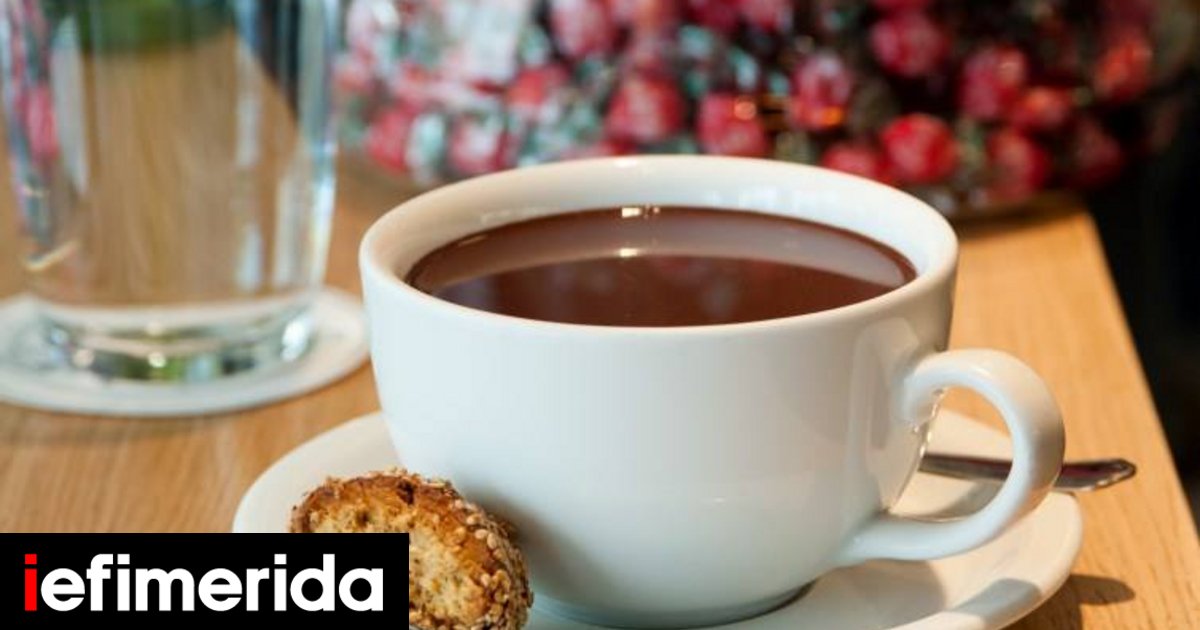 There is nothing better, when it's cold outside, than sitting in a coffee shop with a hot cup chocolate that evaporates.
It has a history of more than 2,500 years, of Mexican origin and countless legends that accompany the discovery and its course over time. Hot chocolate is sure to be a favorite winter drink, with its rich, sweet taste, and excellent aroma that always reminds us of something from our childhood.
And since there are no holidays without hot chocolate, that's also why we sought out our favorite flavor in the shops of Athens. The first stop is the dark side of chocolate. Next up is Sokolata 56. Then we go to Momo and continue to Clemente to finish with our beloved Petite Fleur.
We enjoy hot chocolate in the cafes of Athens
The dark side of chocolate
The old-fashioned café in Berlin has been generating interest and drool for years in the center of Athens.
A few of the tables in the place remind something of the movie Chocolat, the chocolates in the window, the smell of chocolate everywhere and in the background the workshop counter where exquisite desserts are prepared on the spot.
There, on the ground floor of a 1930s apartment building, Aristotelis Panagiotaros, senior chocolatier and beloved owner of The Dark Side of Chocolate, creates incredible masterpieces. In addition to the chocolates in the catalog, he can make chocolates for you on the spot with your favorite ingredients.
Always with organic milk and Valrhona chocolate. White or bitter with caramel and salt or pepper, whatever you try you will enjoy it until the last sip. But his coffee also comes from handpicked varieties from small producers.
Where: The Dark Side of Chocolate, Solonos 49, Athens
socolata 56
Lovely Lilliputian shop inside Bolani arcade in central Athens that has the atmosphere of an old French bistro and specializes in chocolate with authentic Valrhona.
In the catalog of this small chocolatier, decorated with retro elements, you will find dozens of types of couverture, among them milk chocolate with a velvety texture and intense aroma of natural caramel, as well as manjari, dark chocolate with an acidic taste and low in fat, from Madagascar.
where: socolata 56Voulis 7, Athens
Momo
Mòmo is located in a detached house with a patio and has been in operation since December 2013. Dark wooden furniture, open kitchen and a cute courtyard with lemon trees you can't get enough of.
Hot chocolate can be copious, devilish, from melted pieces of real milk chocolate, healthy, white, vinoise, flavored, bailey, alcoholic.
It pairs perfectly with Momo's delicious cakes and pastries made daily, or with a fabulous weekend brunch.
where: MomoSapfous 95, Kallithea
Clement VIII
Where the historic Brazilian place once stood, Clemente VIII is located today and serves delicious chocolates giving the impression that one is, if only for a moment, in Vienna.
In fact, the chocolate here is heated in a Marie bath at the time of ordering and served smooth and creamy with Valrhona chocolate at just the right temperature.
where: Clement VIII3 Bucharest Street, Athens
little rose
The chocolate doll that started from Kolonaki and continued its journey to Chalandri, Kifisia, Volos and Corfu, constantly looking for new stops.
Like all magical spaces, Petit Fleur promises unprecedented sensations for the eyes, nose and palate.
Low lighting, warm colours, classic furniture, a piano, familiar and family photos and scents take you on a magical trip to Paris. The touch that completes the fantasy atmosphere of Petite Fleur, is the jazz that pops from vinyl records on an old record player and gives notes and melodies to the atmosphere.
As for the hot chocolate, it is aromatic, delicious and thick. It's made with authentic, organic French Valrhona chocolate, traditionally prepared at a Marie's Bath from original chocolate bars and organic milk.
The aroma of melting chocolate envelops the place and awakens all the senses. Mix it with orange and pink pepper or with natural vanilla extract and add a different touch to its taste.
Where: Petit Fleur, Omerou 44, Kolonaki, Agios Nikolaos Square 2, Chalandri, Agioi Theodoron 4, Kifissia Charilao Trikopi 146 and Struviliou Nea Erythrea, City Hall Square, Corfu, Takis Okonomaki 54B, Volos
Hot chocolate has its own story
Have you ever thought about the origin of this sweet drink? The history of hot chocolate goes way back, and the drink itself has changed over the years, from cold and spicy to warm and sweet.
Hot chocolate started its journey from Mexico
As early as 500 BC, the Mayas drank chocolate made from ground cacao beans mixed with water, cornmeal, and chili peppers (plus other ingredients)—a very different version of the hot chocolate we know today. They stirred the drink by pouring it from a glass into a bowl until a thick foam formed and then enjoyed the drink cold. Although the chocolate drink was available to all classes, the upper social classes drank it from large pots with spouts, and were later buried with them.
In the early 16th century, explorer Cortez brought cocoa beans and tools for making chocolate to Europe. Although the drink remained cold and tasted bitter, it gained popularity and was adopted by the court of King Charles V as well as the Spanish upper class. After its introduction to Spain, the drink began to be served hot, sweet, and without chili. The Spanish were "overprotective" of their new discovery and it took over a hundred years for the news to spread across Europe.
When it arrived in London in the 18th century, chocolate shops (similar to today's coffee shops) became very popular and fashionable, even though chocolate was very expensive. In the late 1700s, the president of the Royal College of Physicians, Hans Sloane, brought back from Jamaica a recipe for mixing chocolate with milk, which he thought made the drink more palatable. The others agreed and the English began adding milk to their chocolate.
Until the 19th century, hot chocolate was used as a remedy for stomach and liver diseases, as well as a special drink. Today we enjoy it as a perfect companion and sweetest company, for cold winter days and relaxing moments at home.
follow her on Google News and be the first to know all the news
Find out the latest news from Greece and the world at
"Hipster-friendly coffee fanatic. Subtly charming bacon advocate. Friend of animals everywhere."