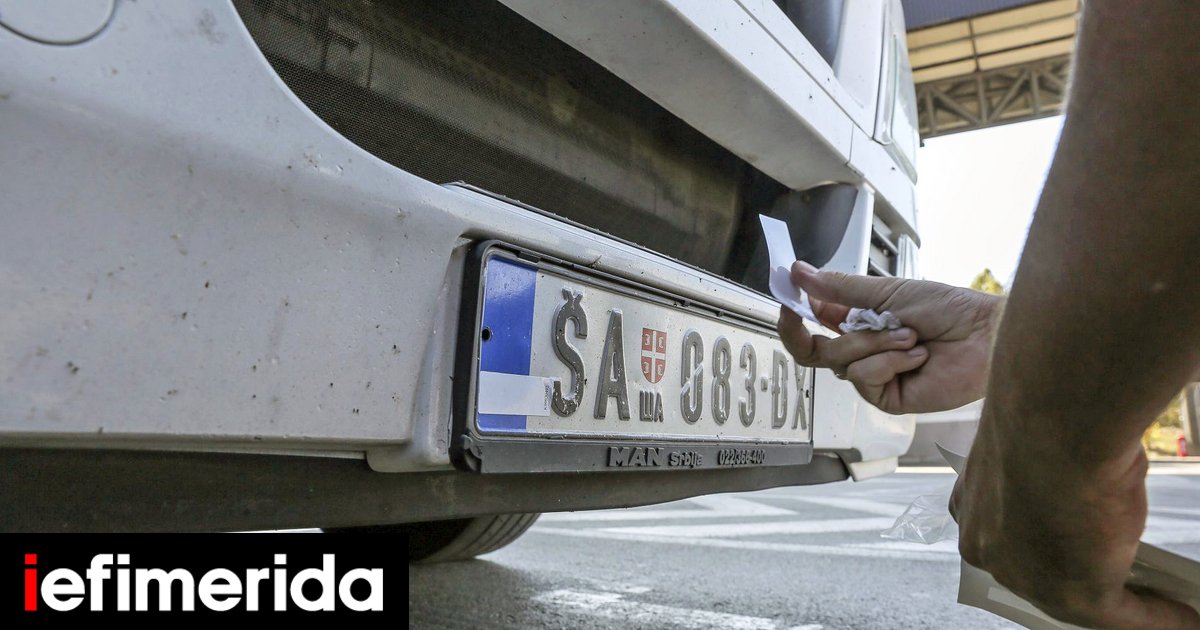 disagreement between Kosovo And Serbia on the occasion of … car license plates raises concerns of a new round of tension in the region.
This controversy about Kosovo car license plates It threatens open unrest and one of the worst regional crises in years, as tensions between Serbia and its breakaway former province continue to rise.
Tensions are running high over plans to fine Kosovo Serbs who refuse to hand over plates issued by Belgrade.
The European Union, the United States and NATO expressed concern after more than eight hours of emergency talks in Brussels on MondayThey managed to resolve the conflict On Kosovo's plans to fine Serbian residents who refuse to hand over Belgrade paintings.
Extension of 48 hours to implement the procedures
Hours before the 7 a.m. deadline for police to begin issuing a €150 fine, Kosovar Prime Minister Albin Kurti agreed early Tuesday to delay enforcement of the law for another 48 hours. , saying he was "happy to work with the United States and the European Union" to find a solution.
Josep Borrell, the European Union's foreign policy chief, said the two sides had shown "total disrespect for their international obligations" and would bear "full responsibility for any escalation of violence that may occur on the ground in the coming days".
US State Department spokesman Ned Price expressed Washington's concern, calling on both sides to make "concessions to ensure decades of hard-won peace are not jeopardized in an already fragile region."
NATO Secretary General Jens Stoltenberg, who maintains a 3,700-strong peacekeeping force in Kosovo, said he was "disappointed that the license plate dispute could not be resolved" and urged "practical solutions" to avoid any escalation.
Pristina-Belgrade conflict

As reported by The Guardian, tensions have flared between Belgrade and Pristina in recent weeks as the issue of license plates has become the focus of a long-running dispute over Kosovo's sovereignty dating back to Kosovo's official declaration of independence in 2008.
While about 100 countries have recognized Kosovo, which has a population of 1.8 million with an Albanian majority, and has been granted membership in several international organisations, Serbia and its main allies Russia and China, they refuse to do so.
Serbia's constitution defines Kosovo as part of its national territory, and many of the approximately 50,000 Serbs in the north of the former province remain fiercely loyal to Belgrade, providing them with significant economic and political support.
Locals in about a dozen Serbian enclaves reject the authority of Pristina, fly the Serbian flag, use its currency, and some 10,000 of them steadfastly refuse to exchange their pre-independence Serbian license plates for new ones from the Republic of Kosovo.
Pristina has begun implementing a plan to remove Serbian license plates in several stages. From warnings and fines to a curfew on 1 November, this led to strong resistance and mass resignation of the Serbian police, judges, prosecutors and other officials in Kosovo.
Serbian President Aleksandar Vucic, who Kosovo accuses of deliberately fomenting tension, warned of "hell on earth" if Kosovo police tried to impose fines or bans, and warned that the two sides were "on the verge of conflict".
The European Union calls for restraint and dialogue

The EU had proposed a compromise that could have avoided escalation, Borrell said, but while Vucic accepted it, Kurti, who wants broader negotiations to normalize relations, did not.
The EU foreign policy chief said the situation sent a "very negative political message" as both sides set their sights on EU membership.
Borrell called on Pristina to suspend all further steps to re-register vehicles in northern Kosovo and on Serbia to stop issuing new license plates. He stressed that the two sides needed "space and time to search for a sustainable solution."
Is the Kremlin fueling tension?
The renewed tension in the region, centered on the conflict between Kosovo and Serbia, hides in the eyes of many Russia's fingers in fueling the conflict in the region. The Balkans, the "benefactor" of the conflicts, is the "storehouse of silk" in Europe. At least that is the nickname they have earned after decades of armed conflict and the large-scale intervention of powerful international players.
What's more, the Balkan countries' approach to the European vision and NATO is a development Moscow does not like, which It depends on countries like Serbia To maintain its traditional foothold in the region and form a favorable environment for it.
follow her on Google News and be the first to know all the news
Find out the latest news from Greece and the world at
"Hipster-friendly coffee fanatic. Subtly charming bacon advocate. Friend of animals everywhere."