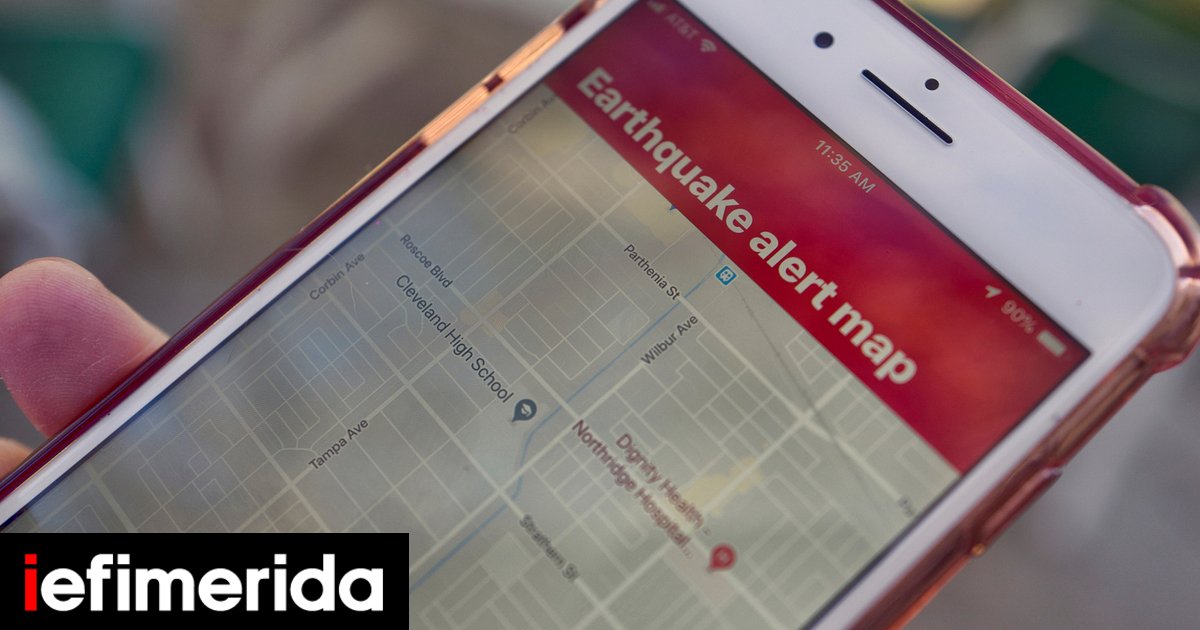 Technology, when used properly, can improve our living conditions, or even save our lives from dangerous weather or weather earthquakes.
The daily life of many people, all over the world as well as in our country, has improved significantly in many aspects in recent years. We can remember how it worked dating platform On coronavirus vaccines, for example, how red tape has been largely bypassed through "gov.gr", But also how automatic notifications reach our mobile phones when there are dangerous weather phenomena in our area, from "112".
A cardiologist explains why we have a huge increase in heart attacks after a major earthquake
New consecutive earthquakes in Evia, with a magnitude of 3.9 on the Richter scale – the population is alarmed
its inhabitants Evia and areas affected by the latter intense seismic activity They got a notification on their cell phone that looked like "112", but it came from the giant Google. This is a relatively new system for the American company, which alerts residents of areas where earthquakes are recorded as they occur.
This feature was developed with the help of seismologists and began testing in the United States, in the seismic zone of California, in the summer of 2020. Thus, users of Android devices who were in California at the time of the earthquake received a relevant notification on their mobile phones. Moreover, in such cases, speed is of particular importance, because early warning can save lives.
How does Google's earthquake warning system work?
according to Related post In the company, the earthquake warning function uses the capabilities of "smart" mobile phones (smartphones). All phones of this type have an accelerometer that receives a signal with every movement and tries to interpret it. When a movement indicates a seismic vibration, the mobile phone sends a signal to Google's own server, with the characteristics of the movement but also with the "stamp", with the coordinates where the smartphone is located.
Google's servers combine all signals of this type that they receive from many different phones in an area to determine if this is indeed an earthquake. In this case, users receive a notification about the earthquake as it is happening.
"Essentially, we are running at the speed of light (which is the speed at which signals from a cell phone travel) versus the speed of an earthquake. Fortunately for us, the speed of light is much faster," Google wrote.
Initially, using these technologies, Google could inform Internet users that an earthquake had occurred in their area when they typed terms such as "earthquake" or "earthquake near me" into a search engine. But now, starting in California, the company has started sending notifications to Android mobile users.
Google Alerts for the earthquake in Evia
Indeed, from previous years, enthusiastic netizens wrote that they saw on their mobile phones that there was a tremor in the area they were in, after they typed in Google search "earthquake now" or something similar.
However, now, recently Evia earthquakesMany received a notification on their mobile phones at the time of the earthquake, indicating the estimated intensity of the tremor and indicating the area in which it occurred. "However, Google sent me a notification at the time of the earthquake. You?" one Twitter user wrote in a post.
See the notification about the Evia earthquake that a resident of the area received:
follow her on Google News and be the first to know all the news
Find out the latest news from Greece and the world at
"Avid problem solver. Extreme social media junkie. Beer buff. Coffee guru. Internet geek. Travel ninja."