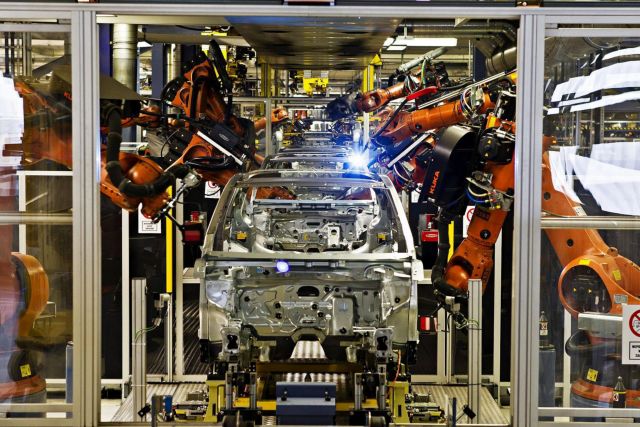 Greece is one of the last countries in Europe to manufacture vehicles or their main components as it does not have a single plant belonging to any of the major manufacturers of the old continent – and it is a member of the Association of European Automobile Manufacturers (ACEA). At the same time, in other small and large countries, there is literally a "party" for such investments.
Cars: The use of robots is constantly expanding
This applies not only to vehicles with conventional internal combustion engines, but also to hybrid and electric vehicles and their engines, as shown in the latest data from ACEA, for member plants in Europe.
For decades, the governments of more or less investment-friendly countries have tried to attract companies in this sector. However, the structural weaknesses of the economy, taxation, transport and logistics networks, and other factors seem to have failed to convince automakers – which have nonetheless chosen other small economies and neighboring Turkey to build expensive production units there, creating corresponding jobs.
The unity of Greece in the map of manufacturers of conventional and electric cars, vans, buses, trucks, motors and electric motors in Europe is evident in the ACEA map presented by OT today. The figures do not include the powertrain, body, or component manufacturers of other vehicles.
These are the factories of BMW Group, DAF Trucks, Daimler Truck, Ferrari, Ford of Europe, Honda Motor Europe, Hyundai Motor Europe, Iveco Group, Jaguar Land Rover, Mercedes-Benz, Renault Group, Toyota Motor Europe, Volkswagen Group. and the Volvo Group. Stellantis (Abarth, Alfa Romeo, Chrysler, Citroën, Dodge, DS, Fiat, Fiat Professional, Jeep, Lancia, Maserati, Mopar, Opel, Peugeot, Ram, Vauxhall) have decided to leave ACEA as of this year.
the after that It also displays the detailed map of assembly and production units for conventional and electric vehicles, vans, buses, trucks, motors and electric motors across Europe, by category. As Europe, ACEA refers to the 27 European Union countries, namely Belarus, Kazakhstan, Skopje, Russia, Serbia, Turkey, Ukraine, Britain and Uzbekistan.
According to the analysis of this data, there are currently 322 such production units for ACEA members, up from 301 in 2021. Of these, 213 are in EU countries, up from 194 in 2021. 127 produce cars and 71 Buses, 56 heavy trucks and 46 light trucks (vans). There are also 71 motor and electric motor manufacturers, while another 42 manufacture batteries. ACEA member car manufacturers manufacture such products in 17 EU countries.
Great investment opportunities
The issue of investing in cars, vans, buses, trucks and their important components becomes more important at a time when car manufacturers are thinking of establishing new production units and almost all countries are interested in hosting them on their lands.
It is interesting that even countries with a leading position in car production, such as Germany and France, are doing their best to bring more such factories to their lands, realizing the importance of this in a rapidly changing world.
batteries
In addition to assembling or producing entire vehicles, there is also a lot of interest in Europe and the rest of the world in battery plants. Companies and governments recognize the importance of these production units for energy security, lower costs and immediate availability of batteries for new generations of electric and hybrid vehicles, which has sparked a major discussion at European Commission level to provide corresponding incentives.
"Avid problem solver. Extreme social media junkie. Beer buff. Coffee guru. Internet geek. Travel ninja."