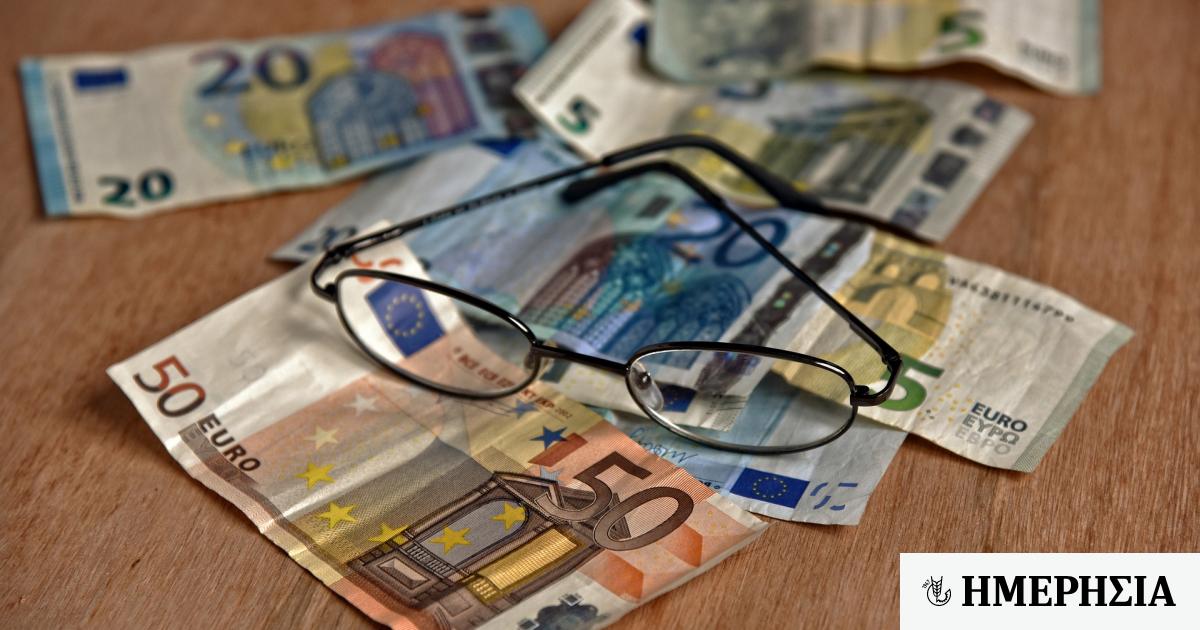 Keep going Until December 23rd payments To the millions of workers, pensioners, the unemployed and recipients of OPPA benefits, as well as vulnerable families, who before Christmas will have a check on punctuality and Double allowance, while the first installment for heating allowance is to be paid tomorrow, 21st December.
starting with heating allowance, The first installment for all purchases is due tomorrow, December 21, 2022which is billed through November 30, 2022 provided the required information is entered MyHeating Until December 9, 2022.
Payment of pensions and allowances
On Wednesday, December 21st The amount of €583.5 million will be paid to 946,045 beneficiaries of the main and additional January pensions for retirees of the former entities OAEE, OGA, NAT, ETAA, ETAT, ETAP-MME and PPC.
she has Thursday, December 22nd 775 million euros will be paid to 1,523,920 state pensioners IKA-ETAM, From Banks and OTEwhose AMKA ends in 1, 3, 5, 7, and 9.
she has Friday 23 December 520 million euros will be paid to 1,527,420 state pensioners, IKA – ETAM, banks and OTE with AMKA ending in 0, 2, 4, 6 and 8.
same day (Dec 23rd6.6 million euros will be paid to 17,750 beneficiaries of the pension advance for the month of January, in the context of Law No. 4778/2021
Also, 23.3 million euros will be paid to 800 beneficiaries after the issuance of the lump sum decisions.
13 million euros will be paid to 37,740 beneficiaries as cash benefits
As part of the e-EFKA Emergency Payments, emergency financial assistance of €250 will be paid on Tuesday 20 December to 947,560 vulnerable retirees. The total amount of this payment is 236.8 million euros.
During the same period, DYPA will make the following payments:
17 million euros for 42,000 beneficiaries to pay unemployment benefits and other benefits
21 million euros for 5,000 beneficiaries under subsidized employment programmes
1 million euros to 4,000 mothers for subsidized maternity leave.
€1 million to 2,000 beneficiaries of public benefit programmes
In addition, the payment continues Exceptional financial aid of €250 (a process that started last week with the opening of the DYPA platform to provide the necessary data) To the unsupported long-term unemployed who have completed 12-24 months of continuous unemployment.
OPCA will make the following regular payments from welfare benefits for the current month today, Tuesday, December 20:
155.3 million euros to 821,577 beneficiaries of family benefits for children
71.5 million euros to 175,185 beneficiaries of disability benefits (disability and dependency)
47.7 million euros to 224,676 guaranteed minimum income beneficiaries
33.8 million euros for 274,373 beneficiaries of the housing allowance
12.5 million euros for 35,305 beneficiaries of the uninsured elderly pension
12.3 million euros for 12,291 beneficiaries of maternity allowance
247,694 euros to 817 beneficiaries of the housing assistance allowance
210,263 euros to 5,963 beneficiaries of the expatriate allowance
175,522 euros to 221 beneficiaries for uninsured funeral expenses
It is indicated that in December 30th will take place in Regular payments December for:
State contribution to the "GEFYRA" program credits due to COVID-19 (121.530 € to 730 beneficiaries)
State contribution to loans in the context of main residence protection (330,140 euros to 4,090 beneficiaries)
Today too Tuesday 20 December Payment will be made by oppa she has Once Emergency financial assistance Established for disabled and uninsured seniors and beneficiaries of a guaranteed minimum income and child benefit, as follows:
€34.9 million will be paid to 139,893 disability allowance beneficiaries as part of a €250 increase in related welfare benefits.
8.2 million euros will be paid to the 32,895 beneficiaries of the uninsured elderly allowance, as part of the said benefit increase of 250 euros.
€47.7 million will be paid to 224,938 guaranteed minimum income beneficiaries as part of the double installment payment for this benefit for the month of December.
€118 million will be paid to 820,047 family child benefit beneficiaries, as part of a one-off financial support that corresponds to an additional one and a half month installment of the child benefit. The amount of assistance amounts to 105, 63 or 42 euros per child for the first and second child, depending on the amount of income, and 210, 126 or 84 for the third and for each subsequent child. The exceptional installment will be paid on Tuesday, December 20, to benefit beneficiaries during the fifth two months of 2022. It is indicated that the assistance will be paid to other new beneficiaries of the child benefit for the year 2022, after the approval of each of them. Application.
Finally, the Central Service of the Ministry of Labor and Social Affairs will pay the following payments on Wednesday, December 21:
1,461,236 euros for 36,626 beneficiaries – employees included in the 2022 "Cooperation" mechanism
€ 1,082,882 for 5,258 qualified workers, included in the New Jobs program for the first placement of young people aged 18-29 years old "First information"
€846,068 for 6,428 beneficiaries (institutions – employers), covered by the New Jobs Program for First Employment for Young People aged 18-29 "First Notice"
425,128 euros for 2,429 companies to support new jobs (subsidy program 100,000 + 50,000 new jobs)
€ 239,124 for 501 beneficiaries of special purpose compensation (€ 534), whose contracts were suspended in the fur sector, the month of November and the flood victims in Crete for the months of October and November
"Avid problem solver. Extreme social media junkie. Beer buff. Coffee guru. Internet geek. Travel ninja."