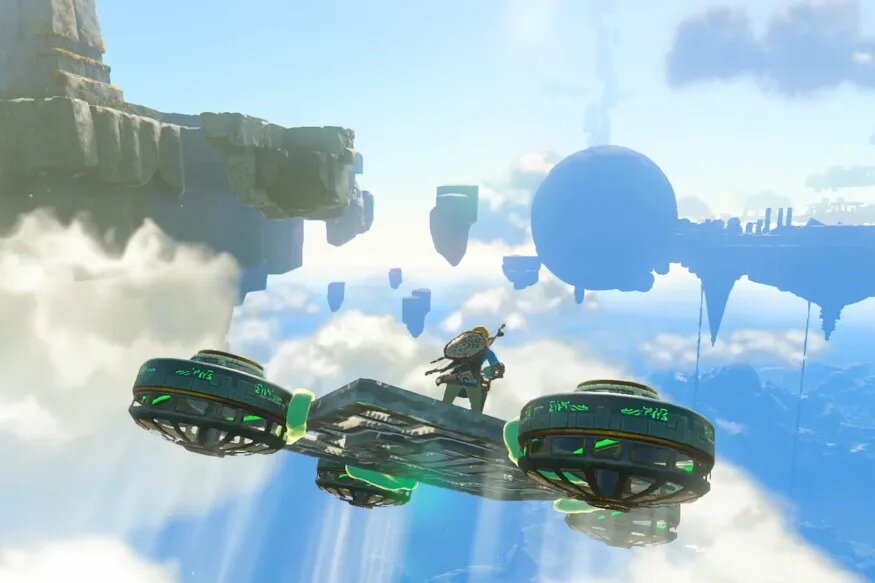 More specifically, producer Eiji Aonuma, after confirming that the game's development has been completed, notes that the fusion of objects (fuses) plays an important role in the game. You can craft more powerful weapons, even crafting vehicles like speedboats and hovercraft. Enemies can also use fusion weapons, but you shouldn't be so sure that your preferred battle strategy will work.
The video also shows a way to reach the floating islands above Hyrule (using the recovery ability on the Elevator Stone) and what happens if you fall or jump. You're in complete control all the way, so you can glide across long distances or land on the ground. Many of the mechanics look familiar, so you won't have to re-learn the basics.
Unsurprisingly, Nintendo is planning something special for Legend of Zelda fans, releasing a special edition console (pictured). Specifically, the Japanese company will release Tears of the Kingdom OLED Switch at a price of $360 on April 28th, several days before the release of the game that is scheduled for May 12th. Unfortunately, you won't get a copy of the new Zelda, but you will get the rich visuals on the Switch, the Joy-Con controllers, and the docking station that comes from the game. If you already own a Switch, you can also purchase the Tearsedition Pro Controller ($75) or Carrying Case ($25).






2










1




"Total alcohol fanatic. Coffee junkie. Amateur twitter evangelist. Wannabe zombie enthusiast."