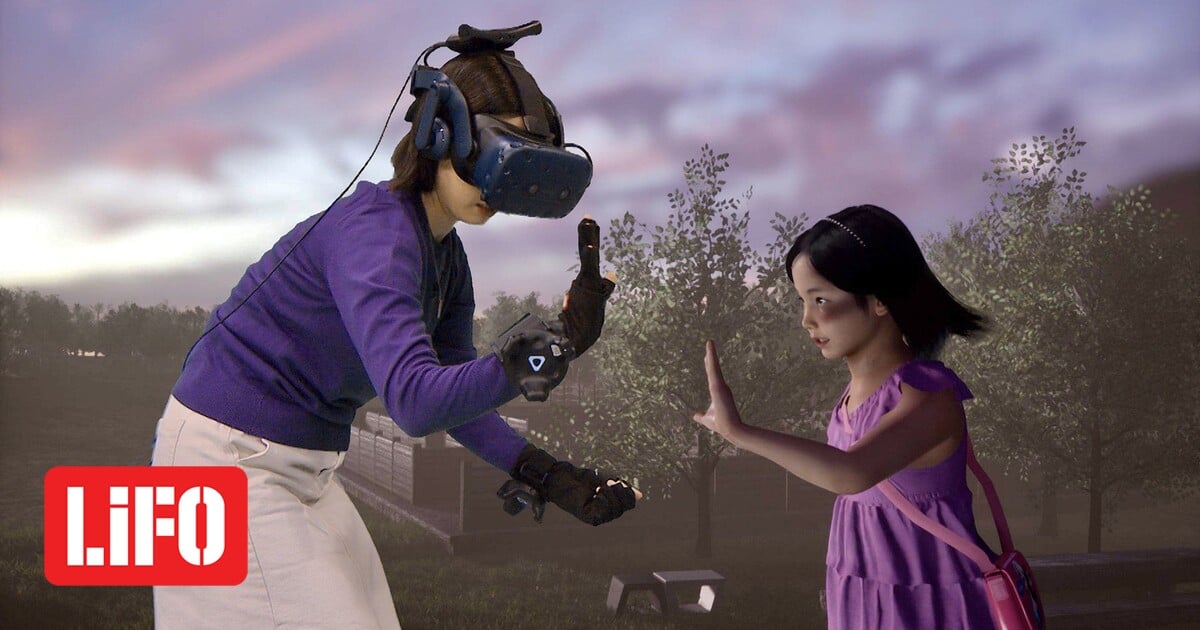 In 2020, a Korean documentary team invites a mother who lost her 7-year-old daughter to a terminal illness to attend their show.
The girl's death was so sudden — she died a week after her diagnosis in 2016 — that her mother, Jang Ji-sun, didn't get a chance to say goodbye. For three years she was obsessed with losing her daughter.
Documentary Producers "meet you" They created a digital representation of the child, which the mother could see through a virtual reality headset (TV audiences could also see an image of the daughter).
In the show, the hypothetical girl, Na-yeon, appears from behind a pile of wood as she runs towards her mother, calling her "Mom!". The mother breaks down in tears, saying, "Mom I missed you so much, Na-yeon!". Reportedly, the entire pose video has received 19 million views. Although the experience was traumatic, the mother told The Korean Times that she would do it again if she could. He finally had the chance to say goodbye to her.
"I was worried about the mother's reaction" to the digital daughter, Kim Jong-woo, the producer of the documentary, told the newspaper. "No matter how hard we try to make the character similar, Mother can still tell the difference. But he said he was pleased to see even a little bit of backlash from Na Yeon."
People have always sought to contact their loved ones after their death. For centuries, people have often tried to contact the dead by photographing or drawing their deceased children, for example. Perform rituals to summon their spiritseven keeping the body in the house for generations to come.
But artificial intelligence and virtual reality, along with other technological advances, have brought us a giant step closer to bringing the dead back to life, if only in hologram form.
"Keeping connected to something I love is very key for people," Sherman Lee, associate professor of psychology at Christopher Newport University and director of the Pandemic Grief Project, told Newport News.
Staying in touch with a loved one — like listening to old voicemails, watching old videos, and communicating with chatbots that can speak in a loved one's voice — can provide some relief. But It can also exacerbate grief, especially for those whose loved ones have committed suicideThis is how the loss is revived again, some research shows.
"If you're asking me if it's helpful to watch videos of your deceased husband every night instead of re-engaging with the world and spending that time with your friends and family? No, I don't think it's helpful," he told me. "But would it be worth deleting all the videos? That would make the grieving process worse."
Science is concerned with connecting the bereaved with their loved ones. For example, O Hossein Rahnamaa professor at Metropolitan University in Toronto and research associate at the Massachusetts Institute of Technology's Media Lab, created a platform called Enhanced immortality (Enhanced Immortality), which allows a person to create a digital persona from the deceased person's photos, texts, emails, social media posts, public statements, and blog entries. This character will be able to interact with relatives and friends.
Rahana says this can work great for young people, especially those who post almost everything they do online. But not so much for the elderly. Yet he receives letters almost weekly from people whose loved ones are dying and wondering if there is a way to keep something from them alive, even digitally.
However, it appears that Rahna is not alone in the game. At the beginning of the summer, Amazon introduced a feature it was developing for Alexaaccording to which the digital assistant will be able to read stories in the voice of a deceased loved one, having heard only a minute of his speech.
Several other entrepreneurs active in the field of artificial intelligence, such as Mr HereAfter James Vlahos ai and h Eugenia Koedawho co-founded AI startups Luka and Replika, have focused their efforts on creating digital representations.
HereAfter interviews its users before they die, and records the stories and memories they remember. After their death, family members can ask questions and the app answers in the voice of the deceased, using the accumulated interview information, as if they were participating in a conversation.
HereAfter CEO Vlahos said he was excited to start the company after creating the chatbot – OR dadbotas he calls it — from about a dozen hours of recordings he made with his father after he was diagnosed with lung cancer in 2016.
For a similar reason, Kuyda created a chatbot for her good friend and roommate, Roman Mazurenko. On one of their trips, Roman was killed and contemplated using the 10,000 messages they had exchanged between them, as well as the text messages he had sent others.
To preserve and honor his memory, I created an app, named after him, that responded in writing just as he did. After making her app public, she was asked to create similar chatbots for other people as well.
Psychologists say that creating a virtual version of a lost loved one can be therapeutic, especially in unresolved cases. But can this lead to a person being stuck in this virtual world?
However, some grief therapists encourage their clients to write to or talk to loved ones, as if they were talking to a bereaved person.
So if used properly, digital reality can help heal the trauma of loss. But it probably creates an illusion, where the person in pain is trapped. But the danger of addiction has never stopped software development. the opposite.
With information from The Washington Post
"Total alcohol fanatic. Coffee junkie. Amateur twitter evangelist. Wannabe zombie enthusiast."