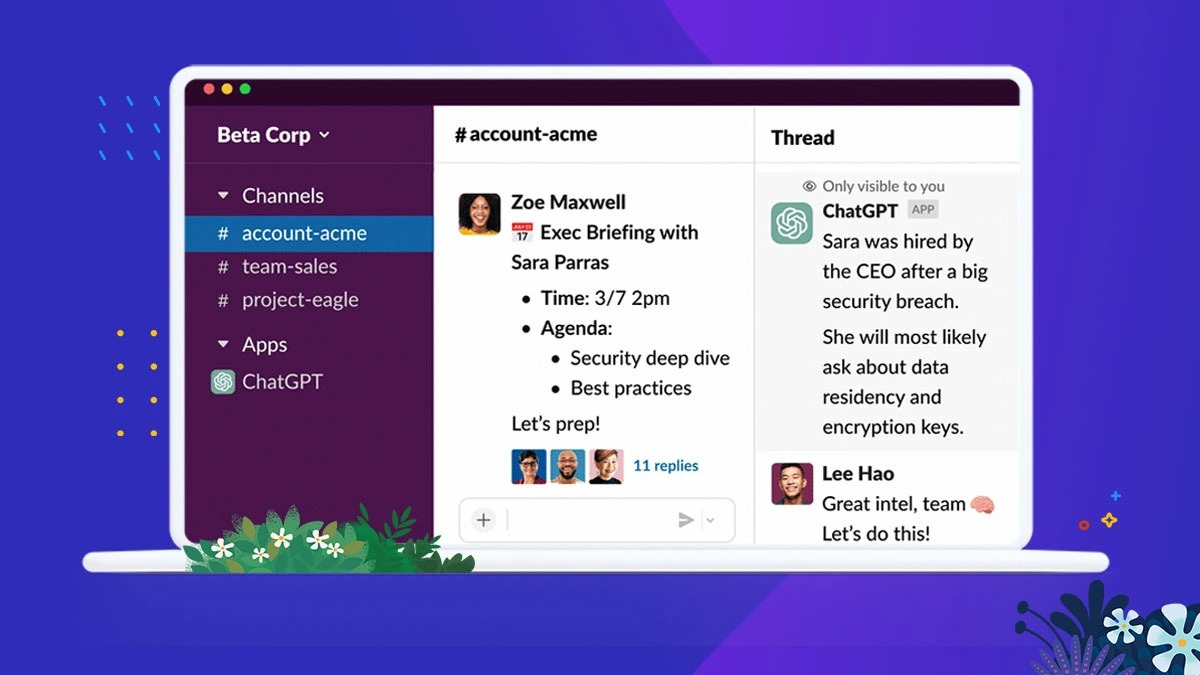 Those with access to the app can tap the three-dot icon in a message thread and select "Draft Reply" instead of writing the reply themselves. It's not yet clear how detailed these answers are – or whether, which is very likely, they can get a little weird at times. Obviously you could edit the responses to better fit the conversation, but the time it takes to generate a response from ChatGPT would probably take longer than if the user wrote a response.
Plus, Slack's ChatGPT can help you find answers to "any project or topic" using AI tools, as well as summarize channels or conversation threads so you can stay on top of what's happening at work. Businesses and organizations can sign up for the ChatGPT beta for Slack on this site.
The news comes as part of Salesforce's broader announcement of Einstein GPT, its own version of OpenAI's ChatGPT model for CRM (customer relationship management) software systems. According to Salesforce, Einstein GPT deploys AI technology from both Salesforce and OpenAI, allowing it to create emails that salespeople can send to customers, create answers to customer questions, and create "targeted content" for advertisers.
Salesforce's foray into AI-powered tools isn't surprising. Many other companies, including Microsoft, Google, and Meta, are looking at ways to integrate AI into their products — and it's clear that competition is fierce. Just a day ago, Microsoft introduced AI CoPilot for Microsoft 365, which, similarly, can write personalized emails to customers as well as create marketing content. In addition, Microsoft is preparing more relevant announcements during the month. Google has also integrated AI tools into its productivity apps, including Meet and Spaces.






1










5




"Total alcohol fanatic. Coffee junkie. Amateur twitter evangelist. Wannabe zombie enthusiast."