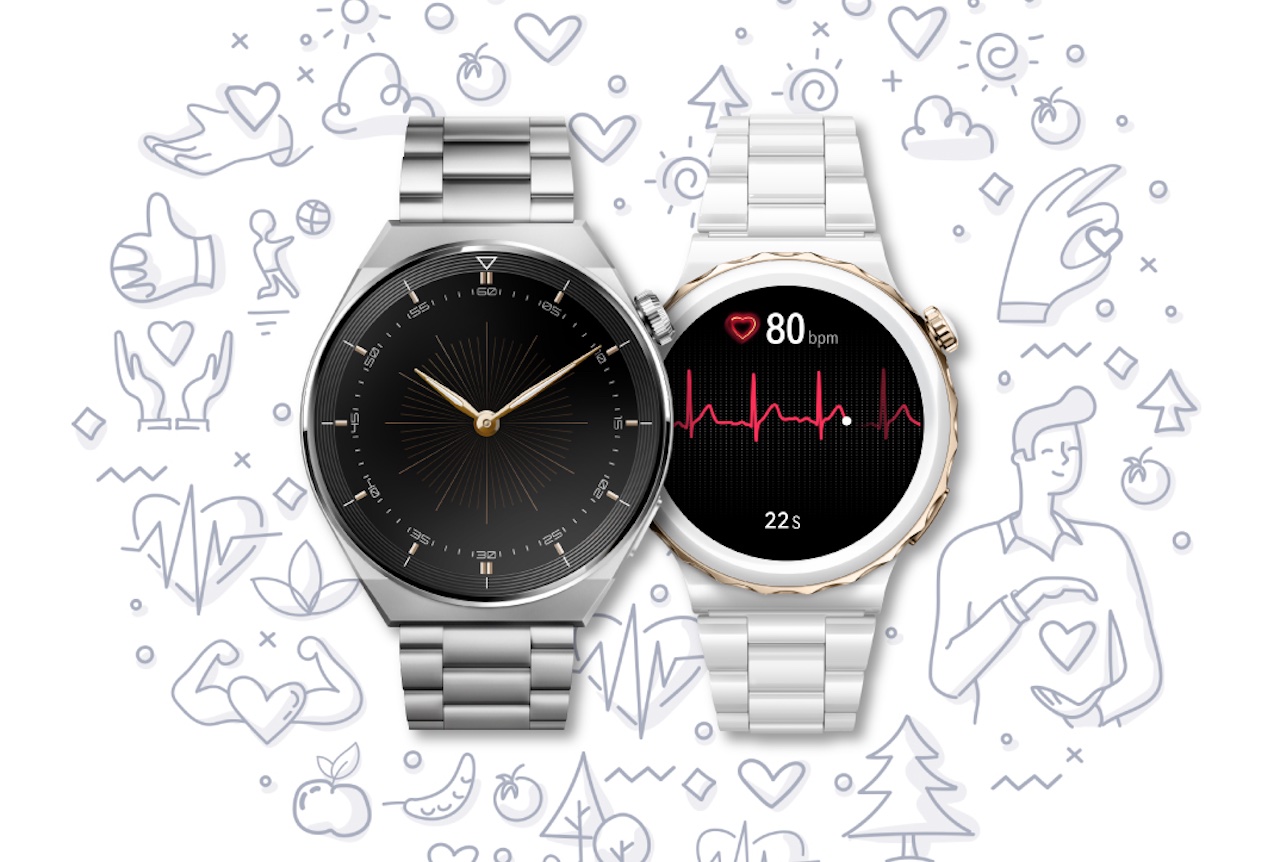 Either you choose it Titaniumor the Ceramic Its version is the best you can give yourself and your body. Don't think about it!
Never before has an accessory like a smartwatch played such a central role in your daily life, contributing to adopting a healthier lifestyle. A smartwatch is an accessory that may have started as a gadget, but is now an extension of ourselves. A device with a complex role, called upon to play the role of the communication link between the user and the smartphone, to monitor the body condition of the ex day and night, to encourage him to adopt a healthier lifestyle and in everything else, to frame every appearance no matter how elegant or demanding as a symbol of appropriate status. Zurico? Not if we're talking about it HUAWEI Watch GT 3 Pro.
Of all the things that make the HUAWEI Watch GT 3 Pro different from the competition, the one that stands out is the EU-certified Electrocardiogram (ECG) app. With a high-performance sensor, this feature provides monocular ECG and sinus rhythm readings and checks for atrial fibrillation, allowing you to take proactive action if it detects something. The whole process takes a few seconds and thanks to the new and improved electrode technology, the high-resolution result is displayed on your smartwatch screen in real time!

At the same time, state-of-the-art PPG sensors integrated into Huawei's latest innovation allow you to check your arterial stiffness while at the same time providing personalized advice on your cardiovascular health.
And this is only the beginning, because the HUAWEI Smart Watch steals impressions at first glance. Its look, you see, would easily make someone mistake it for a traditional watch. in duplicate, Titanium And the Ceramic, combines solid construction and high aesthetics. And its premium version features a single titanium case and a sapphire dial, exuding a truly luxurious air. Better; Both versions are participating in this year's Black Friday, which will give you the opportunity to make a smartwatch that is truly value for money, at an even better price!

Whichever version you choose, the endless features and functionality will change your everyday life forever. Your daily training and practice will never be the same. Over 100 training modes are at your disposal so you can choose the mode that covers you at all times. It does not matter how specialized the activity you have chosen: suffice it to say that HUAWEI Watch GT 3 Pro It can record data such as swing speed and golf ball downtime!
If you are … from the sea, the HUAWEI Watch GT 3 Pro will become the perfect diving companion. With IP68 and 5 ATM certification, it is comprehensively tested to ensure durability. It also supports free diving at a depth of 30 meters with recording and displaying many characteristics such as speed, depth and duration. It even comes with a built-in training mode, so you can improve your technique and performance over time.

Decided to go for a light run after sunset for the extra mile that prompted you to do your clock? Use a fluorescent face that glows in the dark or always so you don't lose your sense of place and time. At the same time, the watch will keep you informed of your heart rate with absolute accuracy as well as the oxygen saturation of your blood thanks to the HUAWEI TruSeen 5.0+ technology. Even when you're resting, the HUAWEI Watch GT 3 Pro will still be your vigil guard, monitoring indicators such as stress or sleep quality.
Other usage scenarios of the HUAWEI WATCH GT 3 Pro include menstrual cycle management, which "counts" your days and can remind you in advance. With Healthy Living Shamrock, you can still receive regular reminders for medication, daily water intake and general reminders aimed at forming good, healthy habits despite your busy lifestyle.
Make the HUAWEI Watch 3 GT Pro your Black Friday with a unique offer that you will find in all partner stores!
For more information about the products, you can visit their website Huaweias well FacebookThe Instagram And the Huawei community.
"Total alcohol fanatic. Coffee junkie. Amateur twitter evangelist. Wannabe zombie enthusiast."