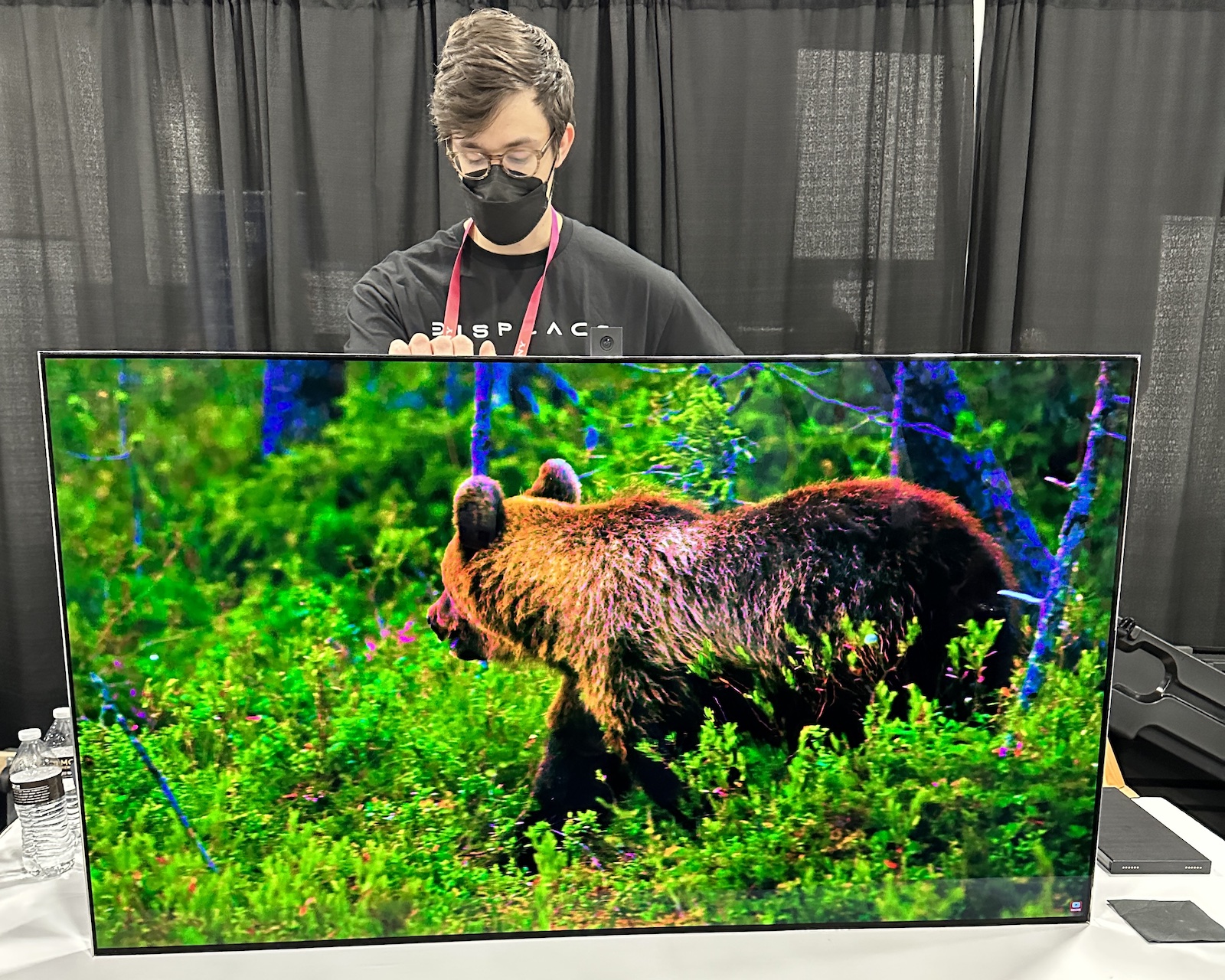 The company gave a demo of the TV — both at Showstoppers taking place just days before CES opens its doors — and at its booth at the Las Vegas Convention Center on January 5th at CES, and we certainly didn't miss the chance to see it. Closely.
Unlike all other TVs currently on the market, the Displace 55″ 4K model receives the power it needs to operate from a unique hot-swapping battery system. Plus the TV is extremely light (less than 5kg) easily portable and can be installed securely on any wall using our also proprietary active ring vacuum technology that requires no mounting base.
Television comes straight from the future because it is equipped with technologies that we see for the first time on television. Let's start with the placement system. The user – or rather two users, one on one side and the other on the other – brings the back of the TV very close to the wall and then by light pressure the TV will magically stick (like a suction cup) to the wall without the need for bases, drills or screws etc. The company calls the system "Vacuum Air Active Loop Technology" and it really blew us away (mind you, the TV is very light, less than five pounds).
What also makes Displace TV great is that it can… expand according to your needs. So, you can combine it with other identical TVs to form a TV of any size, even 110 inches with 16K resolution.
The power system is also impressive. The TV includes four rechargeable, hot-swap batteries, which put an end to unsightly cables. Along with the TV, the company also offers a charging dock where the batteries can be charged individually and alternately, with the TV remaining fully functional. The batteries give the TV about a month of autonomy with an average use of six hours per day.
The Displace TV, which has a diagonal of 55 inches and supports 4K resolution, is not controlled by a remote control but mainly by natural movements such as gestures or voice (from the moment you sit on the sofa). Otherwise you can control the user interface with your touch. Plus, it incorporates facial recognition and computer vision technology — so it can meet the unique needs and preferences of anyone in the family. The camera can of course be turned off with a button on the top of the TV to protect privacy.
If you're wondering how it fits inside such a light and slim TV, a motherboard with WiFi 6E wireless technology, an AMD processor and an NVIDIA graphics unit (surprise?), it's enough to know that they're separate. A unit that plugs into a power socket and that you can hide anywhere in the house (eg in a drawer or cupboard). Displace TVs are already available for pre-order on the company's official website with shipments beginning in late 2023.
"Total alcohol fanatic. Coffee junkie. Amateur twitter evangelist. Wannabe zombie enthusiast."