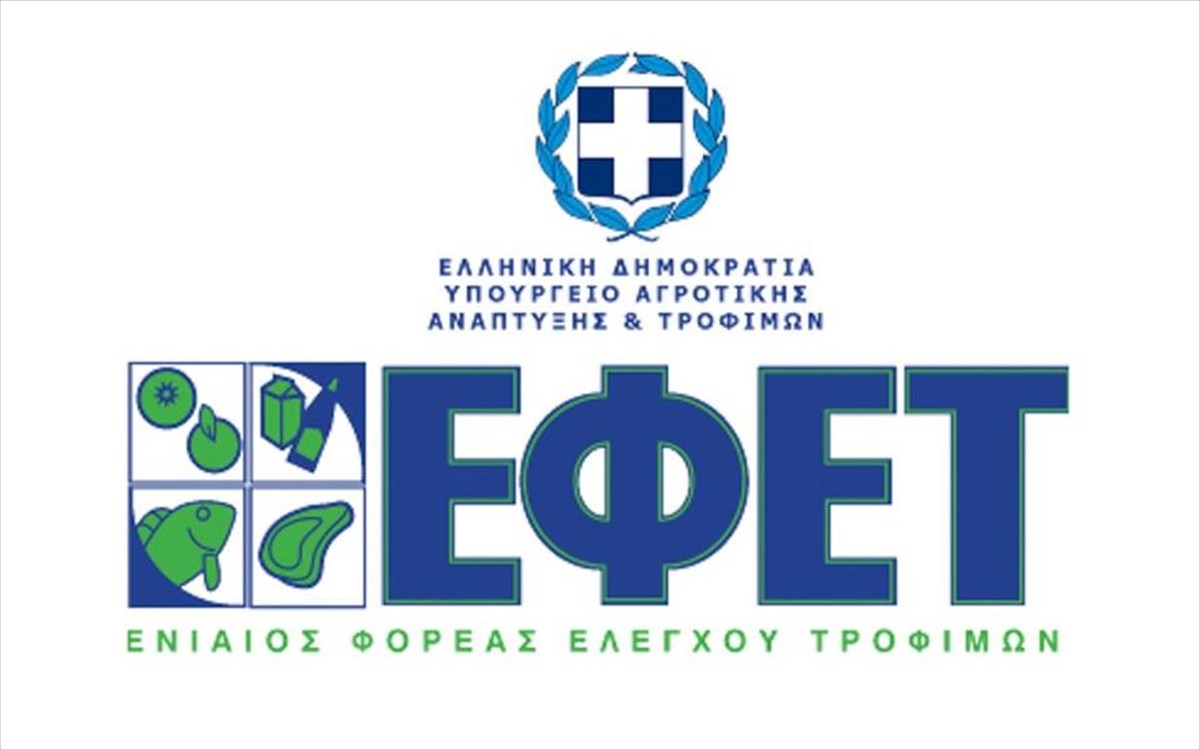 EFFET: When called for a chicken mini roll Follow EFET After the examination, dangerous microorganisms of salmonella were detected.
Specifically, as it became known through its advertisement a.The Regional Directorate of Epirus, which carried out the necessary checks, found the presence of pathogenic salmonella bacteria (Salmonella spp) in chicken rolls.
This is the product "Fresh Stuffed Greek Rolls Chicken" with production date 11/18/2022 and expiry date 11/25/2022, produced by PTINOTROFIKES EPICHIRISIS ARTAS ABEE.
a. Demand that the full specified batch of the product in question be immediately recalled and that the relevant controls are already in place.
Consumers who have purchased the product are advised not to consume it.
EFET: consumers' ally
EFET was established by Law 2741 / Official Bulletin 199 / 28-09-1999. It is NPDD and is under the supervision of the Ministry of Rural Development and Food. The responsibilities of the Unified Food Control Authority are:
It defines the quality standards that must be met by the food offered for consumption and the raw materials or additives to be added to the food in order to protect public health and avoid consumer deception.
It defines the standards and principles on which the study and implementation of systems for the production of hygienic products, in accordance with existing legislation, should be based by food companies and specifications for scientists who will deal with the installation of such systems in the food business, as well as for personnel who will work in food quality control laboratories Installed in food companies.
It defines or validates rules of good health practice in accordance with Regulation 852/2004 and any other relevant international rule and community law and controls compliance with these rules.
Compliance with the rules of good hygiene practices is a prerequisite for the establishment and operation of any food business. In this context, it defines the hygienic conditions for establishing and operating a food business and the measures that must be taken to ensure that the food is suitable. Safe and healthy.
It keeps a register of the food business and defines the control programs implemented by its services or by other authorities and services.
Working with its machinery or other delegations of authorities or services, it coordinates and directs controls at all stages after primary production, which includes, among others, harvesting, slaughtering and milking, i.e. at the stages of preparation, processing, production, packaging, storage, transport, distribution, handling, offering for sale or Making available to the consumer fresh or processed foods that are produced, traded, imported into or exported from our country.
It also performs checks on materials and objects that come into contact with food. The purpose of controls is to ensure food hygiene and protect consumer interests.
These controls consist in particular of inspections of food companies, control of the companies' production system, sampling and analysis of food in their laboratories or other food laboratories.
Inspection includes in particular the control of raw materials and additives, food during the production process of finished products, compliance with the rules of good hygiene practice in food business facilities, mechanical equipment, health for personnel hygiene, identification, disinfection and control of rodents and insects in the packaging, storage, distribution and transportation of foodstuffs. .
Also, during the inspection, compliance with technological standards required by current legislation by food enterprises is checked, as well as food labeling.
Control of the health product production system includes control of critical control points during the production process, control of preventive measures applied by companies to deal with risks, and control of processing and maintenance transactions applied by companies (such as heating and cooling) to eliminate food risks.
It also includes controlling the appropriate training of the company's employees so that they can properly respond to the requirements of the sanitary products production system, as well as controlling records documenting compliance with the system.
Participates in the competent bodies of the European Union and international organizations to formulate decisions related to their competence, and ensures adaptation and compliance with directives, decisions, regulations and recommendations issued by European Union bodies or other international organizations. In matters of its competence, it is the liaison with the competent services in the European Union and other international organizations in matters of food control and in the context of the system of immediate response to cases related to food safety.
It ensures the development of research programs related to its subject, cooperates with relevant bodies for this purpose, and recommends proposals for the adoption of legislative or other measures in matters within its competence.
It collects, processes and maintains information, statistics and records about the controls implemented by its services, food companies and the things that fall within its competence.
Ensures continuous information, training and education of its employees on technological developments and developments in new legislation, as well as the consumer in matters of food safety and quality.
a. It may, within the framework of its responsibilities, the purpose of its work and its mission, by a decision of its Administrative Council
Council, to support or participate in public programmes, days, conferences and public events of public services, legal entities of the public sector or the broader public sector, as defined by written provisions, scientific societies, NGOs, federations or associations. This scholarship is exempt from any taxes, fees and any other charges in favor of the state or third parties.
He exercises any other authority related to his purposes.
The Unified Agency for Food Control (EFET), as a dynamically evolving service in terms of responsibilities and specifications, is the main food control agency in Greece. Since its inception on January 13, 2000 until today, the Agency's Board of Directors has defined the organization's development strategy, planning and proceeding to complete the procedures, which led to the creation and realization of the conditions that laid the foundation for the organization of a modern organization capable of successfully fulfilling its obligations.
These commitments, which create a plethora of dynamics for the Agency, but also constitute a great responsibility to Greek society, are as follows:
Conduct regular inspections in food companies (food production, marketing and distribution). During these inspections, it must be verified that the rules of Good Hygienic Practice and Good Manufacturing Practice are being met
practice as well as food hygiene assurance systems (HACCP system).
Regular and smooth control of food during its circulation, marketing and disposal.
Providing technical assistance to the producing branches, either through the publication of hygiene guides for each professional branch or through the various seminars organized under the auspices of EFET to train workers and professionals.
treatment of various nutritional crises, a phenomenon particularly common in recent years (eg emerging problems related to bovine spongiform encephalopathy, dioxins, acrylamides, aflatoxins, other mycotoxins, etc.),
Formation of Greek positions on food safety issues and their support in the EU,
Proposing the drafting of national legislation on food safety issues,
Communicate with the consumer in order to inform and educate him about food safety issues,
Consumer protection from fraudulent or misleading commercial practices or food adulteration.
Coordinating the services of the governorates that exercise control in matters of food safety,
"Avid problem solver. Extreme social media junkie. Beer buff. Coffee guru. Internet geek. Travel ninja."