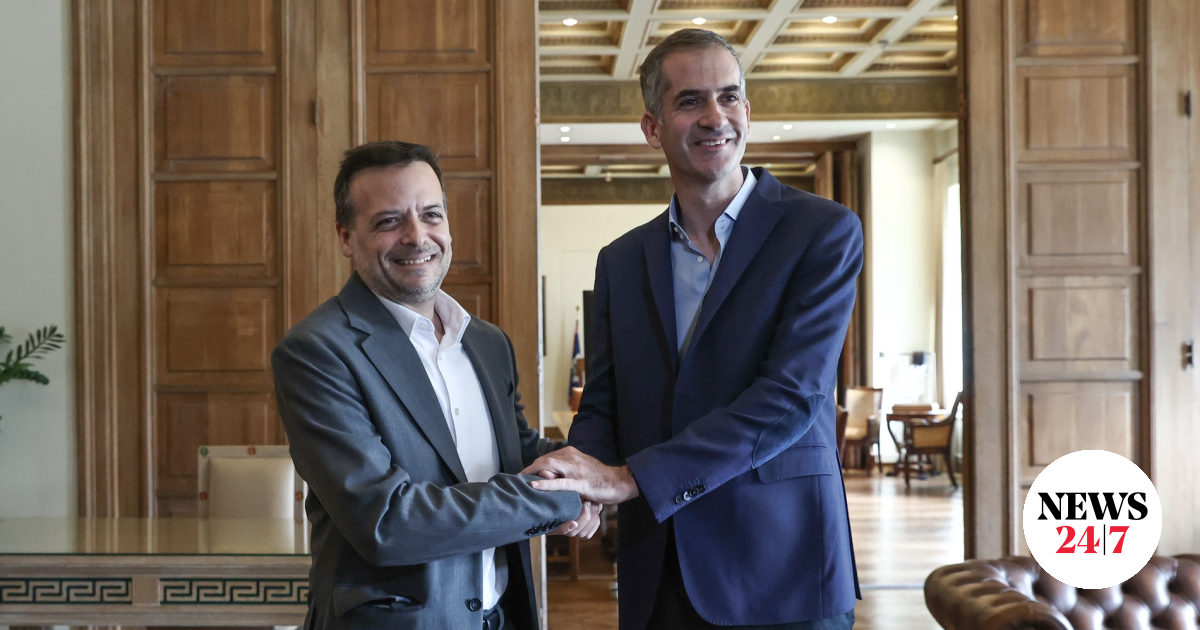 The newly elected mayor of Athens, Harris Doukas, met with outgoing mayor Kostas Bagoyiannis at his office in Kotsia Square on Friday morning.
Both agreed There should be collaboration and meetings of bilateral working groups With the intention of a smooth transition.
"The newly elected mayor Mr. We welcomed Haris Doukas to City Hall, organized our teams, and began the transition. With complete availability and transparency on our side, not a single day will be lost in Athens. The agenda is big", Kostas Bagoyannis wrote in his journal after the meeting of the two.
Cameras and dual regeneration
In his statements on Thursday, the new mayor spoke to SKAI and set out his priorities. He pointed out how The discussion was stimulating Mr. For his dominance over Bagoyanis, as he put it, "I had a recognition problem". "Voters chose the overall proposal and a plan for simple, small, everyday things like green, safety, cleanliness," he said.
That Mr. Doukas said A double renovation for the Panathinaikos stadium is a cost-effective project included in his plan, which will continue as normal. He said he had some thoughts about the avenue, perhaps securing a small stand and creating a small playground for the children.
For cameras He reiterated that it was not his priority. "There were cameras in Brussels, but the terrorism thing happened. The bottom line is that the cameras are complementary and the police work to stop it. It needs security with police, complementary cameras, lights and social inclusion. His victory is "a victory for Athens," Mr. Dougas said. Underlining. Responding to the political message behind his dominance, he said, "Athens' problems have no color, they concern all citizens, and we call on them to cooperate to solve the problems. I am the choice of Nikos Androulakis, but with 50% of the ballot from PASOK and 50% from other parties and organizations.
Opening of Vasilisa Olga – Office on Energy Poverty
He stressed his priorities as mayor, saying he was voted in by voters from different parties. He stopped with that An office for vulnerable families will be created at the same time that Vasilisis Olgas will be reopened. "I am anxious to fulfill my promise. "I will open Vas Olkas and create an Energy Poverty Counter office to provide electricity to the poorest, most vulnerable households at very low cost," he concluded.
In each case, Mr. Due to Doukas' dominance, the discussion about possible collaborations "heats up". Within the broader field of progressive-socialist forces, SYRIZA and PASOK face structural questions. On the other hand, PASOK, Mr. By Androulakis, it reiterated that its goal was to lead the progressive forces into a "solid" opposition, while SYRIZA was called upon to resolve its internal issues first before making any decisions. The next election is delayed However, Duke's victory was a reference point for today and the immediate future. Above all, support Zacharias And his presence in the Duke stand after his upset victory over the "favourite" cannot be taken as mere coincidence.
. "Professional creator. Subtly charming web advocate. Unapologetic problem solver. Devoted student."