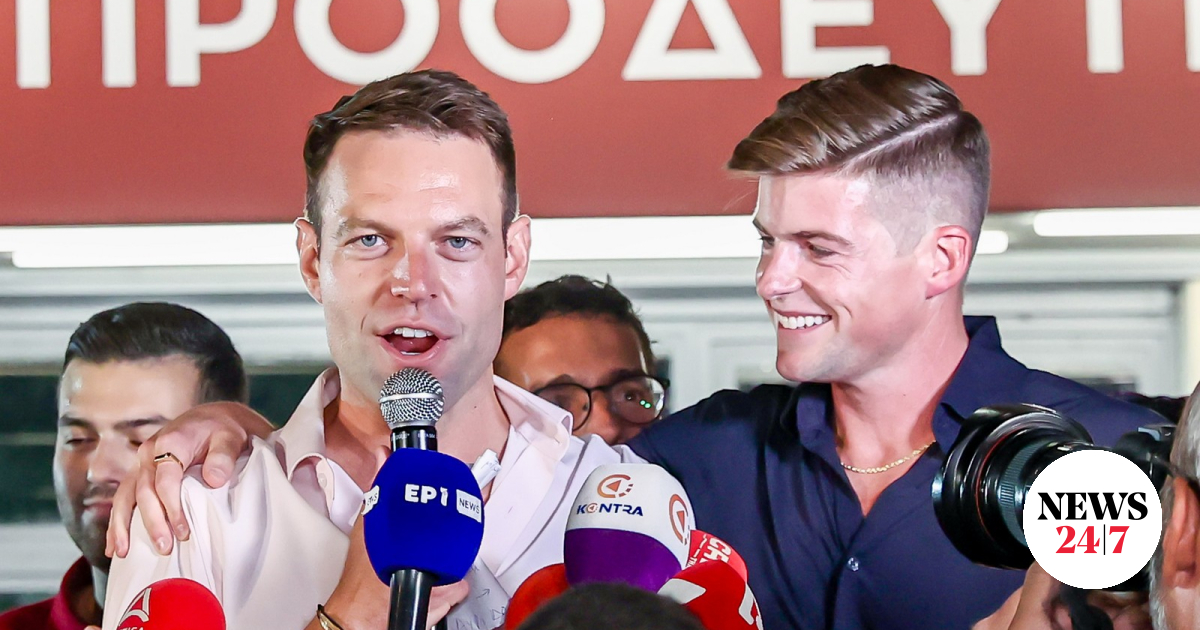 His intention to He got married With his partner Tyler Macbeth In the United States, he announced – according to information – during the meeting of the political secretariat of the Syriza party the name of the party's president Stefanos Kasellakis.
According to the same information, the wedding will take place tomorrow, Thursday (10/19), at a resort in the Hamptons.
Kasellakis' reference to Tyler in his nomination video
Stefanos Kasellakis "introduced" his partner to the public at An official video in which he announced the resignation of a candidate for the presidency of the Syriza party. Speaking about himself, he said about his personal life:
"I met Tyler when I was 31 years old. He was an ICU nurse, staying awake next to patients while preparing for his doctorate in broad daylight. And as I saw from my father in good times and bad, When you find someone better than you, you do everything you can to keep them"No matter what others say."
Of course, for those who already follow Stefanos Kasellakis on social media, you must have seen their shared photos.
When he thanked Tyler after winning the Syriza election
Stefanos Kasellakis also thanked his partner Tyler in his first statements after his victory in the Syriza elections.
"First of all, I would like to thank my personal family, without whom I could not be here. And that is Tyler and our dog." He had said. "Should I tell Tyler… Thanks! "You're the reason I'm here.".
Life before coming out and relationship with Tyler
In a recent interview on Stavros Theodorakis's program "The Supporters", the head of the official opposition spoke, among other things, about his life before the exit, but also about the "diamond" he carries by his side, that is, his partner. .
He also said: "In 2012 I was in a relationship with a woman in New York and I was very worried about not letting anyone down. It was a very compact mixture. I talked to my mother first about the upcoming match. He has seen me go through difficult times professionally. I say to her "Does it matter if it's a male?". He says to me: "What did you say?" She thought I was going through a phase and credited her Within 3 weeks she met Tyler".
"I realized that I have a gem in front of me and when you meet such a person in your life make sure not to lose him. I hope this is a wake-up call for other parents and their children. Let us also say this: If a child wants to express himself in his own way to one parent or another, let us respect the child's will. The second piece of advice is do not necessarily wait for the child to tell you this. "Read the letters and give them warmth," he said.
As for homosexuality, he said:Someone might be looking in the wrong direction. At the end of the day we know who we are. Tyler is the golden boy who helps in hospitals and ICUs. Love makes family".
It is noteworthy that in the same interview, Stefanos Kasellakis expressed their desire to have two sons through a surrogate mother, which are statements It caused reactions And It was considered a problem for many reasons.
"Tyler and I would like to have two sons, Apollo and Elias, through surrogacy, because we would like each person's personality to be passed down to the children, so there is continuity. The government needs to understand this regarding same-sex marriage. It was Syriza's fault for not passing it. "Everyone has made mistakes, but Syriza has done a lot."
Kasellakis: "Tyler is not the public figure, it is me"
It is worth noting that Stefanos Kasellakis recently expressed his annoyance when… Journalists tried to reach the partner To ask him questions.
Specifically, a few days ago, the couple was in Herodion to watch Stamatis Kronakis' performance of "Eros anikate mahan", with journalists approaching and asking the Syriza president various questions, who avoided answering.
At one point, a reporter asked Tyler a question, and Stefanos Kasellakis responded by saying: "He's not the public figure, I am.".
"Hipster-friendly coffee fanatic. Subtly charming bacon advocate. Friend of animals everywhere."