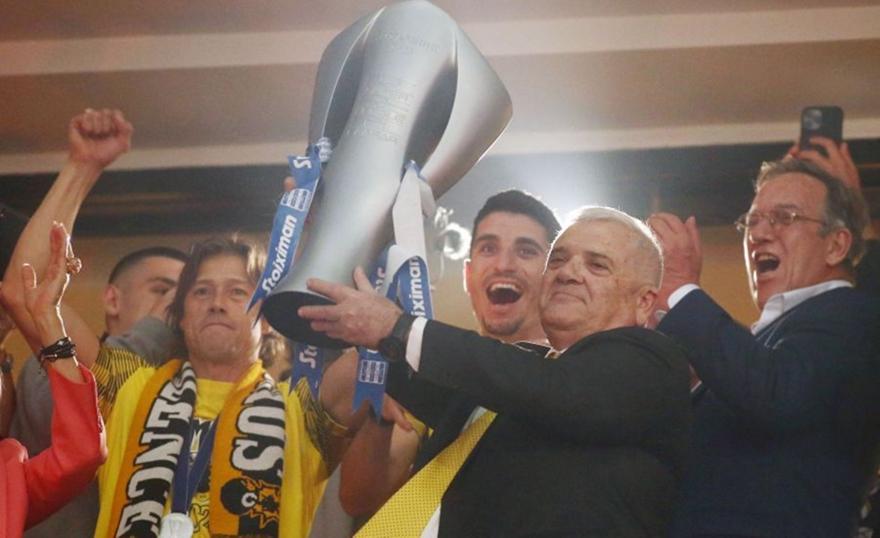 He described it as "a vein of gold". Dimitris Melisanidis for him Matthias Almeida He speaks to AEK reporters at the lunch he hosted for them at the OPAP Arena.
The administrative leader of "Enos" praised what his team showed this season, describing it as the best and best for football, noting that "I wore this year's AEK». Stressing his desire for a team that plays good football and excels in Greece and abroad.
At the same time, he also pointed out the special weakness he had Pietro Mandalo – explains why he has been loved as a person and as a footballer – but also in the 'yellow and black' jersey for 100 years.
In detail, Dimitris Melisanidis talked about:
Upcoming dreams at the competitive level: «We want to see AEK play good football with distinction both in Greece and abroad. We'll do whatever it takes. We will do whatever the coach asks. We are also fortunate to have fallen into a golden race with Almeida. This is the big hero. Management supports him in everything he asks for. He told him, whatever you say is law and it will come true. I think this team will be able to distinguish itself in Europe. And of course the Champions League should be the target».
– If he has the desire to form a team similar to the team of the nineties: «This year AEK was the best team in the league, let's not hide. And we want to get better. Football has succeeded. I think football is getting better. You know what was going on. The champion came out in November, and now he's out in the last round. That says it all».
– If he wants to compare the current team with the 90's team of consecutive titles: «The '90s team that played great football was built slowly. Today AEK is a joy to watch. This year I was happy to see AEK, I had many years to see such AEK. I was washing it. We play the best football by all standards. Transfers, coach, off the field. And there is magic here. Spirit If I don't, I can put you all to sleep. Nobody is safe here».
-If Almeida asks him about something in spetses flight and any player has a weak point because: «I have a weakness for all players. If I have someone in particular, I have Petros Mandalou. When AEK was in the third national league, both big rivals chased after him and he signed with us. He played in the second national team. He's done crosses twice, and he's also heard badges. I love him as a person and as a footballer».
Will there be a special design on the shirt for 100 years? «I don't know yet, but AEK is always the star in them. We are thinking of something».
On Demand: All reports on the official bwinSPORT FM YouTube channel
"Certified social media geek. Lifelong coffee aficionado. Passionate food buff."