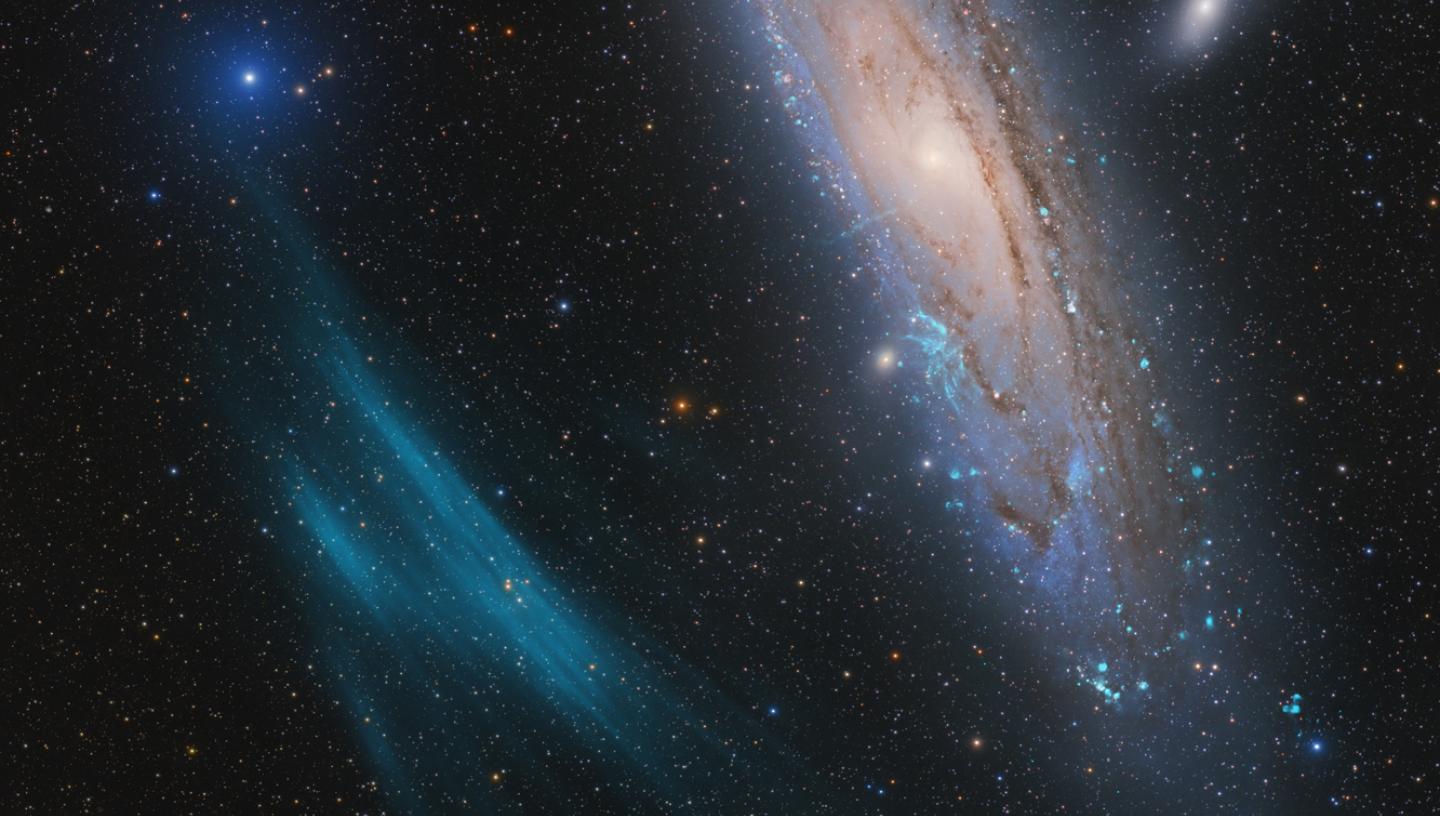 A team of amateur astronomers has won first prize in this year's photography competition Astronomy «Astronomy Photographer of the Year 2023» of the Royal Observatory, Greenwich, with an excellent photograph Andromeda Galaxy. The image taken by Marcel Drechsler, Xavier Strottner and Jan Senti shows a huge blue arc of plasma next to andromeda galaxy, The closest giant spiral galaxy to us, which scientists are currently studying.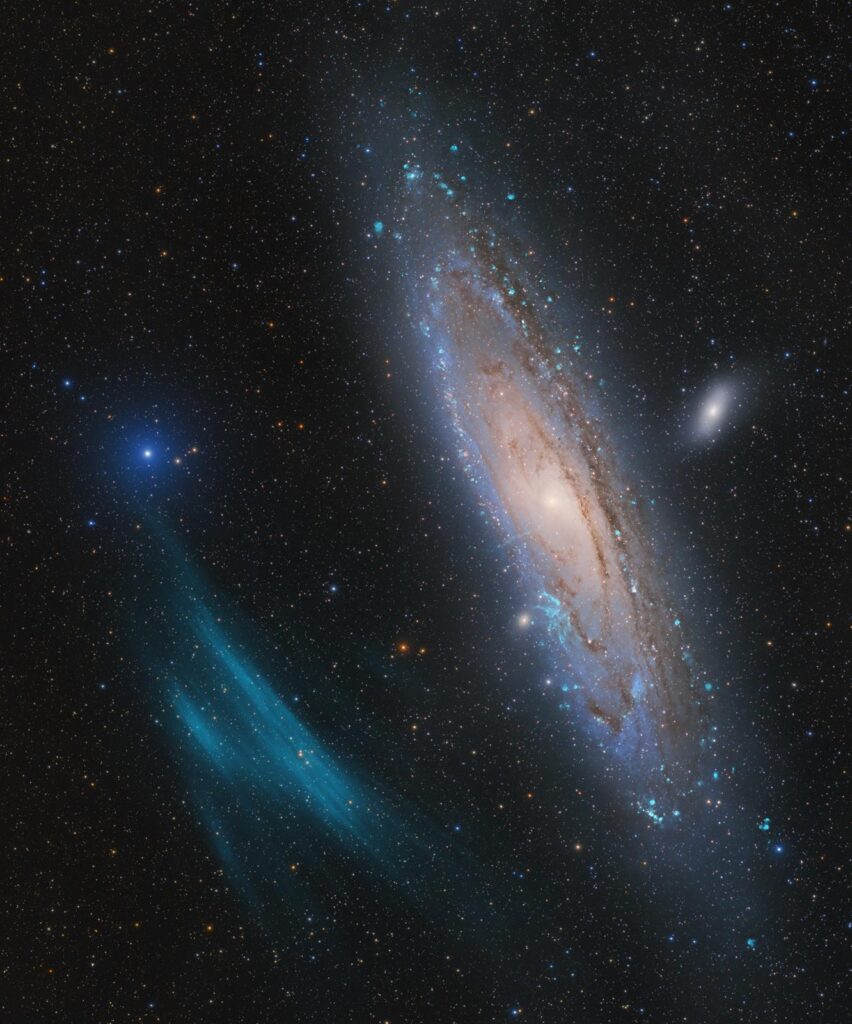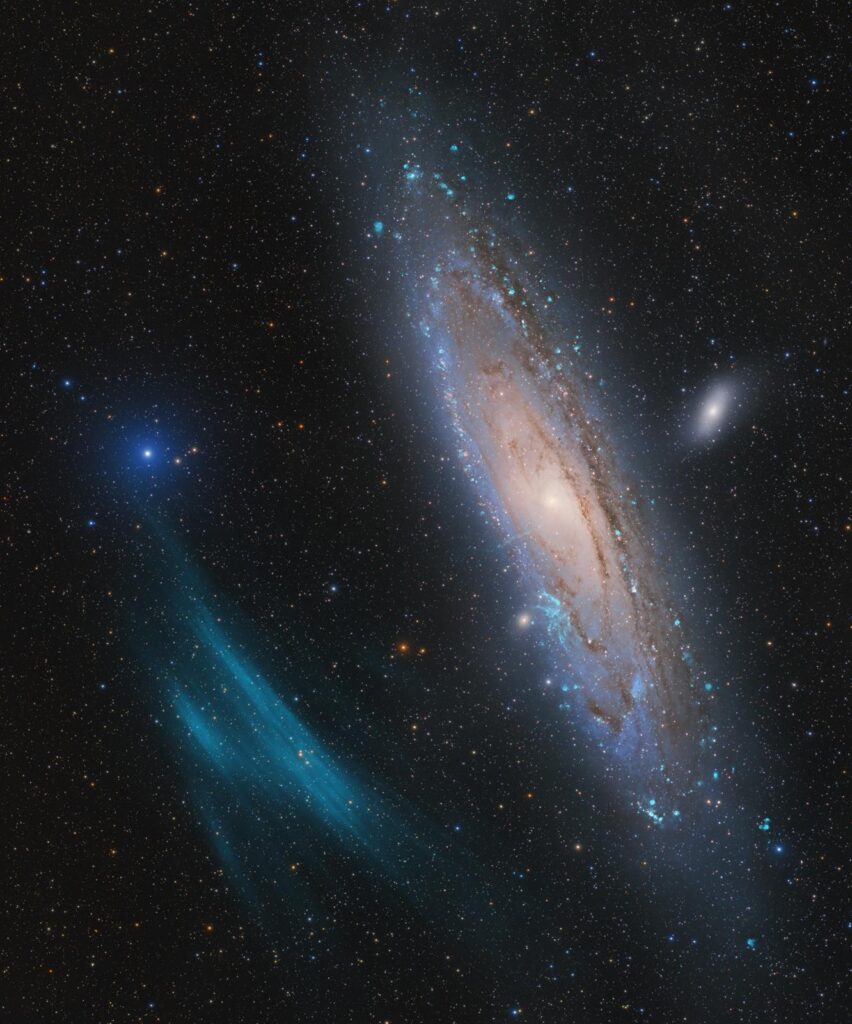 This year the competition is being organized for The fifteenth yearattracted more than 4000 entries from 64 countries. From twinkling stars and glowing galaxies to fiery suns and silvery moons, the contest attracted stunning images in categories including galaxies, moon, sun, people, space, planets, comets, asteroids, skyscapes, stars and nebulae. Prizes were also given for innovation in photography as well as for young photographers.
Two won the Young Photographer of the Year award 14 yearsand Runwei Xu and Binyu Wang, who collaborated to create the stunning and colorful "Running Chicken Nebula."
The winning image in the People & Space category was inspired by Steven Spielberg's sci-fi film Close Encounters of the Third Kind. Within an hour, Katie McGuinness was able to achieve more than… 150 photos Haslingden Halo Statue located in the Lancashire Hills in the United Kingdom. The photographer combined these photos to show her The apparent rotation of stars around the pole star.
The high caliber of this year's entries made choosing the winners difficult for the judges.
Ed Bloomer, an astronomer at the Royal Observatory in Greenwich, said: "Once again, the competition entrants conspired to confuse the judges, with a wealth of high-quality images covering a stunning range of targets."
"Perhaps the highlight of this year is the number of real-life achievements captured, but we put in fantastic efforts in every category, and I am particularly pleased to see the continued strength of our newcomers competing for the Sir Patrick Moore Best Newcomer Award. This has led to some discussions Hot among the judges while we try to choose the best of the best, but we don't mind! He added.
The three grand prize winners will receive £10,000.
source: New Atlas
"Avid problem solver. Extreme social media junkie. Beer buff. Coffee guru. Internet geek. Travel ninja."