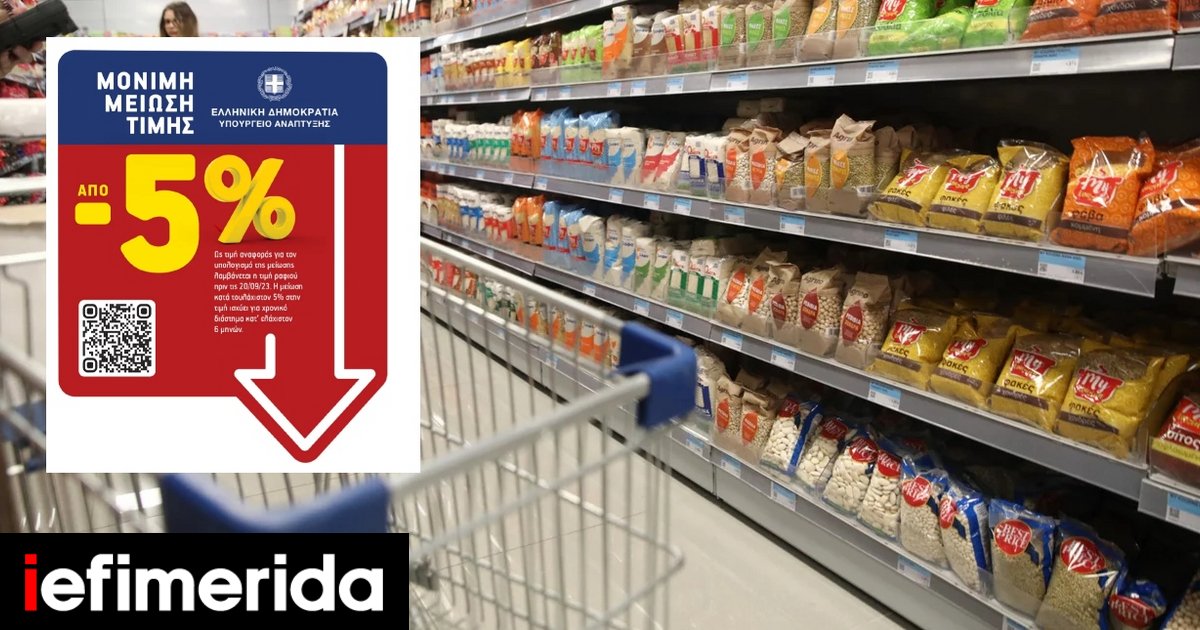 In the context of initiatives taken by government employees to protect consumers from severe inflationary pressures, Development Minister Kostas Skrikas signed 3 ministerial decisions on measures against punctuality.
According to a press release issued by the Ministry, the Minister of Development signed the following ministerial decisions:
1. "Permanent price reduction" initiative with a private label
The relevant ministerial decision clarifies the process of sending commitment documents from manufacturers or wholesale consumer products to the Ministry of Development, in addition to placing special labels on products participating in the initiative.
Companies that manufacture or wholesale consumer products that will participate in the "Permanent Price Reduction" initiative must submit by November 30 Written commitment In the Ministry of Development. The shelf price on 9/19/23 will be considered the reference price for calculating the discount.
Supermarkets are required to place a special sign on the shelves of discounted products with specific signs and specifications, as stated in the new ministerial decision.
The Inter-Agency Market Surveillance Unit (DIMEA) is the agency responsible for imposing sanctions, in the event that a company falsely declares that it has initiated a price reduction.
2. Obliging supermarkets to notify the Ministry of Development of an increase in the prices of products necessary for a decent living or of products in high demand.
The ministerial decision specifies the product categories for which price increases will be announced by supermarkets whose total annual sales exceed 90 million euros and indicates how to send them to the Ministry of Development.
• Announcements of any increase in the prices of products necessary for a decent living or products in high demand will be sent to the Ministry of Development every Tuesday, until 15:00.
• If the debtor conceals, falsifies or fails to provide information, a fine of €50,000 is imposed by the Inter-Agency Market Surveillance Unit (DIMEA).
Product category not available
1 rice
2 bread for toast
3 loaves of bread
4 toast
5 spaghetti-shaped pasta
6 flour
7 legumes
8 Paris
9 Türkiye (cold meat)
10 frozen fish
11 fresh pork
12 pieces of chicken and fresh chicken pieces
13 fresh beef
14 Fresh whole milk
15 fresh low-fat milk
16 Ultra-pasteurized whole milk (long life).
17 Ultra-pasteurized low-fat milk (long life).
18 Evaporated milk
19 Unflavored cow's milk yogurt
20 containers of low-fat, unflavored cow's milk yogurt
21 pieces of feta cheese slices
22 white cheese
23 Gouda cheese
24 low-fat cheese
25 preserved tomato juice
26 eggs
27 ghee
28 butter
29 Olive oil
30 sunflower oil
30 frozen vegetables
31 white sugar
32 diabetic-friendly sweeteners (such as stevia)
33 oat products
34 baby cream
35 Baby formula
36 Greek coffee
37 instant coffee
38 French coffee
39 Orange juice
40 soft drinks
41 beer
42 water
43 chocolate
44 Fuel (firewood, pellets, briquettes)
45 Laundry detergents (liquid and powder – not tablets)
46 Detergents for wiping and cleaning surfaces – bleaches
47 dishwashing detergents for hand washing
48 kitchen paper
49 toilet paper
50 toothpaste
51 Sanitary pads or tampons
52 shampoo
53 solid state soaps
54 incontinence diapers
55 baby diapers
56 baby wet wipes
57 Baby shampoo
58 dog food
59 Cat food
3. Commitment to announcing retail sales prices for fruit and vegetable products
The ministerial decision specifies the categories of fruit and vegetable products whose retail prices will be announced to the Ministry of Development
• Indicative retail sales price announcements for fruit and vegetable products will be sent every Tuesday at 09:00 via the digital platform e-katanalotis.gr.
• The Ministry of Development can announce the prevailing price range in stores either via the digital platform e-katanalotis, or on the website of the General Secretariat of Trade.
fruit
1 grape
2 lemons
3 bananas
4 Valencia oranges
5 tangerines
6 pears
7 apples
7.1 Delicious golden apples
7.2 Granny Smith apples
7.3 Delicious Starkin apples
7.4 Party Apples
8 pomegranate seeds
vegetables
9 mushrooms
10 artichokes
11 tomatoes
12 cherry tomatoes
13 options
14 percussion
15 lettuce
16 missiles
17 potatoes
17.1 Cyprus potatoes
17.2 Home potatoes
17.3 Imported potatoes
18 garlic (pcs)
19 dry onions
20 fresh onions
21 spinach
22 beets
23 carrots
24 radishes
25 cabbage
26 cauliflower
27 broccoli
28 pepper
28.1 Coarse pepper
28.2 long pepper
29 eggplant
30 parsley
31 Aenethos
32 Celery
33 beans
Development Minister Kostas Skrikas said: "The government is promoting three new measures in the battle against punctuality. From the end of October, consumers will be able to find special labels on supermarket shelves on products whose suppliers have reduced their prices by at least 5% and for a period of time." At least 6 months, to support the consumer public in this difficult time.
At the same time, and consistent with our commitment to due diligence throughout the supply chain, we collect regular updates from supermarkets on potential price rises on key consumer products.
We are building a firewall against the wave of precision hitting society, and taking pioneering measures that no other country in Europe has taken. We support and will continue to support the Greek family, especially the most vulnerable, in every possible way."
Find the latest news from Greece and the world on
"Avid problem solver. Extreme social media junkie. Beer buff. Coffee guru. Internet geek. Travel ninja."