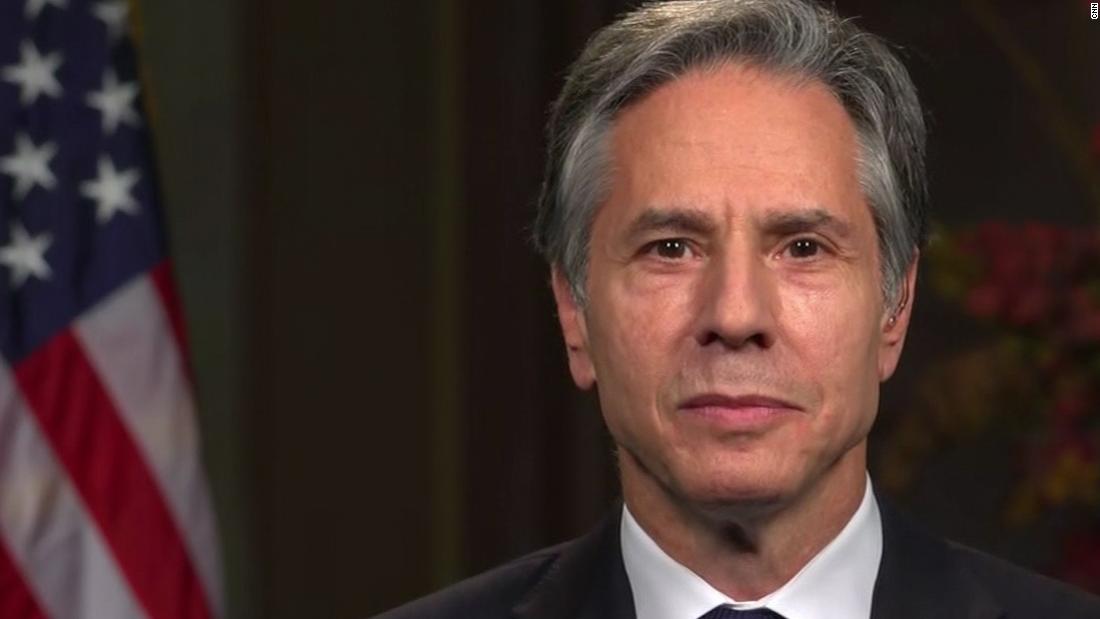 Blinken said the US response to Russia "sets out a serious diplomatic path forward Russia choose it," telling reporters Wednesday that he expects to have a follow-up discussion with Russian Foreign Minister Sergey Lavrov in the coming days now that the document has been received in Moscow.
The response was delivered in person to the Russian Ministry of Foreign Affairs by US Ambassador to Russia John Sullivan. The written document is intended to address concerns Moscow has publicly released and to outline areas where the US has said it sees potential for progress with Russia – arms control, transparency and stability, the top US diplomat told reporters at the State Department.
"The document we've delivered includes concerns of the United States and our allies and partners about Russia's actions that undermine security, a principled and pragmatic evaluation of the concerns that Russia has raised, and our own proposals for areas where we may be able to find common ground, "Blinken said.
It's not yet clear whether the latest diplomatic overture, which Moscow had sought, will change the course of talks between Russia and the West that have continued over the past several weeks. US officials have said that Russia has shown no signs of de-escalation and they have warned that an invasion could be imminent as Moscow masses tens of thousands of troops on the Ukrainian border.
The US has repeatedly said Russian President Vladimir Putin's central demand – that the US and NATO commit to never admitting Ukraine to the alliance – is simply a nonstarter. While Blinken declined to detail specifics presented to Moscow, he said the US response reiterated the West's public response to uphold NATO's "open-door policy" rejecting Moscow's demands that NATO commit to never admitting Ukraine.
"There is no change. There will be no change," Blinken said of US and NATO support of the alliance's open-door policy.
"We make clear that there are core principles that we are committed to uphold and defend, including Ukraine's sovereignty and territorial integrity, and the right of states to choose their own security arrangements and alliances," he added.
The ball is now in Russia's court, Blinken said Wednesday.
"I think there are important things to work with if Russia is serious about working. And that is up to President Putin. We'll see how they respond," he said.
'Not a formal negotiating document'
President Joe Biden was "intimately involved" in the US written response to Moscow, Blinken said.
"We reviewed it with him repeatedly over the last weeks, just as we were getting, as you know, comments, input, ideas from allies and partners," Blinken said in response to a question from CNN's Kylie Atwood.
Blinken contended that the document, which was delivered Wednesday, is "not a formal negotiating document."
"It's not explicit proposals. It lays out the areas and some ideas of how we can together, if they's serious, advance collective security," he said.
Blinken underscored that the US response was "fully coordinated with Ukraine and our European allies and partners," and a source familiar said Ukraine had received a copy of the US document.
Blinken said the document had been shared with Congress and that he would briefly congressal leaders later Wednesday.
He said the US would not release its document publicly, "because we think that diplomacy has the best chance to succeed if we provide space for confidential talks."
"We hope and expect that Russia will have the same view and will take our proposal seriously," Blinken said, adding, "there should be no doubt about our seriousness of purpose when it comes to diplomacy."
However, US officials have acknowledged there is a high possibility that Russia publishes the full document after receiving it.
The Russian Foreign Ministry confirmed that it had received the response. "Deputy Minister of Foreign Affairs of Russia Alexander V. Grushko received US Ambassador to Moscow John Sullivan at his request," the ministry said in a statement.
NATO also sent a written response to Moscow's security demands on Wednesday, said Alliance Secretary General Jens Stoltenberg. The NATO proposal was sent in "parallel with the United States," he said during a news conference in Brussels, Belgium.
Although the positions of Moscow and the alliance are "far apart," the NATO chief outlined three main areas where NATO sees "room for progress." He asked that Moscow and NATO reopen their "respective offices in Moscow and in Brussels."
"We should also make full use of our existing military-to-military channels of communications, to promote transparency and reduce risks," he said. "And look also into setting up a civilian hotline for emergency use."
Still hopes for fueling diplomacy
US officials said they had decided to provide responses in writing – a demand Russia has made since it put written ideas forward in December – in an effort to fuel the diplomacy that the US hopes will determine a Russian invasion of Ukraine.
"We put these ideas forward because they have the potential, if negotiated in good faith, to enhance our security and that of our allies and partners while also addressing Russia's stated concerns through reciprocal commitments," Blinken said Wednesday.
"We're open to dialogue. We prefer diplomacy and we're prepared to move forward where there is the possibility of communication, cooperation, if Russia de-escalates its aggression toward Ukraine, stops the inflammatory rhetoric and approaches discussions about the future security. in Europe in a spirit of reciprocity, "he said.
But some allies and experts are skeptical of how much emphasis should be put on this document from the US, as it is not expected to give room for negotiation on Russia's key demands, and there is concern that Moscow will use the US response as a pretext to say diplomacy has failed.
The top US diplomat acknowledged that it "may well be right that Russia's not serious about this at all."
"But we have an obligation to test that proposition, to pursue the diplomatic path, to leave no diplomatic stone unturned, because for sure it's far preferable to resolve these differences peacefully consistent with our principles than it would be to have renewed aggression, renewed conflict , and everything that will follow from that, "he said.
"But the point is we're prepared either way," Blinken said.
This story has been updated with background and further developments Wednesday.
CNN's Casey Riddle, Ellie Kaufman, Darya Tarasova, Lauren Kent and Lindsay Isaac contributed to this report.
. "Professional creator. Subtly charming web advocate. Unapologetic problem solver. Devoted student."