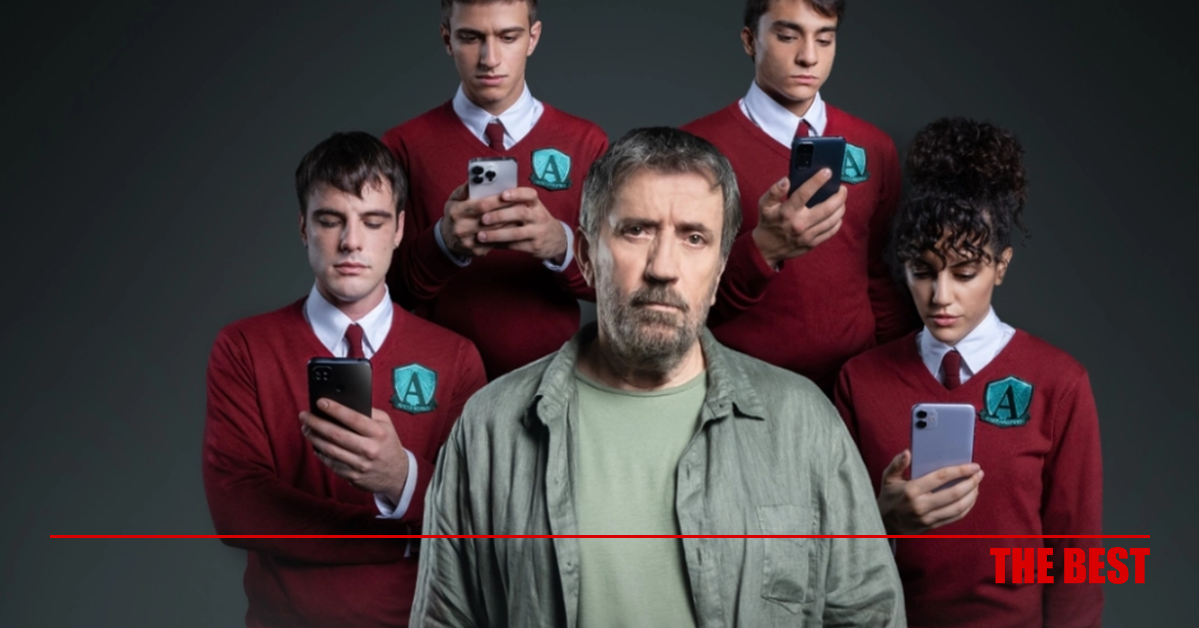 "Do What You Sleep II", directed by Aliko Kirani and Mario Valassis and written by Yannis Skaragas, premieres on ERT1 on Monday 11 September 2023 at 21:45, and is shown every Monday and Tuesday at the same time. .
The series that captivated the audience, was idolized on social media and "traveled" abroad, at the 2023 Seoul International Drama Awards, returns even more exciting and subversive, as Nicholas Kalleris (Spyros Papadopoulos) faces new conspiracies. With him, in addition to the familiar characters of the first cycle, played by well-known actors, we will also see many new excellent actors.
the case…
Nicholas (Spyros Papadopoulos) lives isolated in a caravan, having dropped out of school with Kasdaglis (Vassilis Eftaxopoulos). Tormented by nightmares and thoughts of the victims of the massacre, he agrees to meet the principal of a well-known private school when Casdaglis pleads with him to consider the possibility of working there.
Nicholas is unsure of his decision, and witnesses her The brutal murder of another professorduring the school reception. What helps him in his decision is that shortly before he was found dead, the professor had warned him against accepting his recruitment to this school.
In the face of a new reality and one A glamorous world of privilege and powerNicholas focuses on his love for children with their own plots and deviant behaviors. But apart from their cruelty, he also has to deal with the taunts of his daughter (Giorgia Messaretta), who cannot get over the shock of her friend's death.
His meeting with another teacher, Birsa (Jenny Theona), awakens feelings within him that he had been deprived of for a long time. The initial conflict between two very different, but deeply wounded, people will develop into a strong love relationship. After all, Persia would be one of the few allies Nicholas would have when facing the conspiracies of this shining world.
kaneotikoimasai382
Who is behind the killing of the professor? What will Nicholas do when Casdaglis is convicted of murder? Above all, what open reckoning with the past will bring Nicholas and his daughter face to face with their greatest threat?
They are playing: Spyros Papadopoulos (Nicholas Calliris), Jenny Theona (Persia), Vassilis Iotaxopoulos (Stelios Kasdaglis), Michalis Oikonomou (Ikaros), Ioanna Asimakopoulou (Daphne), Nikoleta Kotsilidou (Anna Gramikou), Fotini Bakshivani (Bettina Foridis), Dimitris Kapetanakos ( Konstantinos). Issaris), Alexandros Kalpakidis (Limnios), Eliana Gaetani (Chrisa), Christodoulos Stylianou (Stamatakis), Lida Matsangjou (Despina), Giorgos Debastas (Lakis Voridis), Stergios Andoulas (Petros), Georgia Missareta (Nasia Kaliris), Christos Diamantoudis. Christos Yeidas, Vicky Maidanoglou (Zoe Voridis), Vassilis Darmas (Makis Velis), Nicholas Chalkiadakis (George), Michalis Artemisiades (Stavros), Katerina Kranidis (Amanda), Titos Pinakas (Peris), Alexandros Toumadakis (Lampis), Faye Fragkalioti . (Effie), Paulina Betsi (Lita), Katia Nectariou (Margarita), Evangelos Samiotis (Kostas), Nicholas Papadomichilakis (Toulis), Makis Pappas (Vassilis).
Screenplay: Yannis Skaragas
Directed by: Alekos Kiranis, Marios Valassis
Director of photography: Elton Bevsa, George Apostolides
Scenography: Anastasia Hermouzis
Costumes: Elena Mantzaco
Original music: Yannis Christodoulopoulos
Edited by: Nikos Stefano
Production organization: Elias Voiatzoglou, Alexandros Drakatos
Executive Producer: Anna Lipisi
Producer: Nikos Callis
Production implementation: SILVERLINE MEDIA PRODUCTIONS SA
Production: ERT
Broadcast date: Premiere – Monday 11 September 2023 at 21:45
episode 1: Nicholas has dropped out of school and lives in seclusion in a coastal area, still reeling from the guilt and trauma of the theater massacre. Bettina tries to convince him to come back, while Makis tries to protect Nacia from the reactionary behavior of losing Stathis.
Issaris, Anna and Petros are promoted to a special service, the Special Crimes Division, headed by Officer Chrissa, who, apart from her experience and formality, does not seem to like them very much.
Faced with his ghosts and after resigning, Casdaglis accepts the proposal of the headmaster of the private school from which he graduated. Stamatakis offers him a job at Alexandria College on one condition: to convince Nicholas to work together. A few months ago, two students were expelled from school on charges of drug smuggling. Aside from the scandal, the event also jolted the prospect of a renewal of the current administration's mandate, and this seems to worry Professor Birsa.
But Stamatakis has to face up Secrets and blackmail. Who blackmails him with a sex video of his wife Despina? Which of his circle are true friends and which are unknown enemies? Icarus, a criminology professor at the university who has a daughter in her last year of high school, seems to know more about Stamatakis' secrets. His best friend, Daphne, leader of a rising political faction and mother of a schoolboy, isn't about to leave him helpless. It seems that Birsa is trying to balance the secrets of the school with her attempt to escape from this environment.
On the night of the college sponsors' big reception, everyone seems to be hiding something. Who is the physical education teacher who will warn Nicholas against accepting an offer to join the school's faculty? And most of all, who is the unknown assailant who will kill the gymnast soon after a sex video with the headmaster's wife is leaked?
Broadcast date: Tuesday 12 September 2023 at 21:45
Episode 2: Isaris and his team, under Chrissa's direction, cordon off the college front yard, where the hapless gymnast's body was found. Suddenly everyone becomes suspicious, but Chrysa seems determined to support Stamatakis, who was a high school teacher herself.
Faces begin to appear, although at the same time everyone has a bit of the truth to hide. Who really was the physical education teacher at school? What are his relationships with the administration and some parents? What is his real relationship with Stamatakis' wife Despina?
Nicholas feels that the coach for some reason tried to prevent him from accepting the position at the new school. But rather than be deterred by the murder, Nicholas decides to enter this magical world full of secrets and dangerous power. He is now a sworn hunter of evil and after what he has been through in the past few months, he accepts the new high school principal's proposal to explore the case himself.
. "Certified social media geek. Passionate webaholic. Unapologetic music specialist. Food ninja."