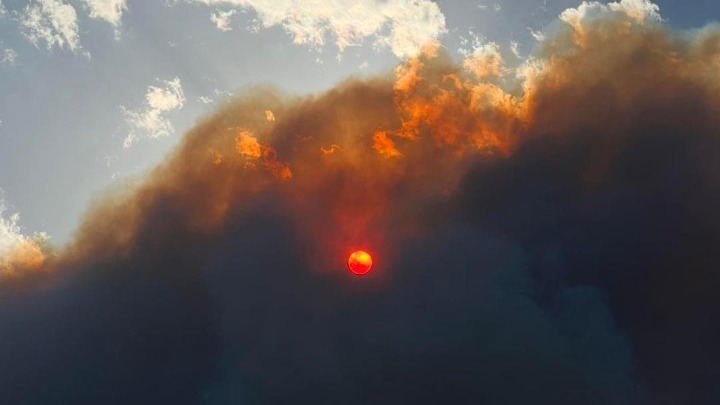 Residents of its area are living terrible times Alexandroupoliswith fire Dawn eruptions in Melia region have reached uncontrollable proportions Burning houses, cars, farm machinery and even a monastery.
When you smell smoke in the city of Alexandroupolis, thick smoke covers everything. Officials stress that the safety of human life always comes first.
"The situation is difficult, I have not come across a picture of what is happening in our region for many years," APE told MPE. Regional Governor of Eastern Macedonia and Thrace Christos Meteos.
"The first priority properly set by the responsibility and coordination of the fire service is to ensure that lives are not lost and then no property is endangered. The entire government machinery is here, Operate 14 aerial vehicles All the machines available to the region, the municipality, the military… We are all present and trying to deal with the situation. We are in Luthra, where the meeting of the coordination committee ended a while back. At least 8 settlements have been evacuated and we are making all efforts to avoid endangering human lives," Mr. Meteos added.
According to the Open TV station, there were also people trapped in the houses and the police tried to evacuate them.
Villages surrounded
"We are burning around the perimeter, the fire is licking the courtyards," emphasized Yiannis Zambokis, the mayor of Alexandroupolis. "We have evacuated Befkas, Etochori, Nipsa in the first phase and Luthra, Antia, Aristino, Dorico and Agnatia in the second phase," said Mr. Zamboukis said.
"As a civil defense we are making every possible effort for the organized evacuation and safety of the residents and this means their hospitality, their overnight stay. Now we are in Loutra, surrounded on its northern side. We are still unable to find any rooms for hosting in the hotels as they are all full. .We are using camps to sleep the forest firemen who have come for reinforcements, and children's camps for the youth. Now there are thoughts about using a boarding school," said Mr. Zamboukis insisted.
Source: APE – MEB
. "Professional creator. Subtly charming web advocate. Unapologetic problem solver. Devoted student."