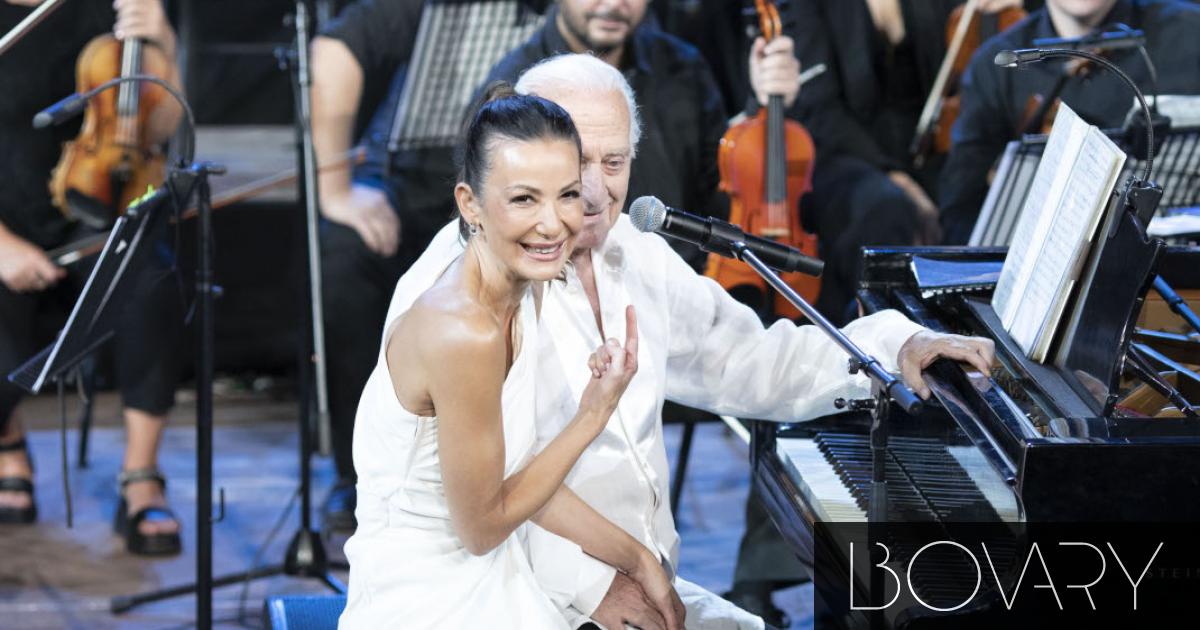 The concert by Giorgos Hatzinasios and Stefanos Korkoulis in Herodion, which was postponed due to bad weather Daniel, took place on Sunday 17 September.
Giorgos Hatzenasios and Stefanos Korkoulis gave a wonderful concert in Erodeion, 35 years after they first worked together. Their encore titled "Together Again" predicted an unforgettable evening full of emotions and part of the proceeds from the concert will go to Axion Hellas.
A large symphony orchestra was created on the stage with the excellent Athens Philharmonic Orchestra under the direction of Anastasios Simonides. Giorgos Hatzinasios performed his suites for piano and orchestra based on cinema and television themes. Stefanos Korkoulis performed his orchestral works as well as his concertos for piano, bouzouki and orchestra with bouzouki soloist Giorgos Dimitriou.
Giorgos Hatzinasios with his daughter Margherita on stage – they played the piano together at Herodion
Giorgos Hatzinasiou's daughter, Margherita, whose stage name is Margo Nancefor, took the stage and played the piano with her father. Margherita lives abroad, and the first time she appeared with her father on stage was last year, again in Erodeon, in a concert dedicated to fifty years of the music of Giorgos Hatzinasios.
The father and daughter wore white clothes to the applause of the audience.
"For me, it is a very important moment in my life because it is the first time I play with my father live and in Herodio. It is a great emotion and a great honor for me," Margherita Hadjinasio said last year about her father.
See also
Tatiana Blatnik: In Herodion in boho style with her mother – with Nikolaus Glicksberg
. "Certified social media geek. Passionate webaholic. Unapologetic music specialist. Food ninja."