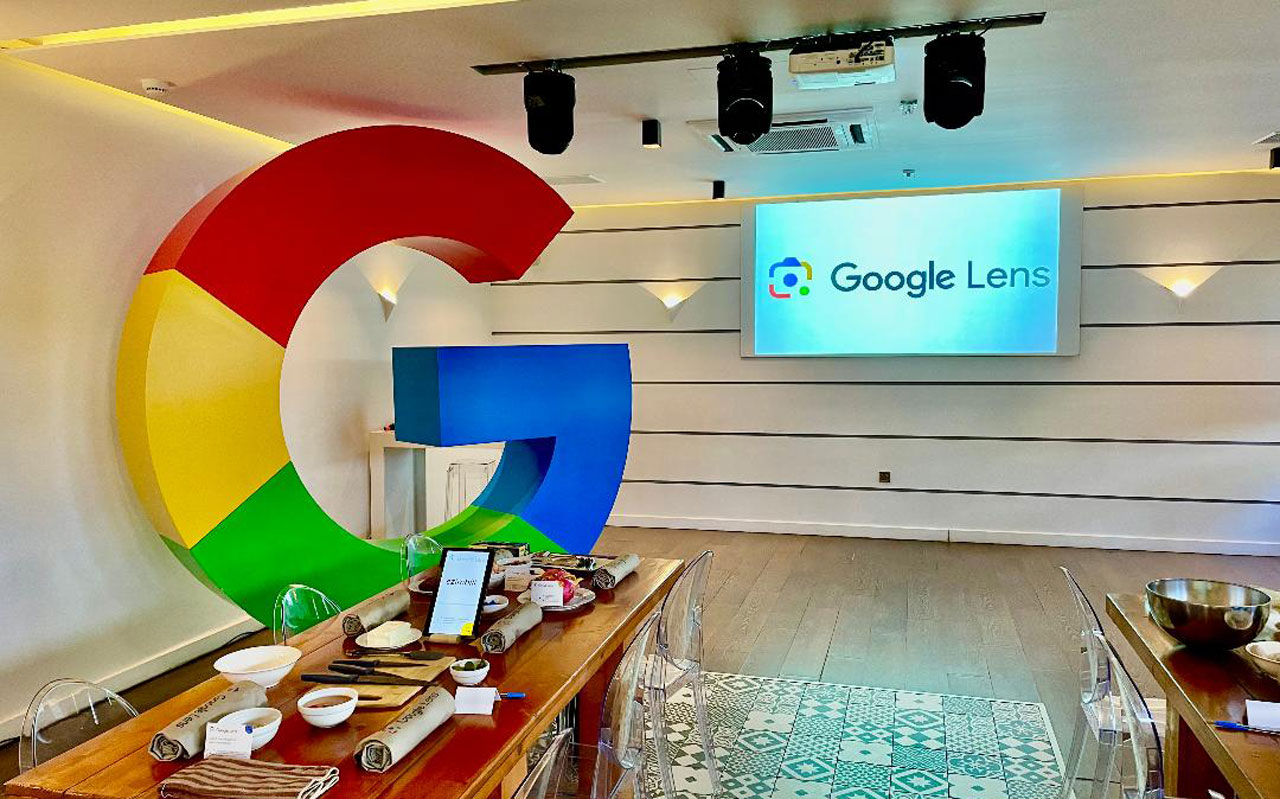 Google Lens debuted in 2018. But since then, there have been big leaps in visual searches.
More than 12 billion searches are recorded on Google Lens every month. This was revealed today (02.10.2023) by Emanuela Lucchi, Director of Corporate Communications and Public Affairs at Google in Italy and Greece.
"If you can see it, you can search for it," says Google. That's the simple idea that gave rise to Lens, the visual search tool available via the Google app (Android, iOS)."
With Lens, users can search for anything they see through their mobile camera, take a photo or screenshot, or long-press on the image while on a web page and additional visual results will appear.
On the occasion of the information event held in Athens on the use of Google Lens in cooking, and under the guidance of Madame Ginger, Google published 7 ways for users to make their lives easier:
1. Learn more about the places you are in
If you come across an interesting building or landmark you don't recognize, Lens can tell you about it, providing a series of links to more information. how; Simply tap the camera icon in the search bar (or through your phone's camera), tap the Places option in Lens, and set your camera to view the building or landmark. The app will instantly recognize what you are searching for and provide you with additional functions such as "Search Info", "Save Place", "Share" and many more.
2. Improve your gardening skills
Likewise, if you are outside or in your garden, you may find a plant or animal that you are not quite sure what it is, or that you cannot adequately describe with words. Google Lens can help you find what you're looking for and learn all about it – e.g. If the particular plant can grow indoors.
3. Translate signs, menus and more into 100+ languages
If you're planning to travel, Lens can fill in any gap created by using a different language. Through the translation function, Lens can translate texts such as menus and signs by simply taking a photo or simply focusing the camera on the text to be translated on the mobile phone. Lens will automatically translate and overlay text in the language you want – right on your mobile screen.
4. Help with schoolwork
If you're stuck on a math problem, history question, science question, etc., you can turn on the Homework feature in Lens, take a photo, and the tool will show you different ways to solve your problem. The Homework feature has the ability to help you solve problems in multiple languages, as long as you set the language in which you want to display the results.
5. Shop products that caught your eye
When you're browsing on mobile and see a product you'd like to own — a new pair of shoes or a stylish new bag, for example — you can use Lens to find what catches your eye and buy it. Simply take a screenshot and then select it with Lens and you'll be shown a series of options with ways to buy or sell. The system works the same way when you're in stores and looking for something you like. Take a photo with Lens, and you'll see several ways to buy from digital stores.
6. Perform multiple, complex searches using multiple search
Multiple Lens search helps you combine words and images to find exactly what you're looking for. For example, with Lens you can take a photo of shoes you like, but want in blue. Swipe up and tap Add to Search, then add the word "blue" and Lens will show you similar shoes in the color you want. The app can do the same for different designs – eg. A beautiful design I found on a blouse and wanted for curtains. You take a photo of the top, swipe up, type in the word "curtains" – and voila!
7. Unleash your creativity with Lens and Bard
You can upload images alongside text into your conversations with Bard to fuel your imagination and creativity in entirely new ways, bringing the power of Google Lens to Bard, starting with English. For example, you can show Fard a photo of a new pair of shoes you found while on vacation and ask for more information. You can also ask the Bard for suggestions on how to tie your sandals for a new look, then keep digging — using the Google It button — and discover a range of products in online stores from all over the web.
"Avid problem solver. Extreme social media junkie. Beer buff. Coffee guru. Internet geek. Travel ninja."