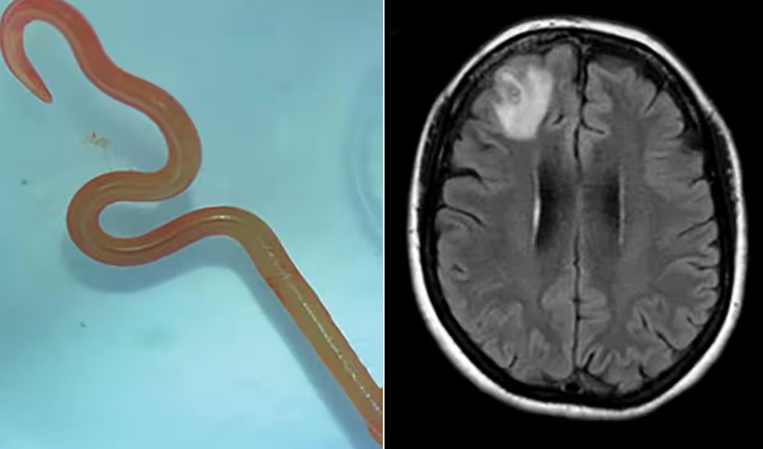 A live 8-centimetre worm was surgically removed from the brain of a 64-year-old woman in Australia.
As the Australian Guardian newspaper wrote, the 64-year-old had been complaining of headaches and memory problems. Neurosurgeons at Canberra Hospital examined her. They initially assumed the cause was an "injury". But during the operation, they found and removed a live worm. The parasite was Ophidascaris robertsi, which is normally only found in snakes, according to a study published in the journal Emerging Infectious Diseases.
In early 2021, the 64-year-old man, from New South Wales, complained of abdominal pain and diarrhoea, followed by a dry cough and night sweats. A year later, her symptoms also included memory loss and depression. Then the woman was taken to Canberra Hospital. An MRI of her brain eventually revealed abnormalities that required surgery.
"But surely neurosurgeons never thought they would find a wriggling worm," Professor Sanjaya Senanayake, an infectious disease specialist at Senanayake Hospital in Canberra, told the Guardian. "Neurosurgeons routinely treat infections of the brain, but no one expected this result."
Professor Sanjaya Senanayake said: "This is the first case of Ophidascaris robertsi in humans, anywhere in the world." "To our knowledge, this is also the first time that the brain of a mammal species, whether human or non-human, has been affected."
How did the worm enter the brain?
But how did the parasite get into the brain of the Australian woman? The woman lives in a lakeside area where snakes also live, the Australian Guardian reported. Although he had no direct contact with snakes, he would often gather wild plants and herbs around the lake to use in cooking.
The researchers speculate that the snake may have dropped the worm's eggs in its droppings onto the grass. The patient is likely to become infected after touching grass and transferring worm eggs to food or cooking utensils. But scientists confirmed that Ovidascaris infection is not transmitted between humans. "Therefore, this patient's condition will not cause an epidemic like COVID-19 or Ebola," stresses Professor Sanjaya Senanayake.
"Hipster-friendly coffee fanatic. Subtly charming bacon advocate. Friend of animals everywhere."