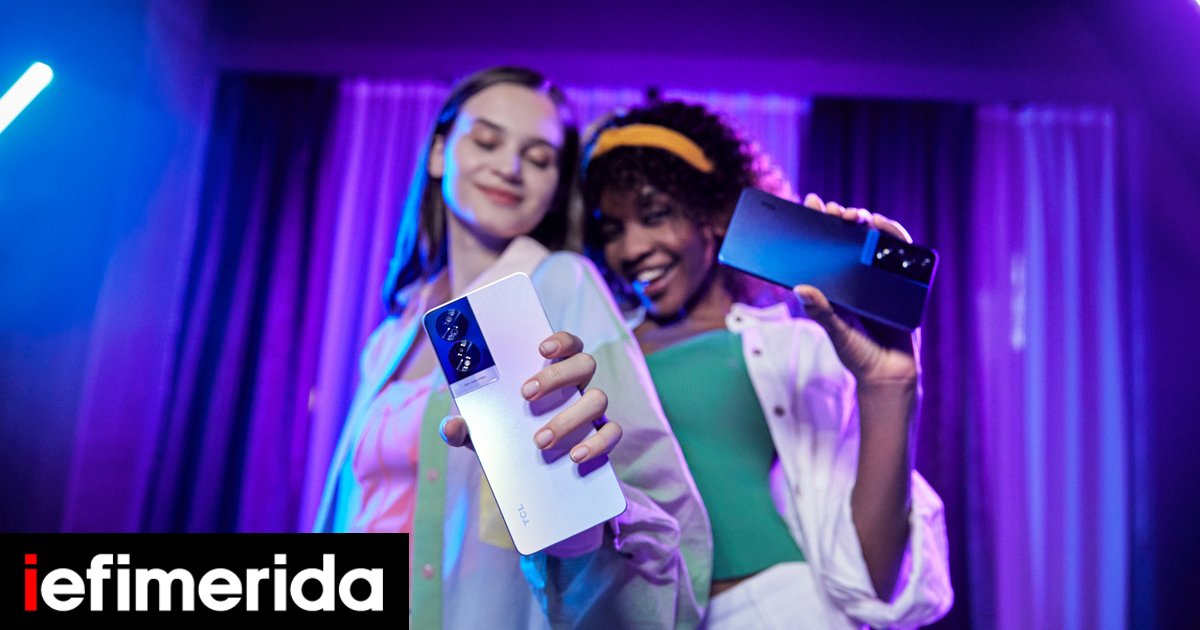 With unique features, innovative technology, dynamic attitude and iconic design… The new series of TCL NXTPAPER smartphones comes with a star look that has already conquered the audience even before he appears on the stage! It is an essential member of the Crème de la Crème in its category and surprises with its diverse functions.
TCL NXTPAPER – A global innovation… for your eyes only
What do we mean by "NXTPAPER"? We point to TCL NXTPAPER paper-like full color electronic display technology And it gives away An enhanced visual experience with amazing eye comfort. Additional credits are awarded by TÜV certified devices for low harmful blue lightBeside Built-in sensor automatically adjusts screen brightness based on time and environment. In other words, you can now easily read outdoors from your mobile screen, due to the brand's new series offerings anti-glare function, Which is achieved by creating a matte, paper-like texture.
We loved it tcl 40nxt paper, Because it breaks boundaries, frees creativity and gets you in the mood to play. It has a 6.78-inch FHD+ display with a 90Hz refresh rate, 8GB RAM + 8GB RAM expansion, a 32MP selfie camera, a 50MP + ultra-wide main triple camera, and a 5MP + 2MP macro and 3D sound. The form will be available At a price of 209 euros It is expected to be released on the Greek market from October 18. Bonus: Case with integrated T pen at preferential price 19,90 euros.
In sabotage TCL 40 NXT Paper 5G We immediately recognized a skilled player with unparalleled speed and a multi-tasking perspective. We singled it out with 5G connectivity, a 6.6-inch HD+ NXTPAPER widescreen display, and a 5,000 mAh inexhaustible battery. The 50MP AI triple camera is promising, as is the 8MP selfie camera. The device is equipped with 2MP depth sensor and 2MP macro sensor. Of course, the 6GB RAM with 6GB RAM expansion is very useful. TCL 40 NXTPAPER 5G will be available in 239 euros It is also expected to arrive in Greece from October 18.
The highlight of the series is TCL NXT Paper 11 with Full color like paper οθόνη 2K 11 inches And global recognition with Design award if. The tablet's screen brightness is the best in its class, while Color temperature function is adjustable It allows users to adjust the warm and cool tone of the screen according to their preference. Its premium aluminum design is attractive. with The weight is only 462 grams and the thickness is only 6.9 mm. This model is one of the lightest models on the market, while becoming the perfect portable tool thanks to its huge size 8000mAh battery, which supports up to 10 hours of online streaming. This model will reach the Greek market starting in October, while its price will reach 279 eurosincluding clipboard and T-pen.
It's time to forget what you knew and see smartphones…or else! With unbeatable NXTPAPER technology TCL And amazing viewing experience with live streaming.
Find the latest news from Greece and the world on
"Avid problem solver. Extreme social media junkie. Beer buff. Coffee guru. Internet geek. Travel ninja."