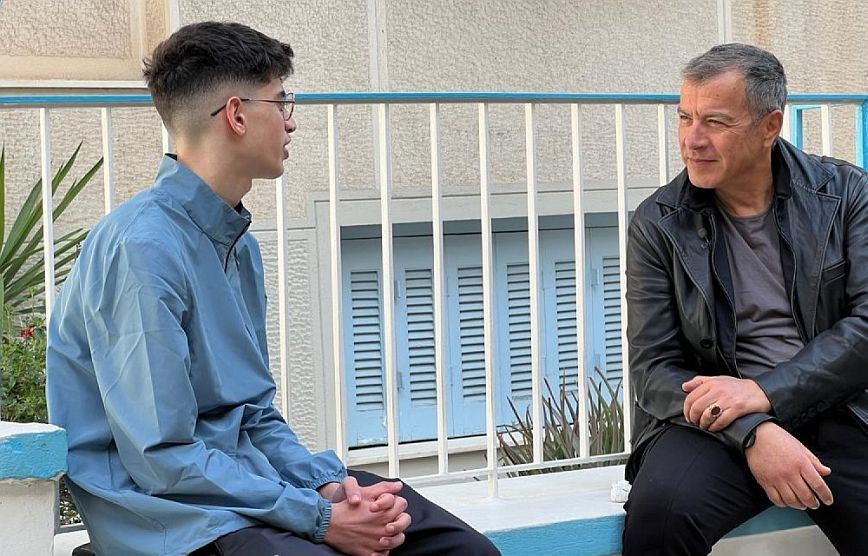 The national tragedy that occurred at Tempi and the entire Greek society was deeply saddened. Stavros Theodorakis in a new episode of "The Protagonists" that came to our television receivers on Sunday night via the Alpha program..
In it, Angelos Chiamoras, an 18-year-old business administration student, was asked to narrate his personal experience of the collision as he was in the sixth carriage of the fatal train. "I have nightmares every night. I didn't sleep for the first three nights, but I started getting three, four, five hours of sleep. They usually visit me and never let me sleep. They still don't want to leave me. Maybe they want to tell me something. Wake someone up? I do not know. But they definitely want to tell me something. I look at Iphigenia, she still hasn't left me. I also saw the other baby in the carriage the first night I fell asleep, but very dimly. But Iphigenia is becoming more clear».
«I was in cab 6 where the collision was not strong. In other words, I don't understand that there was a conflict. But the train stops, and there's a grandmother who cuts her eyebrow and starts screaming, so I understand that something happened.. First I tackled Grandma because I had to get her out from under the wagon There were people who didn't care about that. All they care about is packing up and leaving as soon as possible Although there was no collision or even danger in our own carriage, the survivor of the tragedy at Tempe characteristically remarked.
«I understand that, I can justify it and how they want to save their Tomari. Then I left there to the front cars and called out to see if anyone was inside the train, but at first I got no answer. Then I got the answer, At that time some others were searching, one of whom was Mr. George was like a saint who appeared to me that night.. I can't explain it. Mr. from the four carriage. With George we got out through the windows, for the doors were locked, and we went to the three carriages. He was the first to get into carriage three, treading on the debris to see where to step and not be cut. I mean, he sacrificed his arms so that he could be amputated, and then I'll go over what we'll see. But before I went upstairs, he told me to call EMAK to bring scissors and stretchers," said the young student.
I am bitter at the state because no one is interested. I was in a short shirt all day as I gave my clothes to the old people to breathe. Greece does not care about its citizens. Let's not forget why we have this tendency. I will continue to protest, not because I don't like the government we have, but because the people, I consider myself a thread, if everyone comes we will weave a strong fabric. This is not a simple mistake, but a crime! No amount of responsibility on the part of the station master or anyone else can hide the country's problem.
I mr. I was in touch with George. He is in Mount Athos, a lumberjack and doesn't want to go out in public. I have great respect for him. Some are telling me to go into the fire department, but I don't know if I should give up on my dream."
. "Professional creator. Subtly charming web advocate. Unapologetic problem solver. Devoted student."