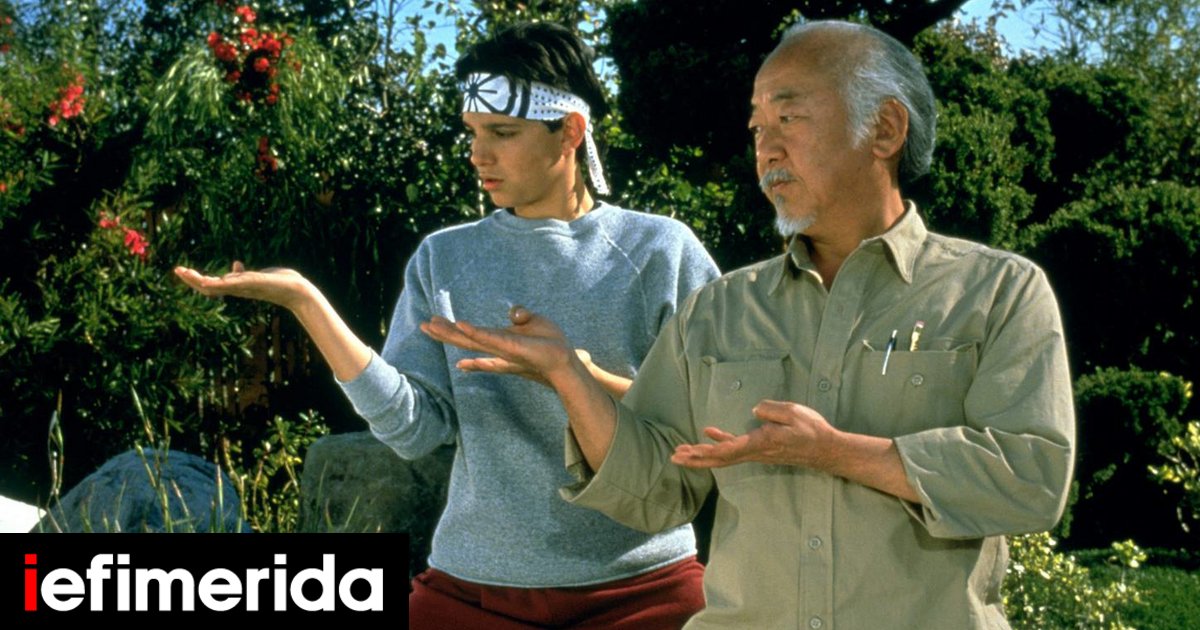 Surely at some point you find that something does not stick to you in one instance Movie while you enjoy it.
How many times have you not spotted some bugs and some gaps that make you wonder "how is it?".
We all make mistakes. Thus, there are not a few times that even the best directors show things that they should not forget or forget to account for, which sometimes go unnoticed, while others do not. We found and present to you the 15 most obvious mistakes in famous films …
15 Christmas Movies to Watch on Netflix [βίντεο]
Golden Globes: Nominations for "Belfast" and "Dog Power"
"Last Exit: Rita Hayworth"
The Frank Darabont drama has a famous feature, in which it is revealed that Andy Dufresne (the unjustly imprisonedTim Robbins) infiltrated Shawshank Prison, hiding his escape route with a poster of Rita Hayworth. But how did he manage to reattach the bottom of the sticker after he left it and left it behind?
"karate Kid"
In the last scene of the classic movie "the Karate Kid" From the 80s, Daniel La Russo (Ralph Maziodefeats his opponent Johnny LawrenceBilly Zamka) with a concussive kick to the head. However, at the start of the match, it was reported that headers were not allowed, as per the tournament rules – which meant that La Russo had to be disqualified. It's a plot hole harnessed in the recent "Cobra Kai" series, which is a sequel to the popular movie.
Toy Story
a lot of first «Toy Story » The movie is about Buzz Lightyear (Tim Allen) refusing to accept the fact that it's a child's play. If that's the case, why play dead whenever someone enters the room? It's a plot loophole that has been discussed by fans for years, and no explanation is entirely satisfactory.
"disaster"
science fiction movie "disaster" In the '90s such an amazing mistake, mocked him Ben Affleck In the same comment, on DVD of the movie. With Earth in imminent danger, NASA decided to train a team of drilling experts to be astronauts, a time-consuming and expensive (and in fact impossible) process, rather than simply training current astronauts how to operate the exercise.
"I asked [τον σκηνοθέτη Μάικλ Μπέι] Because it was easier to train drilling experts to be astronauts than to train astronauts to drill."Affleck said in the comment. "He told me to plug it in, so that was the end of that conversation."
"Back to the future"
In his famous movie Robert Zemeckis In terms of time travel, it's hard not to think that Marty McFly's parents don't recognize in their son the young man who brought them together in their younger years. Even if I accept that it's been decades since they last saw his face, it's hard to believe that they wouldn't notice the strange similarities.
"Citizen Kane"
Even a great movie is forever like "Citizen Kane" It has its flaws – and the iconic opening scene is one of them. As Charles Foster Kane dies alone in his bedroom, he utters the vague word: "Rosebud." The word becomes a puzzle that newspapers struggle to solve. The only problem is; There was no one around to hear him say that.
"Beauty and the beast"
The monster in this classic cartoon of her Disney Looks like it was just before his twenty-first birthday. This is when the spell becomes permanent. However, one of the songs notes that he has been living as a monster for an entire decade, which means that he was cursed when he was still a teenager. Not only does this raise many questions about the circumstances that led to the curse, but it also directly contrasts with the image we see as a human and as an adult.
"ant Man"
In this movie her marvel Scott Lang is often mentioned (Paul Road) retains its full size mass when it shrinks to the size of an ant. This is what allows him to hit people while he's young. But this raises a lot of contradictions regarding how Ant-Man interacts with the world. Especially when sitting on the back of an ant.
"Old"
science fiction drama M. Night Shyamalan (2021), about a rapidly aging beach, was original. However, there is a problem at its end. Shyamalan's character, tasked with monitoring beach victims from afar, decided to pack his gear and leave when the last two people were submerged underwater for only a few minutes – apparently deciding that no one could survive for long. After watching her for hours, he suddenly couldn't take another minute to make sure? It's a "funny" moment in a thought-provoking movie.
"Star Wars: The Force Awakens"
When Beam (Daisy Ridley) and the gang return from the stark base after his death Han SoloThe Lea Organa Carrie Fisher rushes to give her a sad hug, completely ignoring him Chewbaccaher best friend of decades and best ex-boyfriend.
"The Dark Knight: Return"
While the movie had loyal defenders, there was a lot to like about the 2012 trilogy. Christopher Nolan "Rise of the Dark Knight", which does not seem entirely correct. One of them was a world famous billionaire Bruce Wayne He managed to fake his death and live his life unrecognized.
"Black Panther"
Since T'Challa (Chadwick Boseman) was nearly killed in a fight with Eric Killmonger (Michael B. Jordan), he falls into a river and floats downstream until a fisherman pulls him out of the water. However, we later learn that the tribe that discovered it is vegetarian – so what do they hunt from?
"A quiet place"
While arguably one of the best horror movies of recent years, "A quiet place" It is mocked for some of its smaller touches, such as the panel where the protagonist records information about dangerous creatures, as it reveals to viewers almost everything at once. Also, a rather glaring plot opening comes in the middle of the movie, when a family goes to a nearby waterfall and can yell at each other without detecting the sound of water crashing.
"gravity"
science fiction movie "gravity" It is not 100% accurate. The biggest emotional punch in the movie comes when he plays Matt Kowalski George Clooney, She sacrifices herself to give her character Sandra Bullock Better chance of survival. At one point, the pair found themselves tied to different ends of Kowalski's safety rope. Kowalski chose to disconnect and drift into space rather than drag Ryan Stone with him. However, due to the laws of physics in zero gravity, all she had to do was pull the rope and Kowalski would be pulled into her and to the satellite safely.
Lara Croft: Tomb Raider
The film focuses on her mission Lara Croft To protect the world from the Illuminati, who plan to use an artifact called triangle During a solar eclipse, to wreak havoc on the world.
We know the Triangle is split in two, and after getting Part One in Cambodia, Croft embarks on another perilous journey to get Part Two back in Siberia. The problem is that we already know that a triangle can't function without both halves, so all Lara Croft had to do was destroy the half she already had and the job would be done.
follow her on Google News and be the first to know all the news
Find the latest news from Greece and the world at
. "Certified social media geek. Passionate webaholic. Unapologetic music specialist. Food ninja."