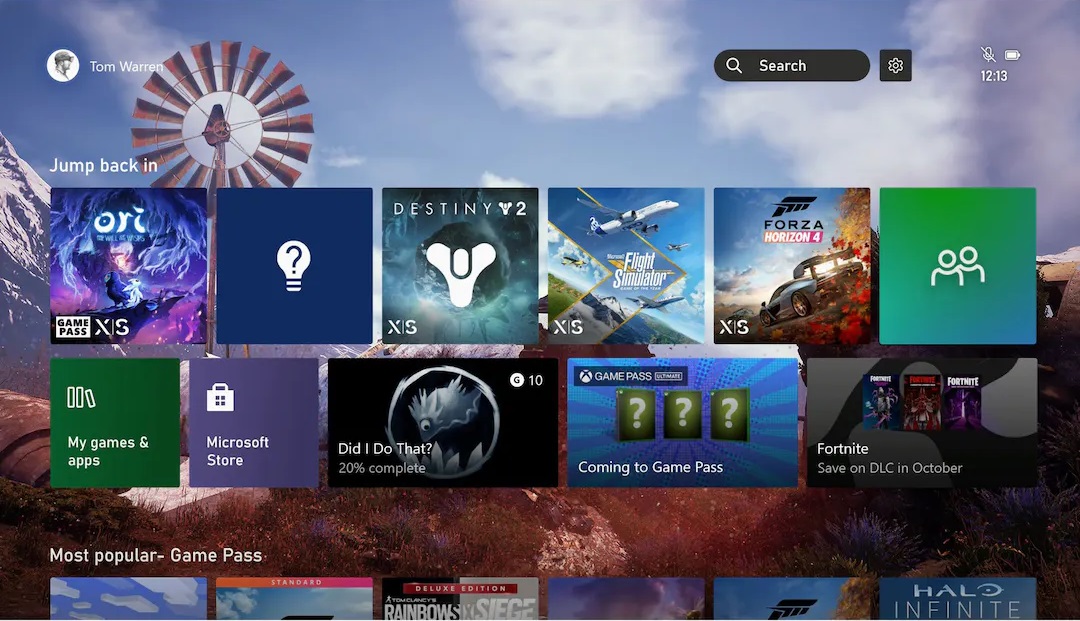 on the site the edge Had the opportunity to test an early version of Home UI and as you say Journalist Tom Warren, although there have been some improvements, the initial UI section looks like an extended advertisement for Xbox Game Pass.
In the new user interface, the largest panel of the most recent app or game that the user used has been replaced by six squares of the same size in the top row. These are the latest apps or games with Microsoft also removing Settings or Microsoft Store apps from the selected apps/games list as you can now easily access both in a different way from the main section of the main Xbox user interface.
While most Xbox users demand a more "simple layout", at least for the initial or main UI section, the old tiled user interface does nothing to highlight the dynamic wallpapers and backgrounds available on the console. Fortunately, the main section now only has two pieces dedicated to ads instead of three, but once the user scrolls down they will find that Microsoft has 'transformed' the user interface into a giant Xbox Game Pass ad. In the area below the main section is a games section that was recently added to Xbox Game Pass. First impressions are that this is a great addition for Game Pass users, but scroll down and it's clear that each section is just an extension of Game Pass or Microsoft Store to encourage users to download or buy games.
This might be a good default for new Xbox users As noted by Tom Warren, the user can no longer customize that environment. In your current Xbox settings console or dashboard, it's easy to search settings, rearrange sections, remove unwanted sections and arrange them however you like, or prioritize your own apps by installing them. With the new user interface, that's not possible, however, as the Verge journalist assumes, this is an early form of the user interface, so all of these features are likely to "come back". Right now, the Xbox user interface looks like a pure advertisement for Xbox Game Pass.
As Tom Warren says, Microsoft will likely have several changes planned. Over the past decade, Microsoft has redesigned the Xbox dashboard/gadgets several times, and it's now mature and functional enough (the company has made some nice additions like Discord integration, night mode, etc.) main or home screen and Xbox DVR. What many users are asking for is simplification and more options for customizing the home section, where the focus is on their "installed" apps and games, or on dynamic wallpapers and backgrounds. Currently, the company is doing a lot of testing, and we won't see the new user interface for Xbox game consoles until 2023. There will be improvements and changes of course. Hopefully, Microsoft will listen to the community to learn about a different kind of key section, but with the company trying to offer a unified user interface for Xbox consoles, TVs, and Xbox Cloud Gaming, the job is much more difficult than a Photoshop mockup.






1










2




"Total alcohol fanatic. Coffee junkie. Amateur twitter evangelist. Wannabe zombie enthusiast."