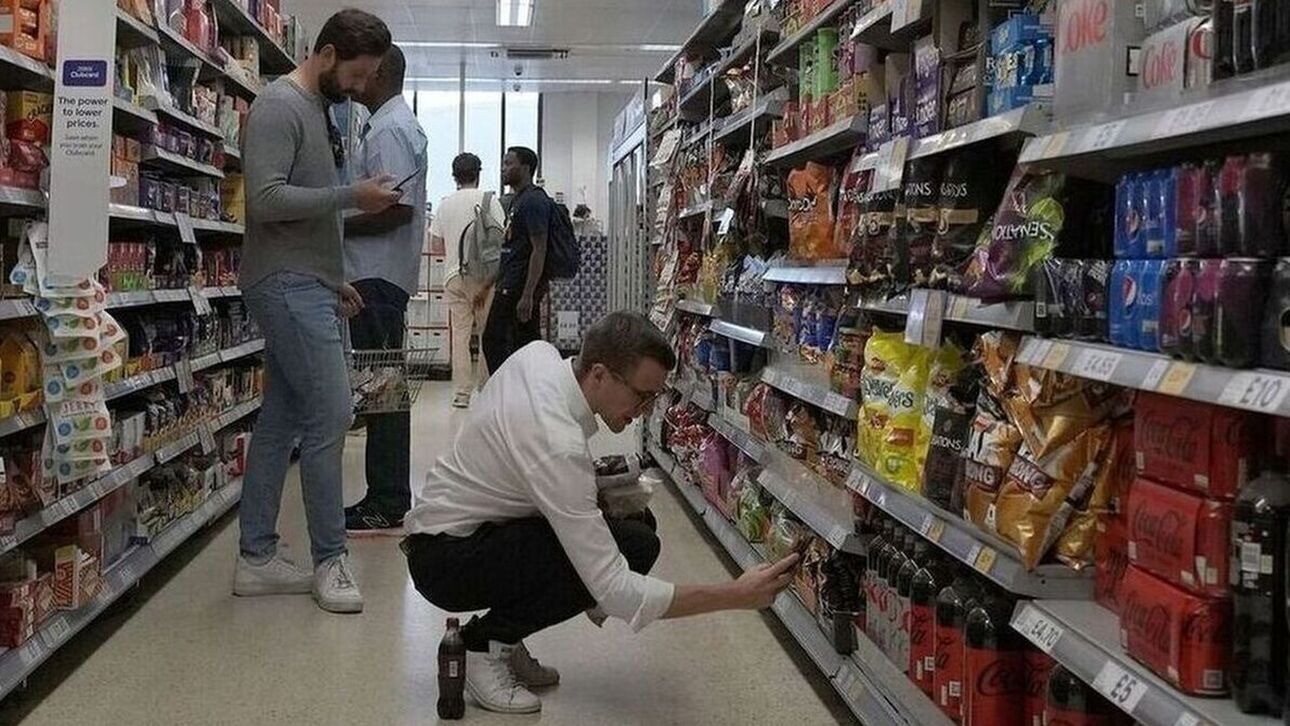 supermarket: Despite the decline in global oil prices, supermarkets insist on raising prices. The share of private label products increased significantly, reaching 25.4%. All developments in xristika.gr.
Nielsen IQ reported a 3.5% drop in consumption volume, but also a 12.2% increase in prices in the first quarter.
At the same time, the turnover of organized food retail continues its upward trend in 2023, showing a positive trend for the first quarter of the year of +8.2% (data for the beginning of the year until April 02, 2023), compared to the corresponding last quarter. time period.
According to NielsenIQ, this trend is mainly driven by fresh food (+8.1%) and processed food and beverages (+8.2%), mainly due to their significant contribution to industry sales.
In addition, the trends for its major categories are positive family, So is her personalized carewhich are growing by +12.1% and +7.6%, respectively.
Detailing the general trend of FMCG +8.7%, it is clear that this growth is still purely inflationary, Prices rose by 12.2% while volumes fell, respectively, by 3.5%.
Supermarket: Significant growth in private labels
In this hyperinflationary environment the share of products private label It witnessed a significant increase, from 23.8%, which was at the end of 2022, to 25.4%, in a market that also includes the discount channel, while at the same time manufacturers of branded products are trying to become more competitive. Promotion intensity increased from 66.7% at the end of last year to 68.2%.
With regard to the different types of stores, the largest growth is shown by the largest stores (above 2500 sqm), by + 11.5%, which may be due, among other things, to the fact that buyers choose the largest stores, where in addition to a greater variety, you can Find more offers available, as well as more competitive prices.
At the level of geographical regions, Crete and Peloponnese regions continue to show the most positive growth trends (+15.4% and +6.8%, respectively), but at the same time this increase in turnover appears to be associated with stronger inflationary pressures in these regions, compared to the country as a whole.
Referring to the trajectory of specific product categories, stationery shows particularly high growth rates (indicative: toilet paper: +48.6%, kitchen paper +37.0%), mainly due to the very significant increase in its average price.
On the contrary, categories related to the epidemic, such as hand sanitizers (-58.2%), as well as flexible gloves (-30.1%), continue their downward trend, while the category of seed oils also showed a significant decrease in their total. Sales (-16.9%) compared to the high base of 2022, due to the outbreak of the war in Ukraine and the shortage observed in the market.
According to NielsenIQ, the FMCG track shows relatively lower inflationary pressure, compared to Q4 2022 (+13.2% vs. 12.2%).
If we take into account the fact that in the first quarter of 2022 the market has already started recording a price increase of +3.3%, this means that the current inflationary pressure will be added to an already high base.
At the same time, the downward trend in volumes appears to be more moderate in the first quarter of this year (-3.5%) compared to 2022 (-7.0%).
Supermarket: Find out how much meat, oil and dairy products have increased
An increase of 25.2% year on year in the prices of dairy products and eggs, 22.9% in oils and fats and 20% in meat. Daily despair in supermarkets to be exact. All details at xristika.gr.
An increase of 14.8% was recorded in the food and non-alcoholic beverage group year-on-year in February 2023 according to ELSTAT data with inflation at the same time at 6.1%.
The increase in the prices of the main food categories continued, as the data shows, while dairy products, eggs, oils and fats, as well as meat, recorded the highest price changes compared to February 2022.
Annual price increases in detail:
Dairy products and eggs 25.2%
oils and fats 22.9%
meat 20%
Bread and cereals 16.8%
Other foods 13.1%
coffee – cocoa – tea 13%
sugar – chocolate – ice cream 9.2%
Mineral water – soft drinks – fruit juice 9%
In addition, a comparison of the two indicators for February 2023 with January 2023 shows the following Changes in the prices of food categories:
Fresh vegetables: 14.9% increase
Frozen vegetables: 3.5% more
Olive oil: 2.7% increase
Coffee: 2.3%
Cheese: 2.1%
beef by 1.9%
Pork: up 1.5%
fresh fruit 1.4%
On the contrary, a decrease was recorded in pasta by 3.2% and in preserved or processed vegetables by 1.7%.
The supermarket: when will prices start to fall again?
Accuracy, especially in basic foodstuffs, remains an unsolved mystery for citizens and the state. The "fork" in the supermarket is proving to be the worst of all, as consumers struggle to make ends meet. All developments in xristika.gr.
Lower energy prices raise expectations of a decline in inflation in the coming months, which could actually be faster than estimated if this trend occurs.
What is still terrifying though, is the accuracy of supermarket items, which keep flying by, making consumers' lives very difficult.
It is estimated that in February there will be a slight inhibition in food accuracy and it is likely to drop below the 15% mark, which was in the last three months.
Of course, even if there is a significant slowdown, it is very difficult to directly reflect it on the family budgets, because the comparison will be made with the corresponding month of last year.
The supermarket: when will the calm come?
What may be valuable and show a downward trend, however, would be a comparison of the month under review to the month immediately preceding it.
If this happens, it will undoubtedly be a positive sign. However, it is difficult for this to happen immediately and with an intensity that leads to meaningful results.
Analysts say that a real drop in prices should be expected after Easter, when cuts in energy prices, especially natural gas and electricity, will be capitalized, as the differences are very large.
Therefore, given that it has now started and there is a clear decline in consumption in terms of volume, it is assumed that the industry, in the context of competition, will continue to reduce commodity prices.
It is estimated that the beginning of those products that they had represents a significant increase the entire previous period.
Supermarkets: the food index is running at a high rate
Of course, de-escalation will be slow and permanent with her Provided that prices are in the energy mix They will be maintained at least at current levels and there will be no unpleasant reversals again, as happened for example at the end of last summer, when the first signs of price decline appeared.
Therefore, there was a great disturbance which led to large increases mainly in food which until then had been able to hold out.
For example, the consumer price index hit its highest level in June last year at 12.1%, while the food index was slightly higher at 12.6%.
Today when the CPI is at 7%, the Food Index is at 15.4%. It is clear that just as the increase in food was delayed compared to the index, de-escalation would also come with a delay.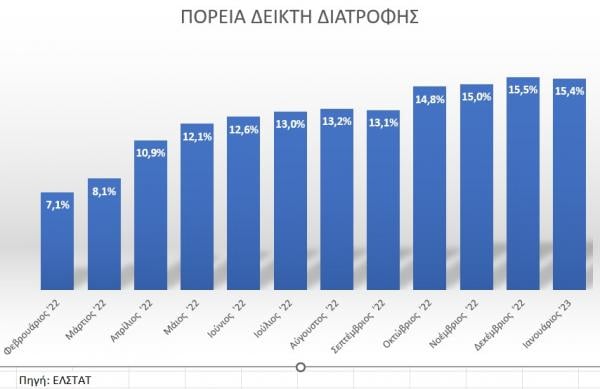 Supermarkets: Families on a tightrope – the monthly bill arrives for 18 days
GSEVEE President Giorgos Kavvathas told ERT that the gap between the best-paid workers and the poorest is widening, and poverty is advancing, which can also be seen from the GSEVEE IME survey.
More than one in two citizens (51.9%) estimate that their financial situation will deteriorate in 2023.
What worries the citizens is the high prices of food and energy.
6 out of 10 households say that the "household basket" has not kept prices low.
He explained that the monthly allowance is enough to cover basic expenses for only 18 days, compared to 19 days last year.
The survey shows that 11.9% of families He lives in conditions of extreme poverty.
As more appropriate measures to Precise handling:
51.1% of families consider it an increase in salaries and pensions.
28.6% see this as a reduction in fuel taxes and fees.
We have done two studies / surveys: the first is related to the consumer sector which shows that the situation is very difficult. What they tell us is that they are facing great difficulties, especially with the rise in food prices.
The second test was conducted among executives of food retail and the food industry and shows that compared to May 2022, the country's economic situation has improved somewhat, Director General of the Research Institute for Retail Consumer Goods (IELKA) Lefteris Kioses told ERT.
He said they believe 2023 will also be a difficult year for food retail businesses.
The vast majority of companies, 9 out of 10, have absorbed at least some of the brands they received from suppliers. especially:
27% absorbed up to 10%
42% absorbed 10-25%
20% absorbed 25-50%
12% absorbed more than 50%.
It is estimated that there will be inflation in 2023 as well, but it will in no way reach the levels of 2022.
"Avid problem solver. Extreme social media junkie. Beer buff. Coffee guru. Internet geek. Travel ninja."