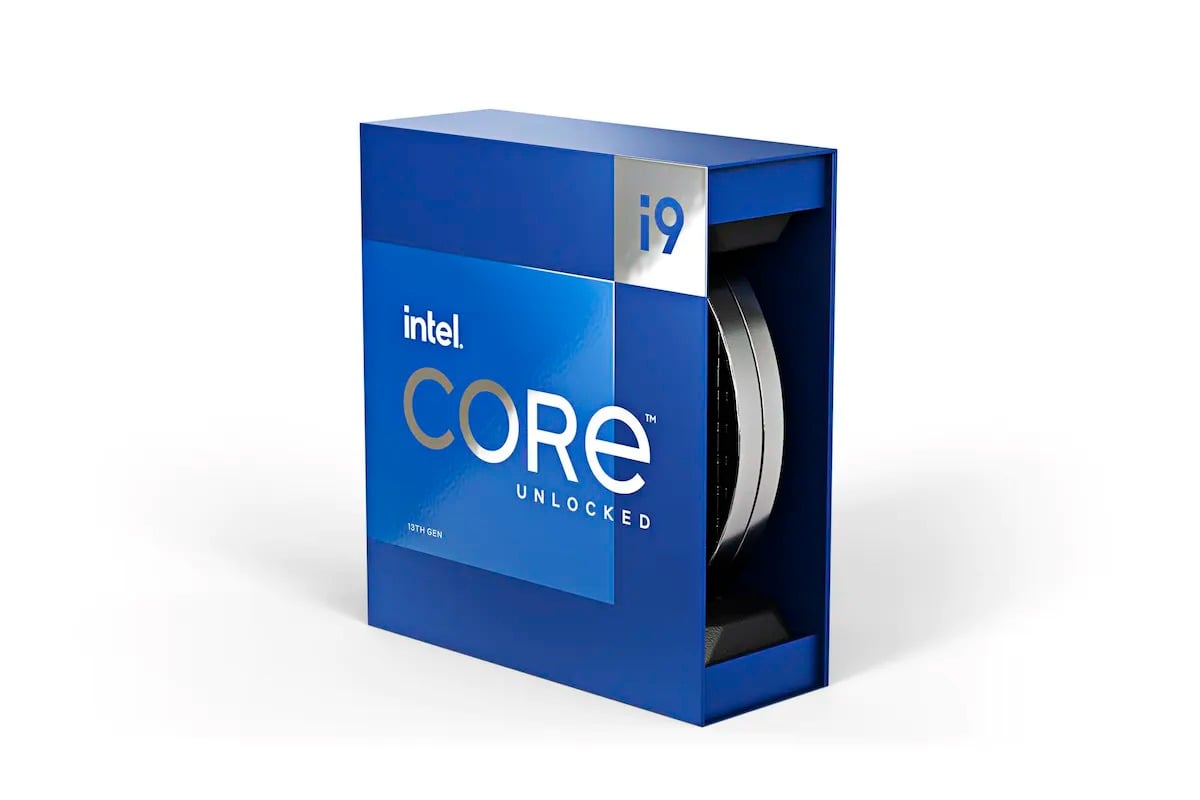 The company's 13th generation desktop processors will hit the market on October 20, led by its flagship Core i9-13900K processor priced at $589. The price of the processor is the same as that of the previous Intel flagship 12900K, although Intel warns of a price increase. The announcement of the new desktop processors comes as AMD just released its new Ryzen 7000 processors in a battle for desktop dominance.
The Core i9-13900K from Intel will be available with 24 cores, 32 threads, and speeds up to 5.8GHz. Based on Intel's Manufacturing Method 7 and its x86 hybrid performance architecture, 13th generation processors feature performance cores (P-cores) and efficiency cores (E-cores) that intelligently allocate workloads using Intel Thread Director, a microcontroller built into the CPU that It monitors threads and ensures that they are executed by the correct cores.
Intel used the same architecture for its 12th-generation chips last year, an approach similar to what Apple does with its own processors, but based on the ARM architecture. Instead of cramming new processors with power-hungry cores, this P-core / E-core split should be more efficient. Accordingly, 13th generation processors now consume more power at their full turbo speed than their Alder Lake predecessors.
Intel's 13th generation includes a total of 22 processors, led by the current Core "K" processors for the consumer computing cream. Intel promises up to 15% better single-threading performance on the Core i9-13900K and up to 41% better on multi-threading. While the company has not increased the number of P cores available in its 13th generation processors, the Core i5, i7, and i9 series have more cores, which should aid in multitasking and multithreaded applications. In short, that means eight more cores in Core i9 and another four in Core i7 and Core i5.
The core frequencies of both types of cores have been reduced to Core i5, i7 and i9. Conversely, boost frequencies have increased and can now reach Core i9 timings up to 5.8GHz. That's 600MHz more than 12900K in the case of the Core i9, 400MHz more on the latest Core i7 and 200MHz more in the latest Core i5 offering. We know that Intel is also preparing a processor Recorded at 6 GHzbut without announcing anything relevant today.
It is expected that there will be PCIe Gen 5.0 support and support for DDR5-5600 and DDR5-5200. Intel also maintains DDR4 compatibility for motherboard manufacturers who want to keep offerings using DDR4 instead of DDR5 memory. The L3 and L2 cache has also been increased.
The whole point of Intel's advertising today is their consumption combined with their prices. Prices for Core i9 and Core i7 processors are surprisingly similar to last year (at least in America), despite Intel warning earlier this year that prices for its flagship chips are going up. The Core i5 is the only processor to see a price increase, with the Core i5-13600K coming in at $319, up from $289 for the Core i5-12600K at launch. Similarly, the Core i5-13600KF (without integrated graphics) is $294, down from $264 in last year's model. But it remains to be seen if those prices will also apply when the products hit store shelves.
While price increases have only affected the Core i5 this year, the power requirements for all models have increased. Core i5, i7, and i9 processors all have a base power of 125 watts, but the Core i7 and Core i9 will each need 253 watts to get their maximum power. That's a 5% jump from 241 watts from last year's Core i9, but it's a whopping 33% jump for the Core i7, which goes from 190 watts last year to 253 watts for the 13th generation. Intel's Core i5-13600K now needs 181 watts for its turbo mode, up 20% over the 150 watt Alder Lake version.
Core i7 and Core i5 power requirements are surprising since many choose these processors for gaming when they don't need the top performance of Core i9 for various reasons (eg price)
Intel's 13th generation processors were released along with a new 700-series chipset. Existing 600-series motherboards will support the new (Raptor Lake) processors, but the new Z790 offerings will offer eight additional PCIe 4.0 lanes, and more USB 3.2 Gen ports 2×2 (20Gbps) and DMI Generation 4.0 for improved access to peripherals and networks.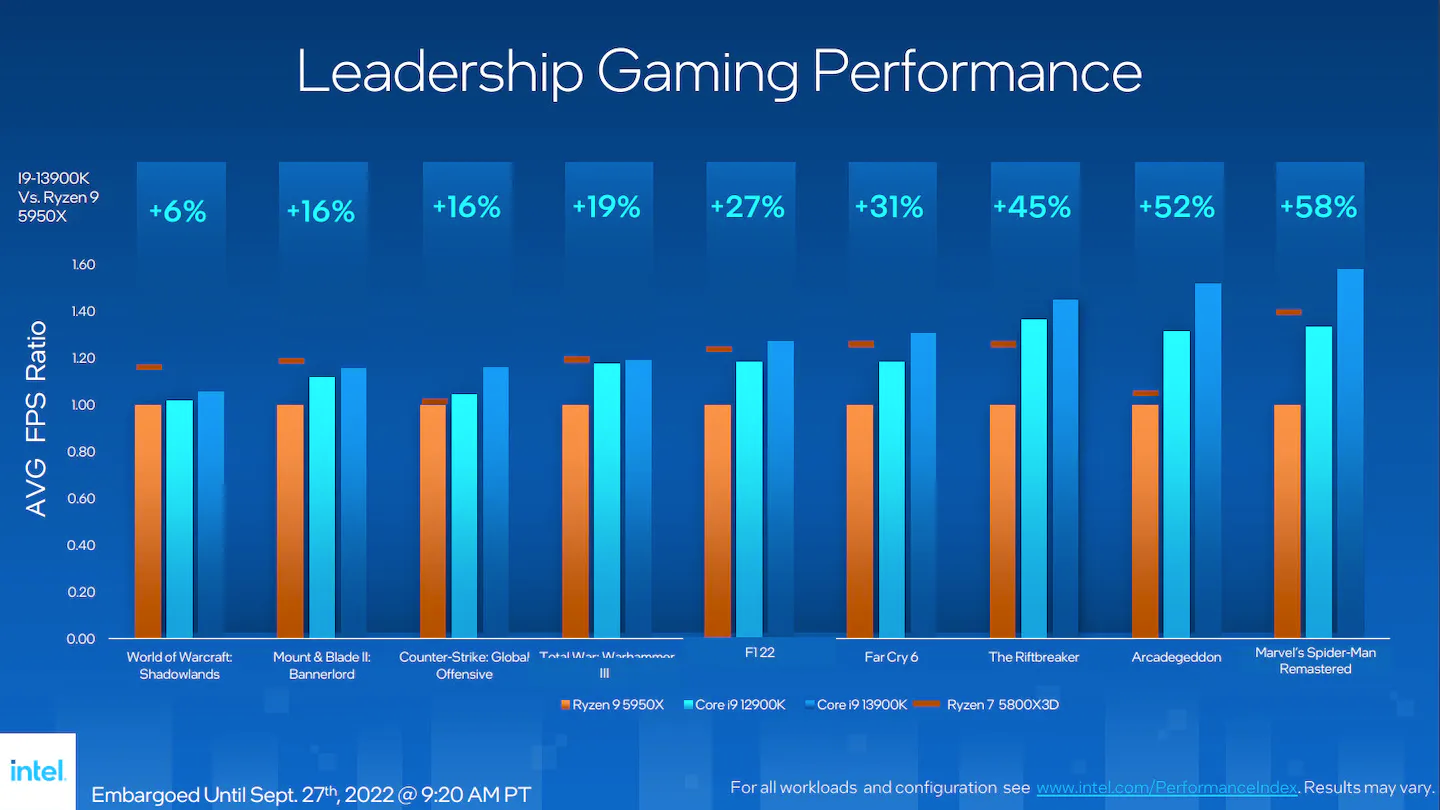 But the real question is how well the 13900K performs against the latest offerings AMD's Ryzen 7950X and 7900 X. Intel hasn't made direct comparisons, but it did provide a series of benchmarks that show the 13900K win and lose against AMD's Ryzen 7 5800X3D.
Intel's 13th generation desktop processors will start appearing in stores from October 20, along with Z790 motherboards. Intel says it will share more details about the rest of the 13th generation processor family "at a later time".
"Total alcohol fanatic. Coffee junkie. Amateur twitter evangelist. Wannabe zombie enthusiast."