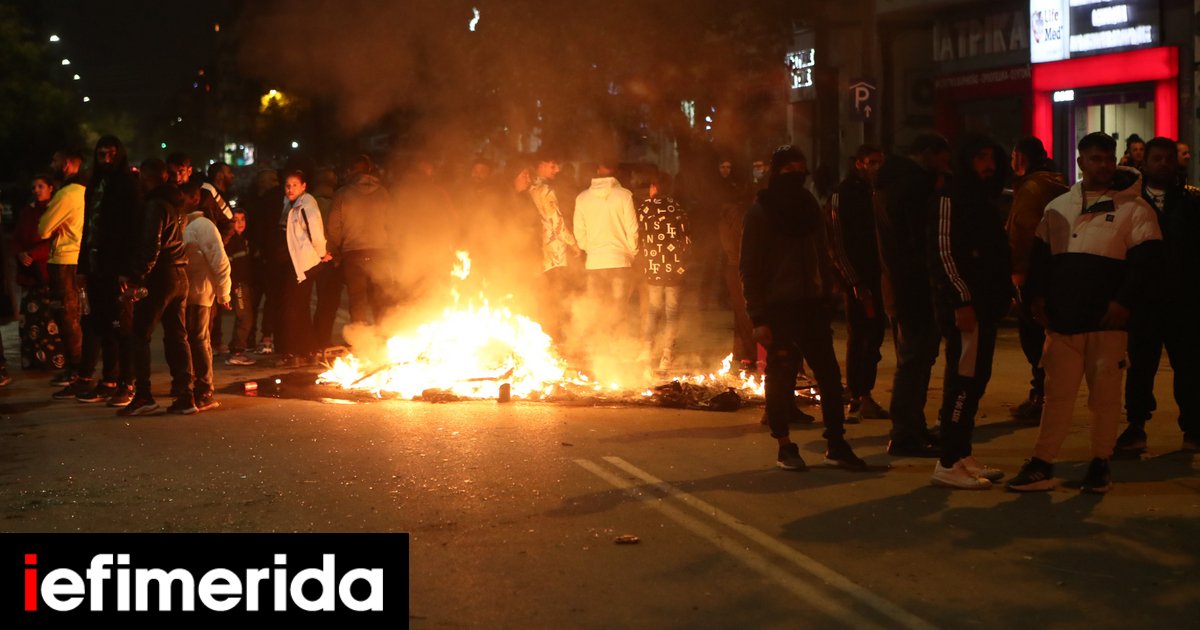 New chapters Roma Another day, protesting the serious injury of a 16-year-old. A short time ago, in Aspropyrgos, police officers opened fire.
According to the first information, Roma shot and killed OPKE police officers.
On Dilistrioni Avenue, near the PPC facilities, the police tried to push back the Roma groups.
At the same time, A Roma lost his life in MegaraAnother was shot dead by a Roma after an argument between them in a camp.
Earlier, a large fire broke out in the Nea Zoi area of ​​Aspropyrgos.
Meanwhile, minor mishaps took place at Megara on the 40th km high side of the National Highway. According to the first information, a car caught fire at the intersection of Byzantium Street with the old national road, and other cars also caught fire, while Roma did not allow the fire brigade to extinguish it. and pelted stones at police officers.
Episodes in Schisto Korydallos, traffic jammed
Episodes occurred Little Schist In Korydallos, at the event of 16-year-old Roma. Incidents started in the area from Roma, on Tervenagione Street, when a group of people gathered in the area set fire to rubbish bins and tyres.
Due to the tension, the traffic police have stopped traffic on Potamo Street, in both traffic streams from the height of Karoli and Dimitriou to Tervenakion, in the Koridalos area.
Also, there is a traffic stop at the following places:
Old National Road Athens – Corinth (North Side Road NEOAK) 39 to 42 km in both traffic streams in Megara area
In both traffic streams from the height of the Athens-Corinth National Road to Nato Avenue on the Egalio Ring Road.
Seven people arrested in EL.AS operations. In camps in western Attica
Meanwhile, Seven arrests And four people were arrested by EL.AS during an extensive operation in West Attica since morning in Zephyri, Menidi, Ano Liosia and Neoktista Aspropyrgou.
EL.AS continued this action after the incidents caused by Roma in Thessaloniki, after a police officer shot dead a 16-year-old boy.
According to the police, seven arrests were related to drug possession, while raids were conducted at 25 houses, while the operation will continue into the night.
President Roma Zefiriou on iefimerida.gr: "I condemn the incidents, I go door to door to calm them down"
Shooting at 16-year-old Roma: Incidents erupt in Schisto Koridalos – tires and tanks on fire, traffic halted
It may be recalled that the police operation was organized and carried out by GADA with the participation of MAT, OPKE, EKAM teams, security and other services and a helicopter, while fire department vehicles are also on alert.
Also attacks by Roma groups Shooting.
Follow it Be the first to know all the news on Google News
See all the latest news from Greece and the world
. "Professional creator. Subtly charming web advocate. Unapologetic problem solver. Devoted student."