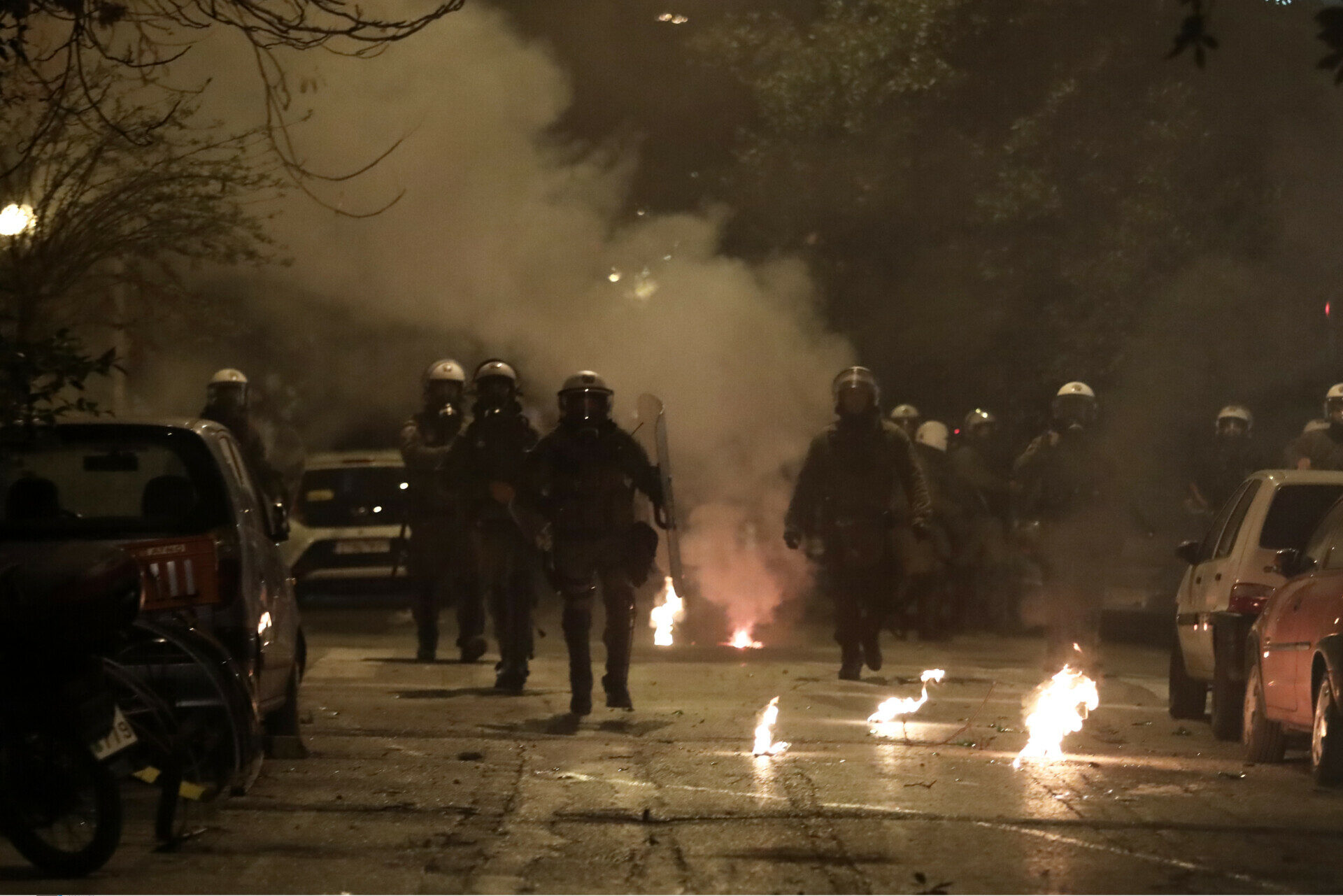 Headquarters of Hellenic Police.
In particular, it clarifies:
"Yesterday (28/10) around 20:15 hours OPKE police officers who were looking for a group that broke into a shop and caused damage and injured two people, were attacked unprovoked by about 50 people in the area. Neos Heraklion.
With their faces covered, they were pelted with stones and bottles and the police immediately dispersed without using their equipment.
When the men left, police observed a woman lying on the ground wearing black clothing, gloves, a surgical mask and a hood, and found her suffering from head injuries.
When the police tried to give her first aid, a group of 100 to 150 people, masked and carrying logs, wooden and metal rods and other items, launched another fierce attack against the police, causing heavy damage. 2 official vehicles and 2 police officers injured.
To deal with the new attack, the police officers used appropriate means, as a result of which the people fled, while the E.K.A.P. The station was called to the scene. Who, along with the police, took the woman to hospital where she is receiving treatment. It was established that this was a 16-year-old girl, who was arrested for participating in the attack and later released provisionally at the behest of a competent attorney. At the same time, the medical examiner examined him inside the hospital.
A protective helmet cover, black paint, 3 stones, a glass bottle and a plastic bottle were recovered and seized from the scene of attack.
In Exarchia
EL.AS. According to, "Today, early in the morning, a group of about 20 people gathered. will expire, where they split into smaller groups. Among these, a group of 80 people threw 8 Molotov cocktails, 4 of which were explosive, while they set fire to two garbage cans – stones, wood and bottles at the expense of police officers of the Deputy Directorate for the Restoration of Order. , who were present at the scene and who used appropriate means. 3 Molotov cocktails were seized and will be sent for laboratory investigation."
A preliminary inquiry into the incidents is being conducted by the Deputy Directorate of State Security, while a preliminary administrative examination has been ordered.
. "Professional creator. Subtly charming web advocate. Unapologetic problem solver. Devoted student."