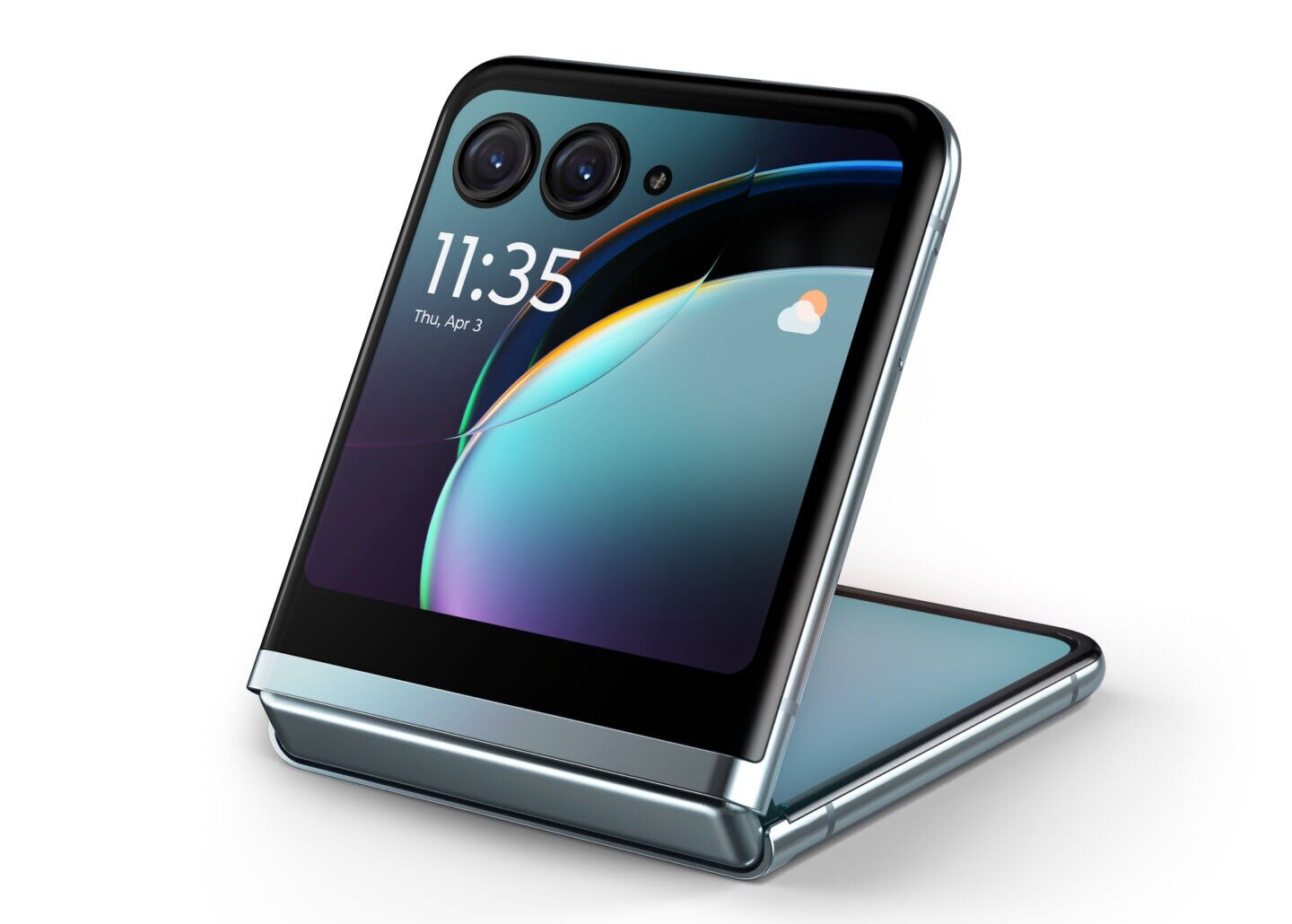 The flagship is the Moto Razr 40 Ultra, which will be released in our country in a month, exclusively from Germany. The price announced by Motorola for Europe is 1199 euros. The company also announced a cheaper model simply called the "Moto Razr 40" with a smaller external display, slower SoC but no clear price or release date.
Motorola is working again this year with Qualcomm for the SoC that we find inside the Ultra and it's the Snapdragon 8+ Gen 1, i.e. not the latest offering from the company. The Razr 40 Ultra has 8GB of RAM, 256GB of storage, and a 3,800mAh battery with support for 30W fast charging.
There is more interest in the two screens of the devices. The internal screen is based on OLED technology, with dimensions of 6.9 inches, a resolution of 2640 x 1080, and a refresh rate of 165 Hz. The external screen is larger than the previous generation and also from similar clamshell models on the market, OLED technology with dimensions of 3.6 inches and a high refresh rate and in this case at 144 Hz. Motorola has added an IP52 water-resistance standard to its new foldable smartphone, which normally protects the device from a little water, moving away from calling the Razr a water-resistant phone.
The design has clear improvements compared to its predecessor in the series, especially from the original model released in 2020, which looked like the classic Razr model released in 2000. The fourth generation is now quite far from this design, which leads to many similarities with other models. Foldable smartphones such as the Samsung Galaxy Z Flip.
Moto Razr 40 Ultra includes a total of 3 cameras. On the back is the primary sensor with a 12MP main sensor (f/1.5, OIS) while it is accompanied by a 13MP ultra-wide-angle camera. Finally, the third camera on the large screen is in the form of a 32-megapixel hole.
However, this fourth generation seems more mature. Motorola now lets you launch any app you want on the Ultra's massive front-facing screen, with the option for an ultra-tiny Android navigation bar tucked away in the bottom left corner, to the left of the two front-facing cameras. You can browse installed apps, use Google Pay, or play media on the front screen. You can even type on the keyboard, with Google GBoard having its own full screen mode that shows a single line of text entry.
As for the external display, Motorola says it has some dedicated "panels," giving the user easy access to "show games, Google news, weather, contacts, Spotify, and notifications at a glance."






1




"Total alcohol fanatic. Coffee junkie. Amateur twitter evangelist. Wannabe zombie enthusiast."