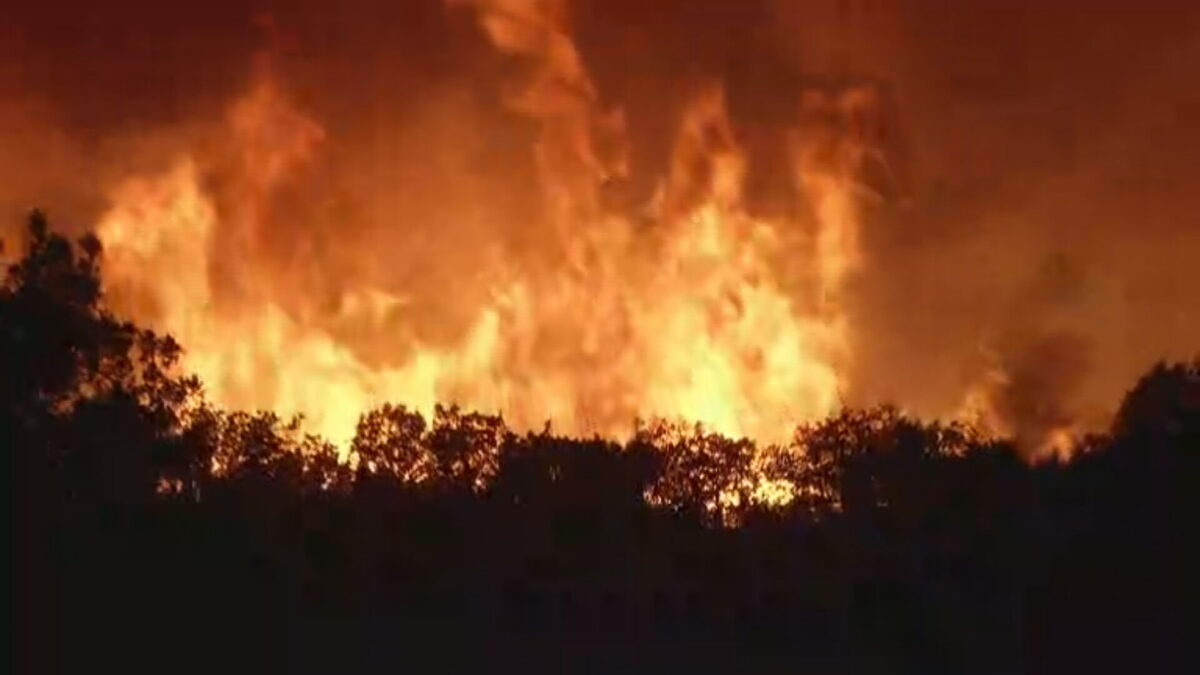 to 12th day She rages A fire burning in EvrosThe largest recorded by its services European union. In the morning there was a resurgence in the inaccessible forest area of ​​the settlement Cotronia As wind intensity continues to shift, the front of the fire is now moving towards villages Gianoli and Sidro.
Residents of both villages were informed with a message at noon 112 To empty their parts Souffle And Terio the Great respectively.
⚠️ Implementation 1️⃣1️⃣2️⃣

🆘 If you are #I am iron moving towards #Mega_Terio

🔥 Forest fire in your area

‼️ Follow the instructions of the authorities

ℹ️ https://t.co/kexUnlnGMV@Pyroswestiki@Hellenic Police

— 112 Grease (@112grease) August 30, 2023
⚠️ Implementation 1️⃣1️⃣2️⃣

🆘 If you are in the area #Giannouli moving towards #Souffle

🔥 Forest fire in your area

‼️ Follow the instructions of the authorities

ℹ️ https://t.co/kexUnlnGMV@Pyroswestiki@Hellenic Police

— 112 Grease (@112grease) August 30, 2023
OhOr at night they operated in the area 475 firemen with 100 vehicles, 16 infantry units, At the first light of day they began to drop water from the air 11 airplanes and 7 helicopters.
Next to the village nanny Two inflatable tanks have been installed where they are filled with water and helicopters are arriving to refuel so that they can operate on the fire fronts as soon as possible.
Meanwhile, 13 meter bundle The Ministry of Climate Crisis and Civil Defense announced today the support of those affected by Evros. In collaboration with co-competent Ministries, State aid activities were initiated Affected areas There is:
1. First aid vs home help
In the coming days, affected areas will be added to the site arogi.gov.gr, so that fire-affected citizens and affected businesses can submit an application for first aid against housing aid for fire-damaged buildings. After necessary tests and checks. Beneficiaries of this assistance are the owners of fire-damaged buildings, as whole or part owner, characterized by the efficient services of the Secretariat for Rehabilitation of Natural Disasters and state assistance of the Ministry of Climate Crisis and Civil. Security, dangerous for use ("red") or temporarily unfit for use ("yellow"), the first aid amount is 10,000 euros or 5,000 euros respectively.
2. Providing housing assistance to natural and legal persons for rehabilitation of buildings
After completion of the post-mortem examinations by the Secretariat for Natural Disaster Relief and Government Assistance, the affected areas will be delineated and housing assistance will be provided for repair/reconstruction of buildings. Housing assistance consisting of free government assistance (80%) and an interest-free loan (20%) guaranteed by the Greek government is provided to owners of affected buildings up to a maximum limit of 150 square feet. .I am. from the total amount of their assets, for their restoration (repair or reconstruction, depending on the damage they are).
3. Subsidy for rent or cohabitation
Following the demarcation of the affected areas, a rent or cohabitation subsidy is provided to cover temporary housing costs for permanent residents of fire-affected houses, the amount of the subsidy ranges from 300 to 500 euros depending on the parameters.
4. First aid against government aid to affected businesses
Through the arogi.gov.gr platform, depending on the extent of the damage, affected businesses and non-profit organizations are offered first aid against a grant to overcome the damages. The amount of first aid is 2,000 euros for a medium level of damage and 4,000 euros for a large level of damage to their property. First Aid does not apply to companies with minor damage to their property, which is paid in advance. After cross-checking the data of the first aid applicants with the applications of the affected businesses, the first aid payments are submitted to the region for registration and assessment of damages by state aid committees.
5. Government assistance to affected businesses and agricultural land
After disbursement of first aid, the final amount of subsidy will continue to be paid to the affected companies, with a subsidy of 70% of the estimated damage to the company's assets as determined by the work of the State Aid Committees. Specifically, the subsidy is on damage to the company's machinery, raw materials, materials and damaged vehicles. The final grant is offset against the first aid and advance granted, while agricultural reserves are included in the same structure. The process of assessing the damage to businesses and agricultural land, taking into account all the relevant data, is encouraged to grant subsidies, in the framework of cooperation and coordination that immediately began with the region, which has set up state aid teams. Gradually, depending on the trend of completion of the work of the groups. Finally, as far as agricultural lands are concerned, a subsidy program for plant production from state aid is being implemented in the framework of cooperation with co-competent ministries and ELGA for damage to tree and perennial crops.
6. Compensations for basic necessities of housing and household goods
Fire-affected families will be provided with financial assistance, depending on the record of damages, with the cooperation of municipalities. Specifically, it is planned to provide compensation to the affected families as follows. and persons with special needs, (b) financial assistance of up to 6,000 euros per household, for the repair or replacement of household goods or for simple repair work in the affected main dwelling, support limited to 50%. Secondary housing, and (c) financial assistance of 4,500 euros for persons (67%) disabled due to injury in a natural disaster.
7. Suspension of payment of tax obligations
A six-month suspension of payment of outstanding and certified tax obligations will be granted to businesses and natural persons in areas affected by fire and declared an emergency due to fire in the regions of the Evros regional division.
8. Suspension of Enforcement Proceedings
Any act of enforcement against the movable or immovable property of the fire victims can be suspended for six months. The suspension is aimed at affected businesses and individuals who caused damage to their homes. Suspension, in particular, excludes claims for maintenance and includes execution of bids, seizures, evictions and personal reservations. For a period of six months, the deadline for remedies and assistance in pending enforcement proceedings has also been suspended. This suspension concerns businesses certified as affected by the relevant certificate of the region and is part of government assistance to affected businesses, as well as housing plan assistance and allowance for household appliances for natural persons certified to have damage to their homes.
9. Three-year exemption from ENFIA
Post-plot buildings associated with them, located in areas declared in a state of emergency due to fire and classified as dangerous or temporarily unsuitable for use, as well as destroyed plots of land, are exempted from ENFIA for a three-year period, during which the ownership or actual ownership of the property belongs to the taxpayer of that year.
10. Regulation and Suspension of Insurance Contributions
Businesses located within fire-affected demarcated areas can join the process of regularization and suspension of insurance contributions for six months.
11. Termination of Employment Contracts
A special employment support program has been implemented for businesses affected by the fire, with the possibility of suspending employment contracts and providing employees of affected businesses with a sum of 534 euros. The measure is aimed at businesses certified as affected and is part of the government's assistance to affected businesses.
12. Emergency funding to local governments
In the context of cooperation with local self-government institutions, their emergency funding will continue to cover damages to networks and infrastructure – as needed.
13. Expansion of DYPA's Community Tourism Programme
The Social Tourism 2023 program of the Public Employment Service (DYPA) has been extended to twelve (12) free nights to Evros, with completely free (zero private participation) accommodation in the area participating in the aforementioned program, to be implemented until June 30. 2024 to all beneficiaries and beneficiaries.
They join the stage in the next few days arogi.gov.gr Affected Areas Fire-affected citizens and affected businesses can apply for first aid against housing assistance for fire-damaged buildings.
At the same time, satellite images of the evolution of the burned areas were recorded Copernicus Rapid Mapping Service her European CommissionFire at Evros.
mentioned as in meteo.gr and related analysis by G. Kairos and K. Lagouvardou: "The fire started on 19.08.2023 and is still burning till today, active around the burnt areas.
The following video (animation) shows the evolution of burnt areas from the date of the fire to 29.08.2023.
Burning continuously for the 12th day, the area burned in the latest update of the Copernicus Rapid Mapping Service. 812,600 acres (29.08.2023, 12:03 local time).
With a total burned area of ​​812,600 acres, approx 650,000 acres burned in three days August 21-23″
The effects of fire on Thadiya's ecosystem were also mentioned Ioannis Geetas, Professor in the Department of Forestry and Natural Environment at AUTH. If we talk about pine forests and pine forests like Thadiya, regeneration will take more than 20 years, he said.
Reporting by: Dimitris Stamadakis, Irini Saghiri, Eleni Bouka
. "Professional creator. Subtly charming web advocate. Unapologetic problem solver. Devoted student."