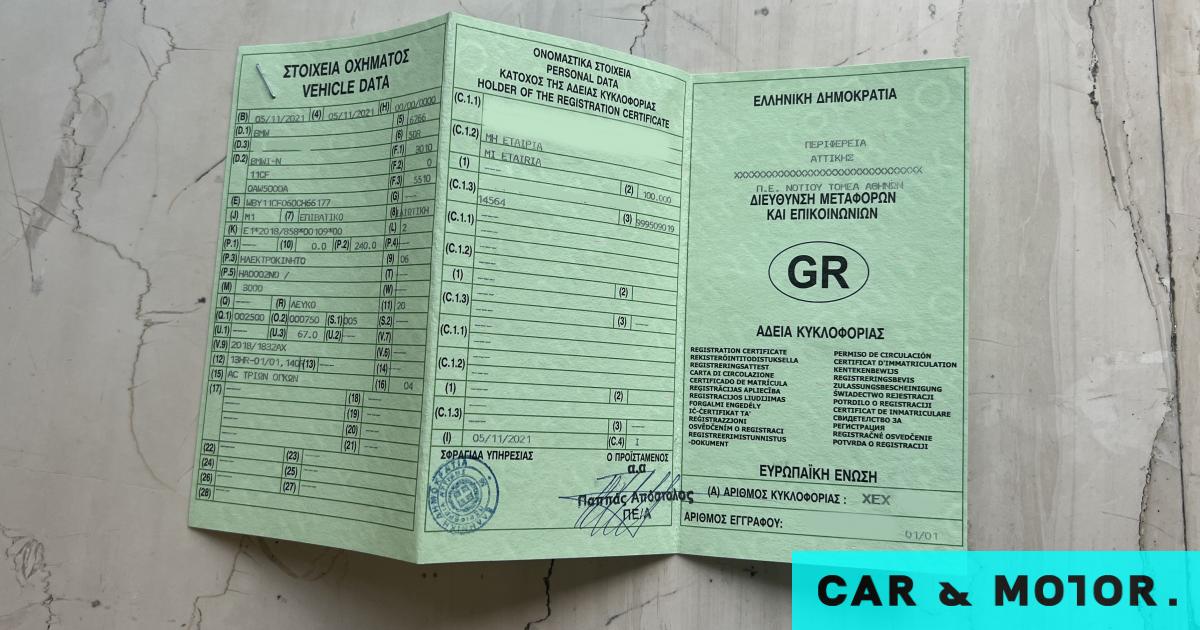 The sequence of symbols, letters and numbers discourages many drivers from indicating them Traffic license from their car. However, there is very useful information hidden there.
one of docs Which every citizen sitting behind the wheel should bring with him license, Filled with numbers, letters, symbols, etc.
pass full of useful information, With the typical example carbon dioxide emissionswhich is an element we can calculate if we know it Traffic fees of the vehicle (ss first registration from 1/11/2010) as well as whether it has Free access to the ring.
Among other things, they are also listed Taxable horses (ss has nothing to do with horsepower) which is taken into account by insurance To make car bills.
However, the abundance of icons presents a challenge driver confusion, who don't bother to decode their car's license plate. Something we will do for them.
– Registration number
b – The date of issuance of the first registration permit for the vehicle
– C nominal data:
C / 1 holder of a marketing license
C.1.1 Surname or trade name
– C.1.2 First name, names or initials (as applicable)
C.1.3 Address in the Member State that issued the registration at the time the document was issued
– C.4 State the fact that the marketing authorization holder:
i) To be the owner of the vehicle
b) Not be the owner of the vehicle
c) Not to be certified by the registration certificate as the owner of the vehicle
Dr.'s vehicle
D1 brand
– Type D.2
Variations (if any)
– Edition (if any) d. 3 Trade name(s).
E – Vehicle Identification Number
– F block:
– F.1 the technically acceptable maximum weight of a loaded vehicle (excluding motorcycles)
– F.2 The maximum acceptable mass of a loaded vehicle in circulation in the Member State that issued the handling permit
– F.3 Maximum acceptable mass of a loaded batch in operation in the Member State that issued the Marketing Authorization
G – the mass of the vehicle in traffic with the body and with the coupling system in the case of a towing vehicle, class other than M1
License validity period (when available)
– I The date of issuance of the marketing license referred to in this license
J-class vehicle
K-type approval number (if any)
– L the number of axes
– M wheelbase (mm)
– O maximum technically permissible towing mass:
– O.1 with braking systems (kg)
– O.2 without braking systems (kg)
– P drive:
– r 1 engine displacement (cm3)
– P. 2 Maximum useful power (KW) P. 3 Fuel type or engine power source
– r 4 engine revolutions from r 2 (min -1)
– p. 5 engine identification number
– Q power/weight ratio (KW/kg) (motorcycles only)
R vehicle colour
– S the number of places
– S.1 Number of seats including the driver
S.2 Number of permanent seats (if any)
– T maximum speed (km / h) (only for L)
– Noise Level U:
– U.1 at a standstill [σε >dB(A)]– U.2 engine revolutions (min-1)
– U.3 on the go (when scrolling) [dB(A)]Fifth exhaust gases:
– diesel corrected absorption coefficient (M-1)
– V.7 CO2 (g/km)
– V.9 Indication of the European Commission Environmental Approval Class: Indication of the release applied in accordance with Directive 70/220 / EEC or Directive 88/77 / EEC
– Capacity of fuel tank(s) (litres)
Description of the national code
– 1 Father's name
– 2 percentage of joint ownership
3 – Tax registration number
– 4 History of the first license in Greece
– 5 factory code
6- Write a code
7 – Vehicle type
8 use
– 9 fuel code
– 10 taxable authority
– 11 color code
– 12 brake instructions
– 13 car layouts
– 14 rear overhang (mm)
– 15 transport type
– 16 wheels (number)
– 17 tires
– 18 FPR / FPR (kg)
– 19 useful mass (kg)
– 20 useful traction mass (kg)
– 21 train masses in circulation (kg)
– 22 previous registration number in Greece
– 23 headquarters
– 24 special license numbers
– 25 body dimensions (mm)
26 – Changing the book number
– 27 overall dimensions of the train (mm)
– 28 transport type
Finally, it is worth mentioning that if we want to get information about Our car power We must turn to him p. 2 Maximum net power of the engine (kW). However, the strength is reflected in the license to market in kilowatt. If we are to know the correspondence with note (horsepower) Then we do the work kW x 1.36. For example, if 96 kW is listed, the horsepower is 130.56 PS.
Read also:
"Avid problem solver. Extreme social media junkie. Beer buff. Coffee guru. Internet geek. Travel ninja."