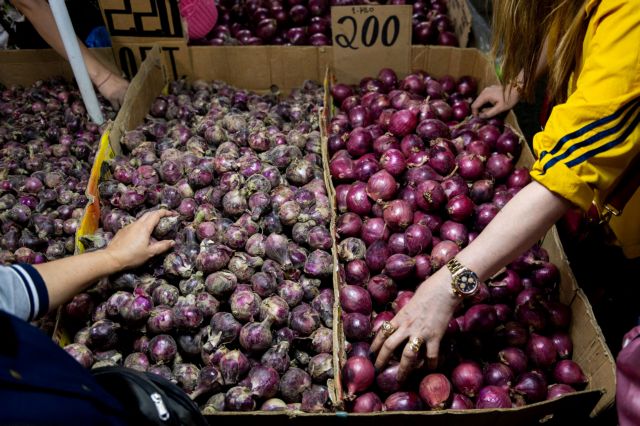 India will immediately impose a 40% export duty on onions, with the measure initially effective until December 31. The goal, according to the country's Ministry of Finance, is to improve the availability of local onions.
Resolution: pepper for the price of ham and olive oil 'gold'
As reported by Reuters, the tariffs imposed by the world's largest onion exporter will help New Delhi lower domestic prices ahead of elections in key states later this year. But it will force Asian buyers to pay more because other regional exporters have limited supplies.
"Export duties will make Indian onions more expensive than those from Pakistan, China and Egypt. This will naturally lower exports and help bring down domestic prices," said Ajit Shah, a Mumbai-based exporter.
The average wholesale price of onions in major markets increased by nearly 20 percent from July to August, to 2,400 rupees ($28.87) per 100 kilograms, on concerns that irregular rainfall will lead to lower yields.
Towards the driest August in a century
India is heading for its driest August in more than a century, two officials of the Meteorological Service said on Friday, with rain forecasts scarce in many regions, due in part to an El Niño weather pattern.

"Onions harvested during the summer months rot quickly and new supplies are delayed. This situation has prompted the government to take precautionary measures," said another source in Mumbai.
India's onion exports in the first half of 2023 jumped 63% compared to last year, reaching 1.46 million metric tons.
Countries like Bangladesh, Nepal, Malaysia, UAE and Sri Lanka depend on Indian missions.
High food prices
Onions are used as the basis for traditional dishes across Asia, such as biryani in Pakistan and India, belakan in Malaysia, and fish curry in Bangladesh.
Another source said, "The tariffs imposed by India will push China and Pakistan to raise prices because their export surplus is limited."
India's annual retail inflation in July rose to a 15-month high as vegetable and grain prices soared, putting pressure on the government to take action to lower prices.
India surprised shoppers last month by banning sales of widely used white rice to stem price hikes.
"Avid problem solver. Extreme social media junkie. Beer buff. Coffee guru. Internet geek. Travel ninja."