The results were mostly disappointing, but that's about to change, according to Qualcomm. At the Snapdragon Summit in Hawaii, the company announced the Snapdragon X Elite, which includes the first custom Arm64 CPU. You're probably wondering why you should care now, since Qualcomm has been making similar promises since the first Snapdragon 835 PCs hit the market less than six years ago.
The Snapdragon The first two were smartphone processors with a new name, while the second two were designed for PCs and were appropriate for their time.
"Snapdragon Qualcomm computing and gaming projects. "Unique on-device AI experiences will enable seamless multitasking and new user experiences, empowering consumers and businesses to create and achieve more."
Qualcomm is making some big promises with the Snapdragon The chipset will be able to deliver up to twice the performance of a Core i7-1355U or Core i7-1360P, while consuming a third of the power. Compared to the Core i7-13800H, it promises 60% better performance, and again consumes a third of Intel's 45W CPU power. The company also noted that it will offer 50% better multi-threaded performance than the Apple M2, and showed a chart of the Oryon's single-threaded performance based on Geekbench, where it scored 3,227 versus 2,847 for the M2 Max, Apple's best laptop offering. Until now. Performance per watt is one of the main advantages of Arm processors. Accordingly, the biggest downside to the x86 architecture is that it consumes a lot of power, so if the Arm chip can match the performance of the best-in-class x86 chip, it will provide a much better overall experience.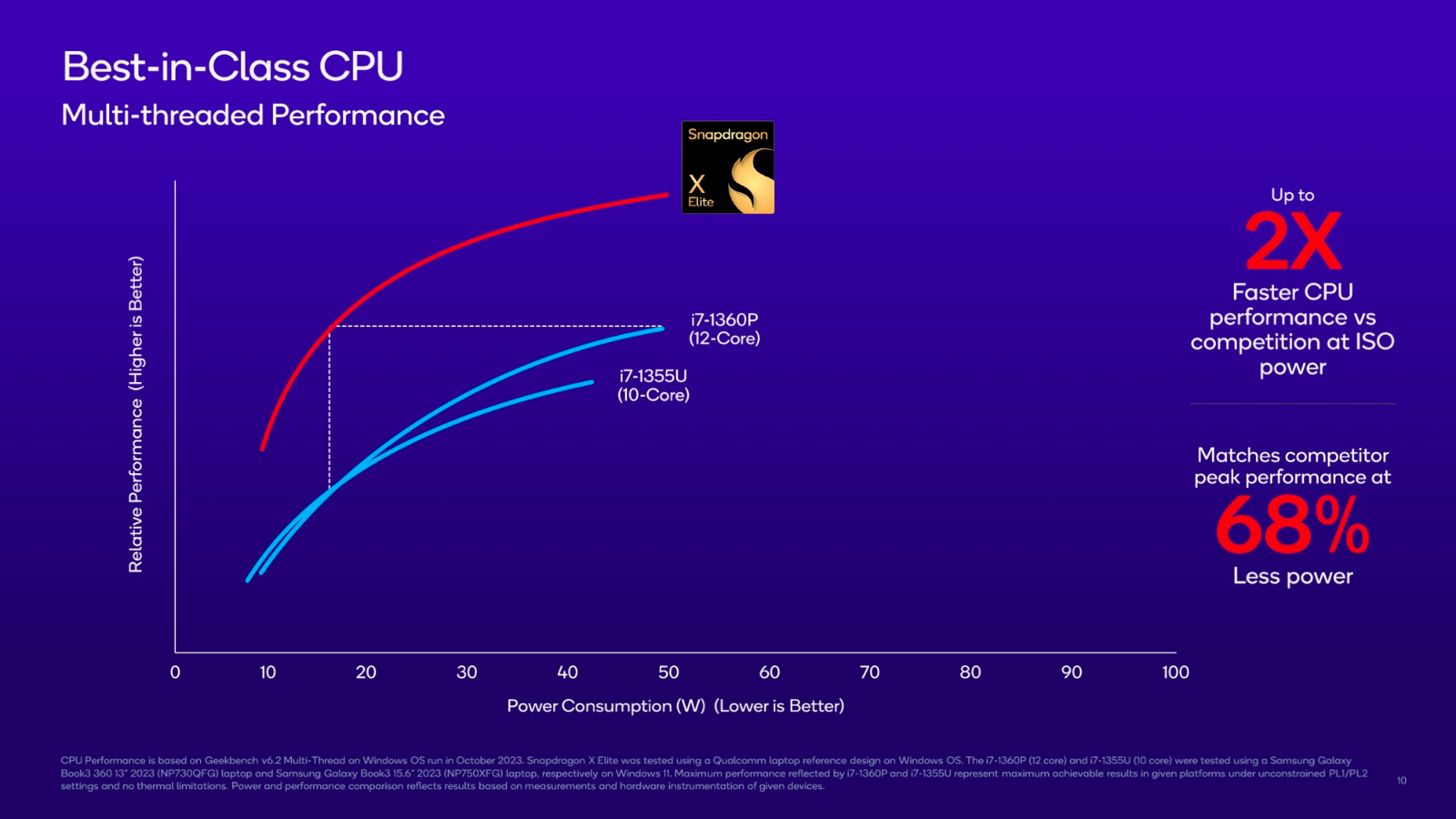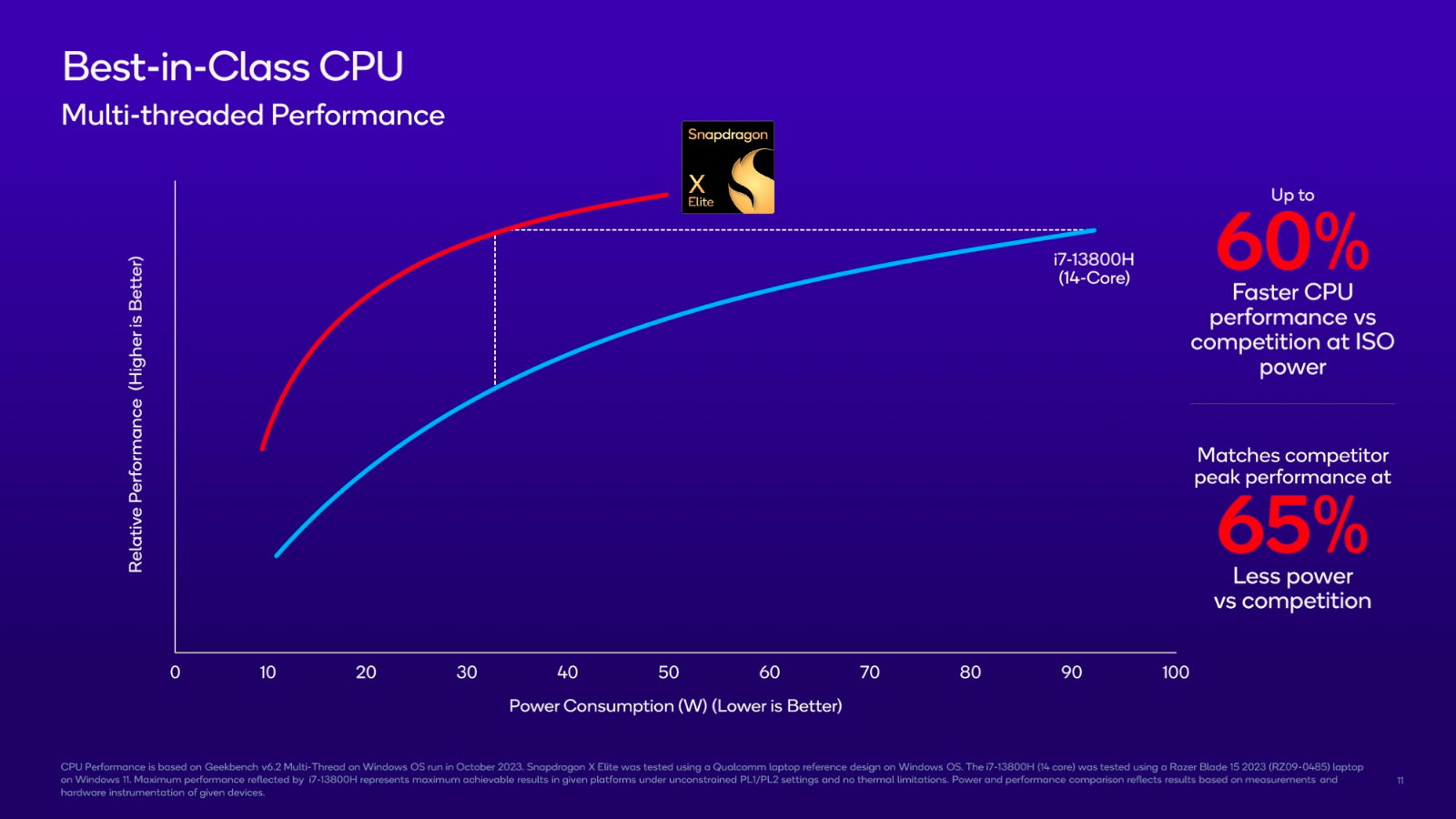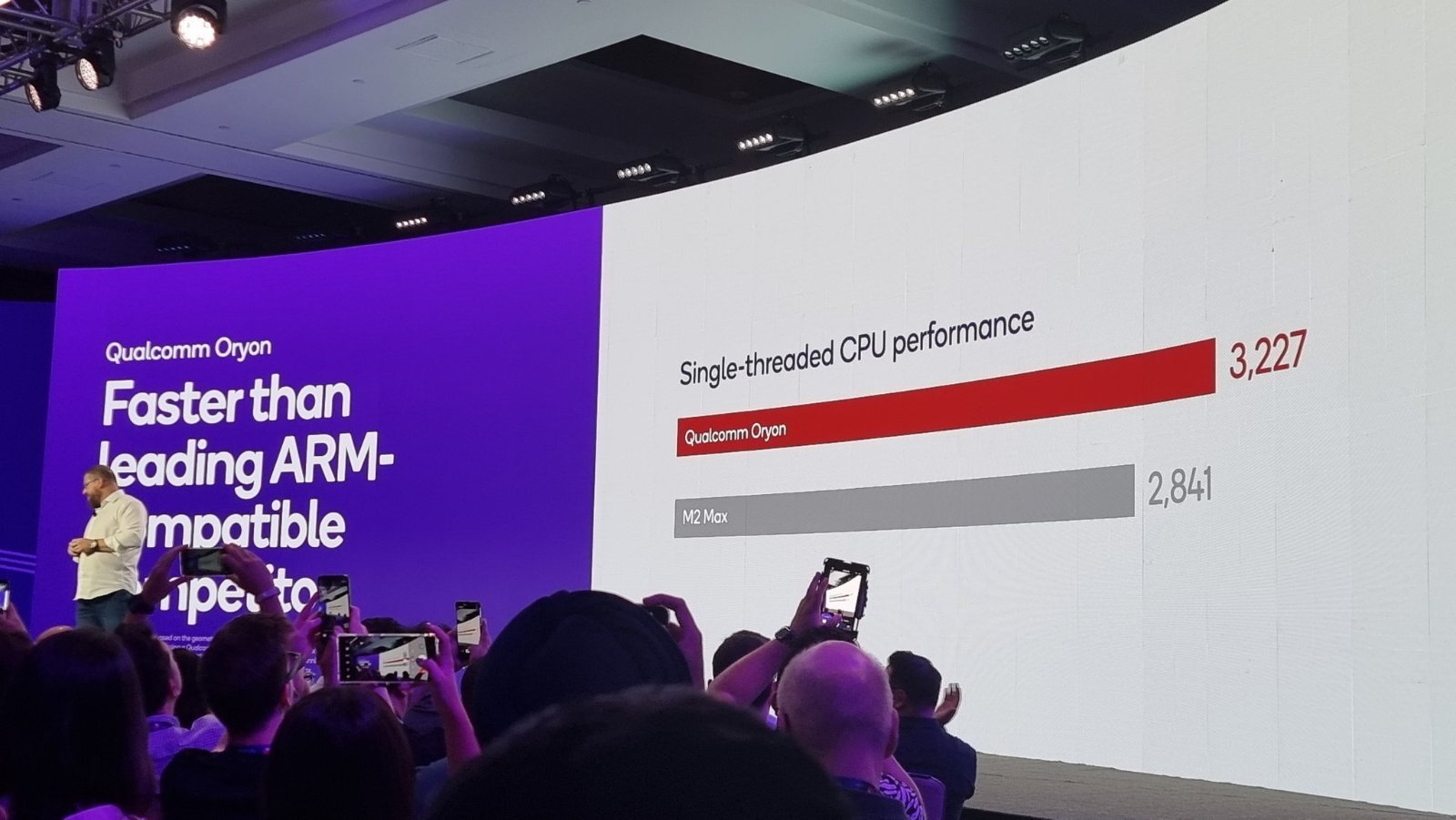 In terms of integrated graphics, the Snapdragon Compared to the AMD Ryzen 9 7940HS in fact, it promises 80% better performance with a fifth of the power. It is worth noting that Qualcomm set out to compare its new proposal with the leading proposals of Intel, AMD and Apple in the field of laptops. The Adreno GPU will give you up to 4.6TFLOPS, while supporting the latest technologies like DirectX 12.2, OpenCL 3.0, and Vulkan 1.3.
As mentioned earlier, the Snapdragon X Elite uses Qualcomm's custom Oryon cores, 12 of them to be exact. They're all clocked at 3.8GHz (two of which can be boosted to 4.3GHz), so there are no "small" (for performance) cores in the company's offerings. Interestingly, the concept of large and small cores is a core element of Arm chips, something Intel has emulated with its hybrid architecture.
The Snapdragon It's also the first Qualcomm chip to support USB4, which means you can get data transfer speeds of up to 40Gbps.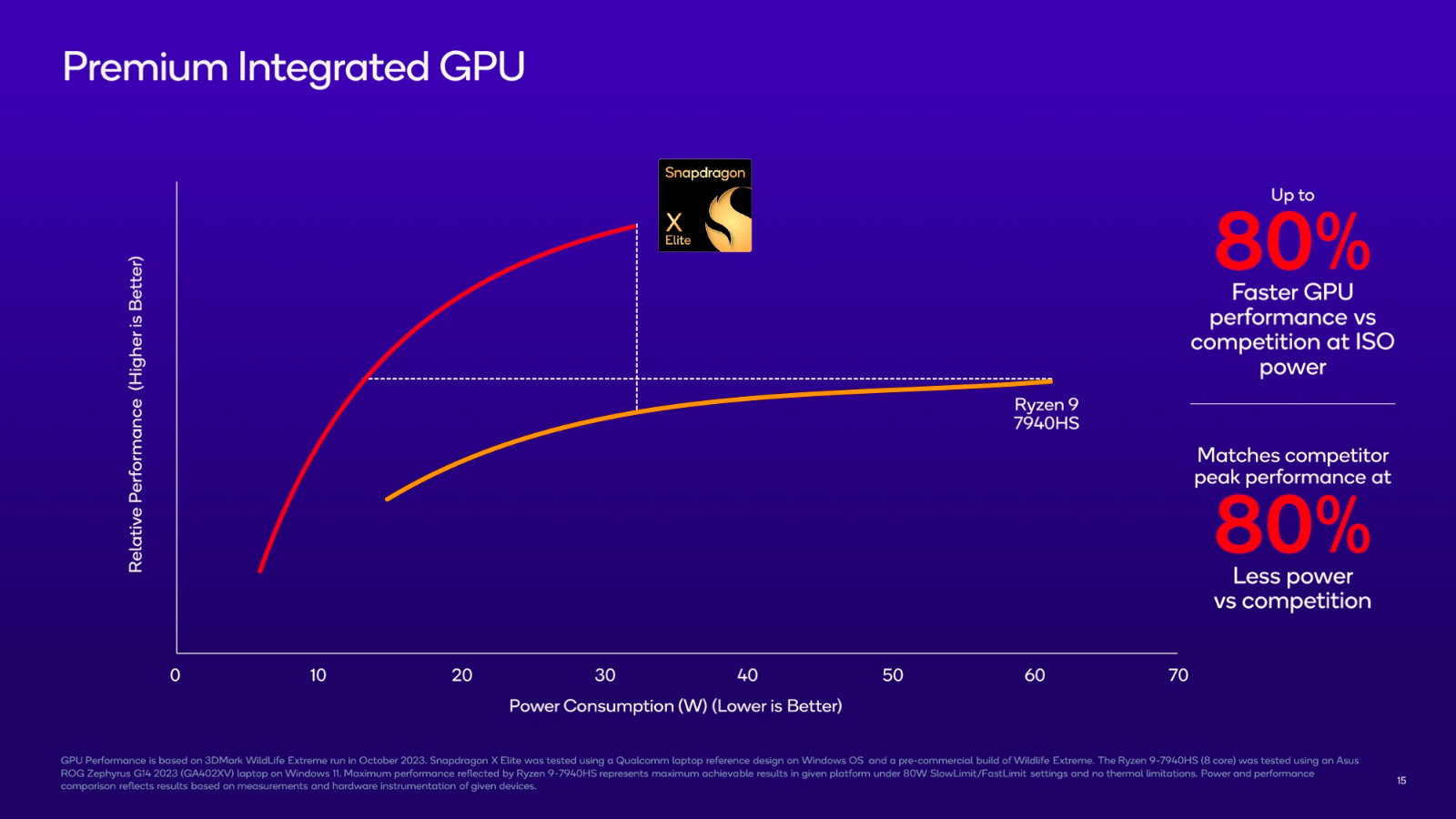 Of course, as a suggestion from Qualcomm, support for 5G connectivity could not be missing, with the integration of the Snapdragon X65 5G modem. It also supports WiFi 7 but also PCIe Gen 4 SSDs although competitors support the much faster PCIe 5 SSDs. Using DisplayPort 1.4, the Snapdragon 5K resolution. By comparison, while almost any Intel PC processor supports three external displays, Apple's latest M2 supports only one, regardless of resolution. Then there's the Hexagon DSP, which the company doesn't call an NPU. However, it promises 45TOPS INT4 support, a 2.5x faster Tensor Accelerator and 2x more shared memory.
Availability of Snapdragon
Although Qualcomm's claims still need to be proven, based on yesterday's announcements, that could be delayed as the first systems to include the Snapdragon By company, including Microsoft, Lenovo, Dell, and HP. This is very important considering that in Qualcomm's previous PC offerings, we have only seen two or three major product launches. With the Snapdragon 8cx Gen 3, these were the Surface Pro 9 with 5G and the ThinkPad X13s.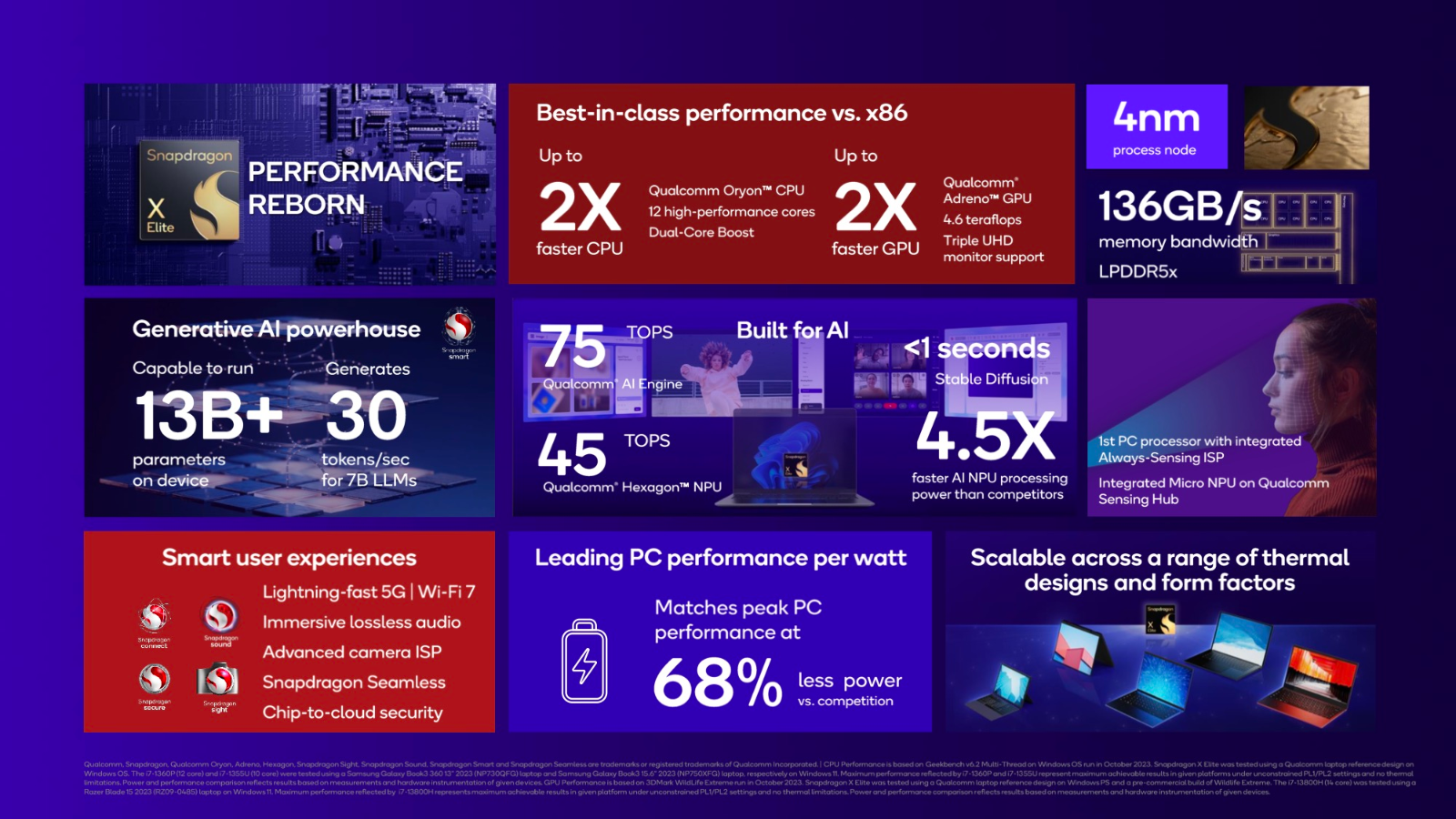 If the benchmarks back up Qualcomm's claims, the X Elite could install Windows on Arm laptops on par (at least) with Apple and Intel devices by making a significant difference in battery life. Qualcomm's previous PC chips have failed to live up to expectations in real-world use, but its Oryon CPUs and 4nm process indicate the company's serious ambitions.
2024 is shaping up to be a very interesting year for Windows PCs since we're also waiting for Intel's Meteor Lake processors and Microsoft's Windows 12. The same is true for 2025, as Nvidia and AMD are preparing similar CPU proposals for Windows PCs, based on the ARM architecture.






3










2




"Avid problem solver. Extreme social media junkie. Beer buff. Coffee guru. Internet geek. Travel ninja."