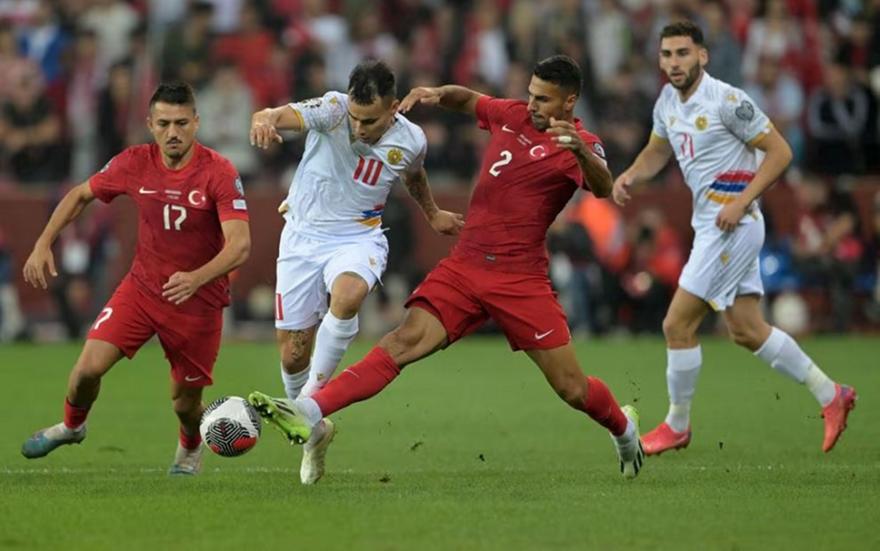 angry turkey-avoid the "stroke" and head to… the euro! His team Stefan Kuntz He has had his back against the wall ever since Armenia The team advanced and seemed on its way to achieving a big win, but the hosts escaped from the final match (1-1). This is a result that also affects Greece, with regard to the European Nations League qualifiers.
In a way or another, Turkish language They stayed first with an airbag from Armenia, because they are at +3 but have the same rank. But at the same time, they see that Croatia is heading strongly towards first place, which seems to be decided between the two teams.
The match was excellent between the two teams, and witnessed a fast pace and many good stages in front of goal, but it was clear that both of them had a problem in the final effort. Somehow, the first half went by… calm and scoreless (0-0), but the second half started with a goal. It was the 49th minute when O Dacian He took advantage of successive tremors in the opponent's defense, most notably "Zebikiko". steel To score from close range and freeze Eskisehir (0-1).
Türkiye 0-1 Armenia – Artak Dashian 49′

byAnd/4gjdtokurwa insoccer
the turkey He increased his pace after that, got up the pitch and pressed, but he did not have a clear mind and struggled to create classic chances. But at least she managed to equalize with him at her best Yildirim In the 88th minute, the top scorer came on eight minutes earlier and proved to be his team's savior, making the final 1-1.
turkey [1]1 Armenia – Bertug Yildirim 88′

byAnd/4gjdtokurwa insoccer
And in the other match that was held at the same time Croatian Gifted with five goals Latvia (5-0), which is -3 from above, and has two games less.
the Petkovich With a terrible free kick in the third minute, he opened the scoring, and ten minutes later the scorer became the creative one Ivanushets He wrote 2-0. the Petkovic He scored again in the 44th minute to send his team into the locker room with a three-goal lead.
the Vida In the first half he came on for Guardiol, the pace of the second half was slower but the picture was similar: Croatia was dominating and Latvia was just trying not to concede more goals. He has not succeeded since then Kramarik In the 68th minute, he scored 4-0 Basalik After ten minutes to put the decorations on the finished cake 5-0.
Group result

Results of the fifth match

Türkiye – Armenia 1-1

(88′ Yildirim – 49′ Dashian)
Croatia – Latvia 5-0

(3′, 44′ Petkovic, 13′ Ivanovic, 68′ Kramaric, 78′ Pasalic).
Next (sixth) round

Monday 11/09

Armenia-Croatia (19:00)

Latvia-Wales (21:45)
On Demand: All reports on the official bwinSPORT FM YouTube channel
"Certified social media geek. Lifelong coffee aficionado. Passionate food buff."