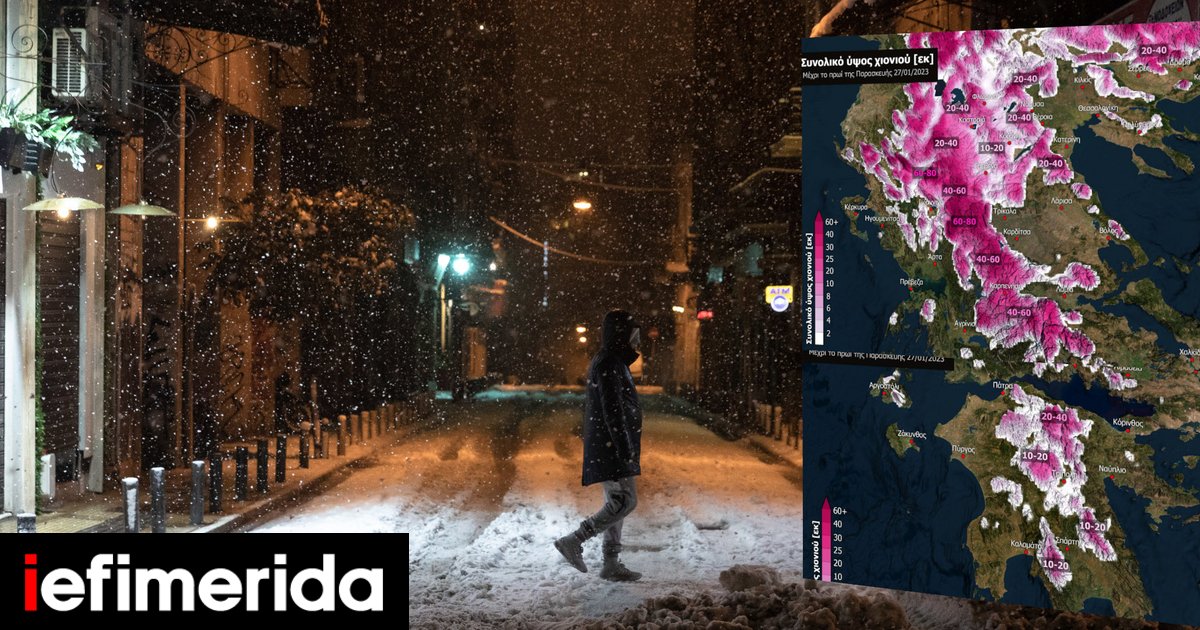 serious Bad weather Dangerous events will hit the country on Thursday with heavy rain, hail and heavy snowfall even in cities.
The EMY has already issued an emergency notice of bad weather, the fire services have called on citizens to restrict their movement in an emergency notice, while the 112 message has been sent to many parts of the country (Ebtanisa, Larissa, etc.).
View live trend of severe weather and next 24 hour forecast 
meteo: strong events also in Attica
According to the latest forecast data from the National Observatory of Athens/meteo.gr, the low pressure affecting our country is expected to strengthen, causing severe bad weather on Thursday 26/01.
FIRE DEPARTMENT EMERGENCY ANNOUNCEMENT: "MOTION LIMITATION, HAZARDOUS WEATHER" – 112 dispatch location
Weather Shock: A multi-day wave of bad weather with storms and snow at low altitudes – forecast for Athens
More details, Heavy rain and storm Initially exposed in the Ionian Islands and the western mainland, this led to increased electrical activity inland and Sleet. Other parts of the country will experience localized rain. Stronger events will gradually move further east and affect the entire country. The affected areas include two provinces Attica And her city Athens, as well as the province and the city of Thessaloniki. Events are shorter in Crete and late in the afternoon in Thrace.
According to the Rainfall Episode (RPI) classification implemented by the Meteo Unit of the National Observatory of Athens, the rainfall episode is classified as category 3 (significant).
The forecast map below shows the estimated distribution of rainfall (the rain/Snow) Thursday 17:00-20:00 in three hours.
Dense Snowfalls Occurs in continental highlands and semi-montane areas (above 600 m and in western Macedonia above 300-400 m) of northwestern, central and northern Greece. Snowfall is expected in several cities in Western Macedonia. Snowfall will continue at places even after the change of day. The following forecast maps show estimated cumulative snow heights up to the morning of Friday 27/01.
Zakynthos – Bad weather: floods and landslides due to heavy rain – further deterioration expected [βίντεο]
Weather Shock: A multi-day wave of bad weather with storms and snow at low altitudes – forecast for Athens
Fire Department Representative: Control your movements
Epibrakos Ioannis Atopios, the Fire Brigade's press representative, from the National Coordination Center for Operations and Crisis Management, Urgent notice Citizens were warned to limit their movements to the extent absolutely necessary for impending dangerous weather events.
As he pointed out, through Friday, heavy rain and storms with strong winds and snow are expected.
These phenomena will initially emerge in the West-Central and South and gradually spread towards the North-East of the country.
For this reason, on Wednesday at noon, a broad coordination meeting was held with the political leadership of the Ministry and the physical leadership of the fire brigade, all the co-competent agencies, but also meteorologists and the scientific team. Hydrologists.
Message 112 has been sent
After the meeting, a warning message was issued 112to its citizens Kefalonia, Ithaca, Lefkada, Zakynthos, Idolokernania, Achaia, and Ilia,her Corinth, Argolis, Laconia, Messenia, Eastern Arcadia, Cordytsa and Trikala. Later, a third alert message was sent from 112 to her quarters Western Macedonia Heavy snowfall is expected there.
"However, during weather events, with a strong recommendation to limit movement as absolutely necessary," a representative of the fire department said, adding that heavy rain and storms are expected in Attica on Thursday afternoon. There he also recommended restriction of movement.
Depending on the evolution of events and the information we receive from the National Weather Service, other messages will be sent from 112 if necessary.
A wider coordination meeting will be held on Thursday to review the course of the severe weather.
"All civil defense forces have been put on high alert and ready to deal with any emergency. Fire services in areas where incidents are expected to occur have been put on extra alert and escalated if necessary to deal with any problem immediately," said Mr. Artobios insisted.
Fire Department Instructions to Citizens
We strongly advise citizens to be especially careful and follow basic self-protection measures:
Limit your travel during severe weather to absolutely necessary
Always remember to move to the highest parts of the house in case of flooding.
Never cross rivers, streams or flooded roads on foot or in a vehicle for any reason. Any reason.
Further self-protection instructions are available on the official website of the Ministry of Climate Crisis and Civil Defense
We also remind that every 12 hours the National Meteorological Center updates the emergency report of dangerous weather events and is available on the emy.gr website.
Follow it Be the first to know all the news on Google News
See all the latest news from Greece and the world
. "Professional creator. Subtly charming web advocate. Unapologetic problem solver. Devoted student."