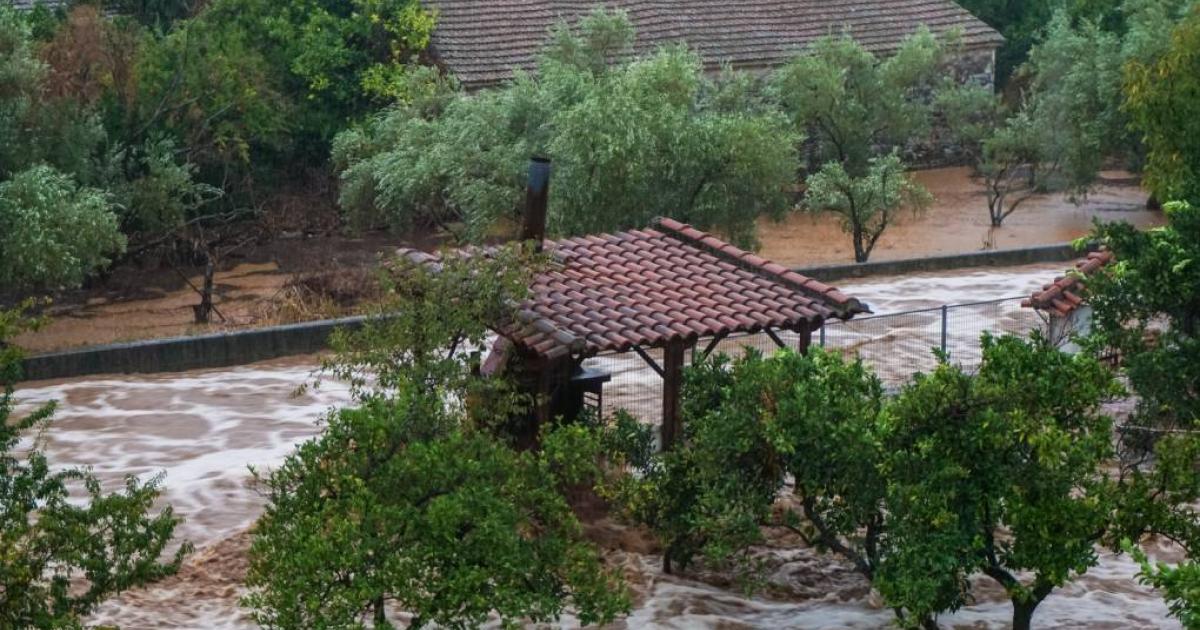 Complications from bad weather are increasing in Volos, as the fears of the authorities have been confirmed and the river Krasidonas has overflowed in many parts of the city, causing, with continuous rain, an unprecedented situation in the city.
Streets, shops and ground floors of houses were flooded in Chiliadou, Oinopneuma, Agioi Anargyrou, Neapoli and Palaia, while people in Ierolohiton Street took shelter on the upper floors of their houses after flooding. Fire department.
After 10.30 am, the message of 112 announced that traffic in Volos is restricted due to the development of meteorological phenomena.
The chemotherapy ward in GN Volos was flooded
The problems at Volos Hospital were more serious, where the chemotherapy ward was also flooded. A representative of the hospital's staff, Konstantinos Mindrinos, told ERT, "We have no information on where to transfer patients, while there is a problem in an area of ​​the hospital where chemotherapy drugs are kept and filled. With water." "Imagine a hospital with leaking roofs, suspended ceilings and falling plaster. This is an unprecedented situation."
Since early Tuesday morning, the basements of Volos' "Akilopolios" hospital have been flooded, while the situation remains difficult in Pelion. Agraia, Portaria and Stagiates experience prolonged power outages.
The center of the capital Magnesia has turned into a lake since early morning, with water overflowing the height of sidewalks and seeping into ground-floor shops and basements along all streets parallel to the beach, Dimitriados and Isonos avenues.
Flooding was also reported in Neopolis, Volos, where for the umpteenth time roads, hundreds of houses, shops, but also businesses and crafts in the area have been flooded. Larisis Avenue from the junction of Athens Avenue to the Agioi Anargro area was also flooded.
First dead – a missing person
Bad weather has already left a shepherd in the area of ​​Agia Ekaterini dead after being crushed by a wall in a landslide. He was missing for several hours after he left his house to go feed his cattle. EMAK tried to free him.
According to Yiannis Artobioros, a representative of the fire department, a livestock farmer was also missing in Agios Georgios after being swept away by a stream.
Speaking to ERT, he appealed to people not to hit the roads when the extreme weather event is in full swing.
As of Tuesday noon, according to meteo.gr, approximately 110 residents and tourists were stranded with their vehicles in Agios Ioannis Pelion.
8,000 lightning strikes in Volos and Larissa
"The area of ​​Volos is affected. A 112 message has been sent to control movement. In Volos and Larissa, more than 8,000 electrical discharges have been recorded in the last few hours, so what does this mean for anyone passing through the area," noted Yiannis Artophios Lad, "The area of ​​Yolos and Agria is affected". In addition to pumping water from the basement of the Volos Hospital, where the fire brigade operates, "about 150-200 sq. m. Flooded areas with 30-40 cm of water".
The lightning which had been falling continuously since midnight on Monday continued till 9 am. A message from 112 reached Thessaloniki, Thessaly, in central Greece, warning residents.
The Holy Trinity River on Olympus also overflowed
Big problems in N. Sporades
Problems are also large in the Northern Sporades, where residents received a message from 112 not to travel due to bad weather.
In Skiathos, where traffic is banned, the mayor asked the district to declare the island a state of emergency.
Transportation and transportation issues
Dozens of cars are stranded in Periperiakos, high above Panthesaliko Stadium, due to bad weather, with the highway flooded and Lambraghi Avenue almost impassable. Also, Volos city transport bus routes have also been suspended.
Larissa-Volos-Larissa railway lines are closed due to extreme weather conditions.
Covered roads in Magnesia
The General Regional Police Directorate of Thessaly announces the suspension of traffic on the Magnesia and Larissa road network due to bad weather.
Specifically:
Magnesia Police Department
– Vehicular traffic has been temporarily suspended at the following places:
Ring Road of Volos and two traffic streams from the height of the junction of Phytokos to the junction of Melisadikos,
On the Volou – Zagora National Highway (Lower Branch) and on both traffic streams from Stadi Street to Agria
Traffic flow towards Larissa from Athens Street to Napoleos Street on Larissa Street.
– On the Volos ring road, the movement of vehicles towards Larissa is carried out with a diversion from Phytokos – Toxopoulos – El at the junction of Phytokos. Volos regional road at Venizelo – Melizatico intersection.
– In remaining cases movement of vehicles takes place from nearby streets.
Larissa Police Department
– Vehicular traffic has been temporarily suspended at the following places:
Larissa Agia, at altitude from Dimitra to Kerakari in eo.
Velikas Akiogampoo in eo &
At the rise of Health Street from Karditsis to Larissa University General Hospital.
Problems in Larissa too
Bad weather continues to intensify in Larissa province, causing more problems. There are power outages in many areas around the city and in many villages of the province. No injuries were reported in the falling tree.
Due to the flooding in Karditsis Street, cars were moving on the way to the university hospital where the municipal workers were going to the points, as well as the fire brigade.
. "Professional creator. Subtly charming web advocate. Unapologetic problem solver. Devoted student."