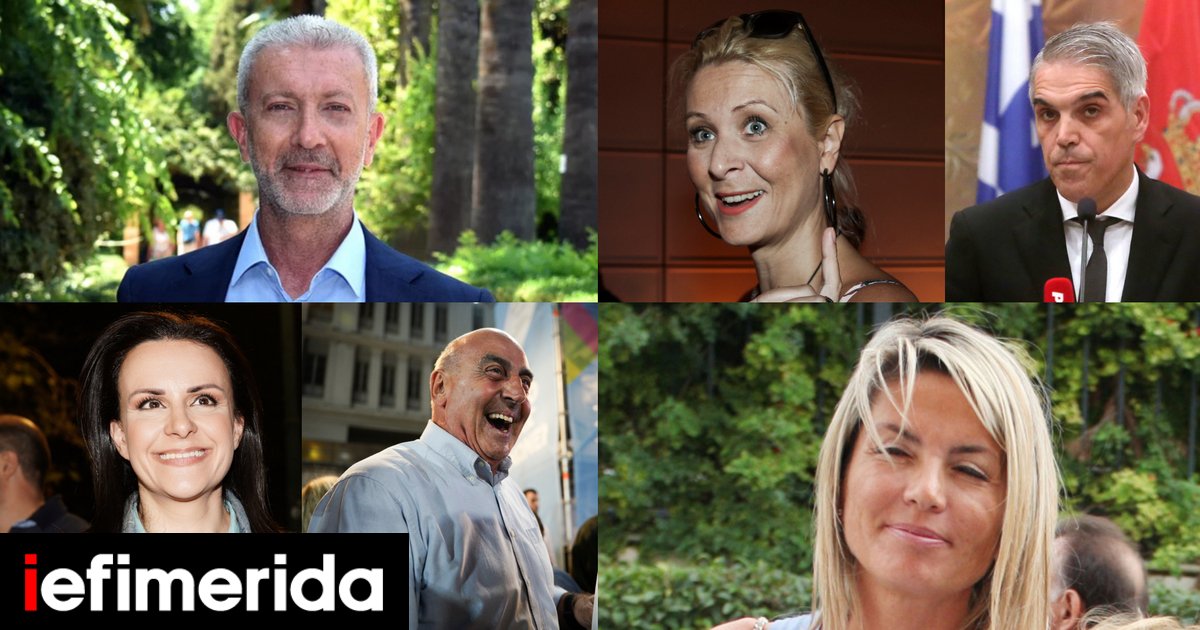 The anxiety of elected municipal councilors has reached a peak in municipalities that have not appointed a mayor since the election began on Sunday.
The final number of elected municipal councilors will be determined by the percentage each alliance gets in Sunday's elections.
Celebrities who won and lost municipal and regional elections
Who are the Regional Councilors Elected with Hardalia – Final Results, Who Nominated
In the Municipality of Athens, Kostas Bagoiannis' faction "Athens High", topped with 41.35% and 57,800 votes and goes to the second round with Haris Doukas, whose faction, "Athens Now", received one percent. 14, 19% and 19,842 votes.
Sirisa Kohn was selected in third place. Zachariadis has 13.36% and 8,668 votes. In fourth place is Nikos Sofianos (KKE) with 12.88%. It was followed by Ilias Kasidiaris Division with 8.33%, Konstantinos Papatakis with 6.09% and Eleni Papadopoulos with 3.80%.
According to the Election Act, the first admission will get 26 seats and the rest will be shared by other admissions depending on the percentage they get.
For example, based on the results of the first Sunday, Bakoyannis admission will get 26 seats, Doukas admission 4 seats, K. Zachariadis 2, N. Sofianos 2 etc.
Although no one knows what will happen next Sunday, it is interesting how the candidate municipal councilors are marketed.
In the "Athens High" category of K. Bakoyannis, first came Nicos Avramidis, Deputy Mayor of the Athens Cleaning, Recycling and Mechanical Municipality with 10,672 crosses, second was Christos Detomas and third was Manolis Kalambokas. In 4th place Alexia Evert, daughter of the late president of ND Miltiadis Evert, in 5th place is former minister Giorgos Voulgarakis, who achieved his goal of promoting his candidacy with a video of him riding a motorcycle without a helmet on Tik Tok. and caused reactions.
They also stand out:
At 6th place, Katerina Kagaki, Deputy Mayor of Social Unity (4,069 crosses), O L. Skiathos, Chairman of the "Educational Foundation of the Municipality of Athens" Mr N. Vaphiatis, Deputy Mayor for Digital Transformation and Education (9th Place), Deputy Mayor for Urban and Built Infrastructure and City Planning Vasilios-Phivos AxiotisPediatrician Ioanna-Danai Michelago Voritis (wife of Minister of State Maki Voritis), Advocate Niki ArabatsiOPANDA leader (ranked 12th with 2,334 crosses), football player Christophe WasehaThe Vasilis Koromantsos, The Popi Domazou (daughter of soccer player Mimi Tommaso and Vicky Moscoglio) NA.
View Top 26 Municipal Councilors from Bagoyanni Division
Avramidis Nicolas of Paris 10,672
Sophocles' Daedomas Christos 8.213
Calambogas Emmanuel (Manolis) of Efstatio 6,975.
Everd Alberti Alexandra (Alexia) of Miltiadis 5,777.
Volgarakis George the Apostle 4,640
Kagaki Dimitriato Ikaterini (Katerina) of Georgios 4,069
Kollatos Evgenios (Sakis) of Nikolaos 3,517.
Skiadas Eleftherios of Georgiou 3,504
Vaphiadis Nicolaus (Nicholas) of Thomas 3,375.
Axiotis Vasilios Phoebus of Eustratia 2,703
Panagiotis 2,419 Vorits Michaelakov Iona Danais
Conquest of Constantine's Arabatsi 2.334
Vazycha Christoph Irenaeus (Vazeha) by Lucian 2,282
Koromantsos Basilios of George 2,180
Tommaso Theobi of Dimitrios (Bobi) 2.173
Acridides polychronios (Chronis) of Panagiotis 1963
Titus Constantine of John 1.949
Capernaros Basilios Paris of Basil 1.925
Apostolopoulos Georgios Christos 1,753
Itromanolakis Nicolaus (Nicolas) of Georgios 1.686.
Alevizou Maria tou Christos 1,685
Ageli Likodi Dimitra Ins of Panagiotis 1,639
Christos Tarahopoulos of Anastasios 1,590
Iodi Maria of Odysseus 1.551
Mavropoulos Vasiliki (Vasso) Births of Stylianos 1.542
Karras Nicoletta of Panagiotis 1,540
on his ballot Harry Dougas, First Roxani Bei, followed by Giorgos Apostolopoulos, Ioanna Gennimata and Maria Stratigaki.
As for the votes of Kostas Zachariadis, the first is Despina Alevisakis, followed by Diana Voutirakou, Anna Fellini, Olga Palaura and Dimitris Aganidis.
See Here Detailed results for the Municipality of Athens
See all the latest news from Greece and the world
. "Professional creator. Subtly charming web advocate. Unapologetic problem solver. Devoted student."