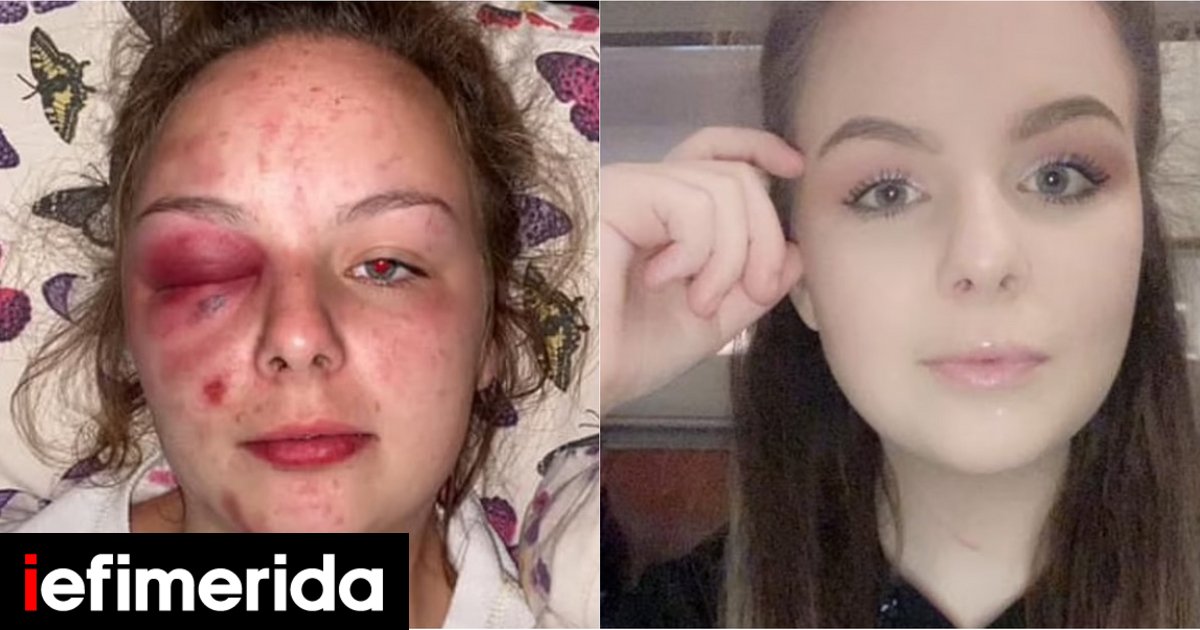 A British woman who "rape" herself, led three men to attempt suicide and fomented a racial riot has been sentenced to eight years in prison.
Eleanor Williams, 22, was found guilty earlier this year after accusing several innocent men of raping, trafficking and abusing her in a Facebook post that included cruel images she allegedly suffered.
The post, which was posted during the May 2020 lockdown and circulated widely, sparked national outrage, leading to serious racially motivated riots and a protest in her hometown of Barrow-in-Furness.
He bought a hammer to hurt himself
But the evidence proved her claims to be completely fabricated, as security cameras showed her buying the hammer she was going to use to hurt herself and a box of pasta which she ate in a hotel at Tesco, a well-known British supermarket chain. the time she was allegedly being held.
The elaborate scene she staged to present her drama drives three of the wrongfully accused men to attempt suicide. It also led to a racial outburst when thugs attacked an Indian food store and a Muslim takeaway owner was chased down the street by men pouring alcohol on his head.
In sentencing, the judge said there was "no explanation" for Williams' lies, criticizing her for "showing little sign of remorse". He said he was not motivated by racism and chose to charge Asians as well as white men to echo "other issues on a national scale."
He made the lives of those whom he accused of being "hell on earth."
Mohamed Ramadan, the employer accused of abusing Williams, told the court that his life had become "hell on earth" because of the false accusations.
Speaking tearfully from the witness stand, Ramadan said two weeks after he was arrested following Williams' allegations that he attempted suicide.
He said: I still have the scars to this day.
Ramadan said that his property was damaged and his business was "destroyed" after he and his family were targeted in the "ugliest way".
Another victim, Jordan Trengove, said his life had been "completely destroyed" by Williams' allegations.
His house had the word rapist sprayed and his window smashed after he allegedly raped and assaulted the 22-year-old.
After being charged based on Williams' allegations, he said he spent 73 days in jail, sharing a cell with a convicted sex offender.
He said: "There were big protests and marches in Barrow. The lowest point was when I tried to end my life in August 2020."
Another man, Oliver Gardner, said a chance encounter with Williams implicated him in the case.
Gardner, who was accused of rape after meeting Williams, said it was a "real shock". "It was just a case of being in the wrong place at the wrong time."
In his testimony, he said he tried to end his own life, saying, "This whole period in my life was completely traumatic."
Williams' story caused outrage
Cumbria Police Inspector Matthew Berman said the girl's allegations had led to "mass public outrage" in Barrow, with protests taking place outside the police station and in a shopping centre.
In a letter read to the court, Williams said she did not instigate anything that happened in the community
In her letter to the judge, she said, "I'm not saying I'm guilty, but I know I was wrong about some of this and I'm sorry."
"I am amazed at the troubles Barrow has caused, if I had known the consequences of this situation, I would not have made this post."
He insists he is telling the truth
Williams' defense said her client confirmed the allegations were true.
He added, "Other than her personal weaknesses and age, there doesn't seem to be any motivation whatsoever."
Williams was 19 when she claimed on Facebook that she had been gang-raped and abused in the seaside town of Barrow.
On May 19, 2020, police officers found her near her home with injuries she alleged were caused by the gang after they took her to a house in the city and raped her.
But the prosecution alleged that Williams injured herself with a hammer, which was found in her blood near her.
Williams allegedly sent some of the messages to herself, making them appear to be from traffickers or other victims, while in other cases she manipulated real people into sending messages she said were from her abusers.
All her claims collapsed
Williams had alleged that the company's owner, Ramadan, groomed her since she was 12, put her to work in brothels in Amsterdam and sold her at auction there.
But the court heard that while she was in the Dutch capital, the Ramadan bank card had been used in a shop in Barrow.
When faced with evidence that she had been with her sister and her sister's boyfriend the entire time she was in Amsterdam and the abuse could not have occurred, Williams maintained that her version of events was correct.
In another case, Williams accused a man of threatening to kill her if she did not have sex with eight men in Blackpool, the local Mail reported.
But this was another fabrication, as security cameras showed her entering a hotel room and then remaining alone, except for a short walk to the shops.
Alleged details she posted on social media, including messages from the men who allegedly abused her, were deemed misleading or outright false by the police.
During her testimony, Williams initially denied telling the police and jurors about the group.
When asked about her Facebook post, she said: "I wanted people to know what was going on in Barrow, and it still is."
But the jury did not believe her, instead finding her guilty of making the allegations and causing her injuries as part of a fantasy.
Find out the latest news from Greece and the world at
"Hipster-friendly coffee fanatic. Subtly charming bacon advocate. Friend of animals everywhere."