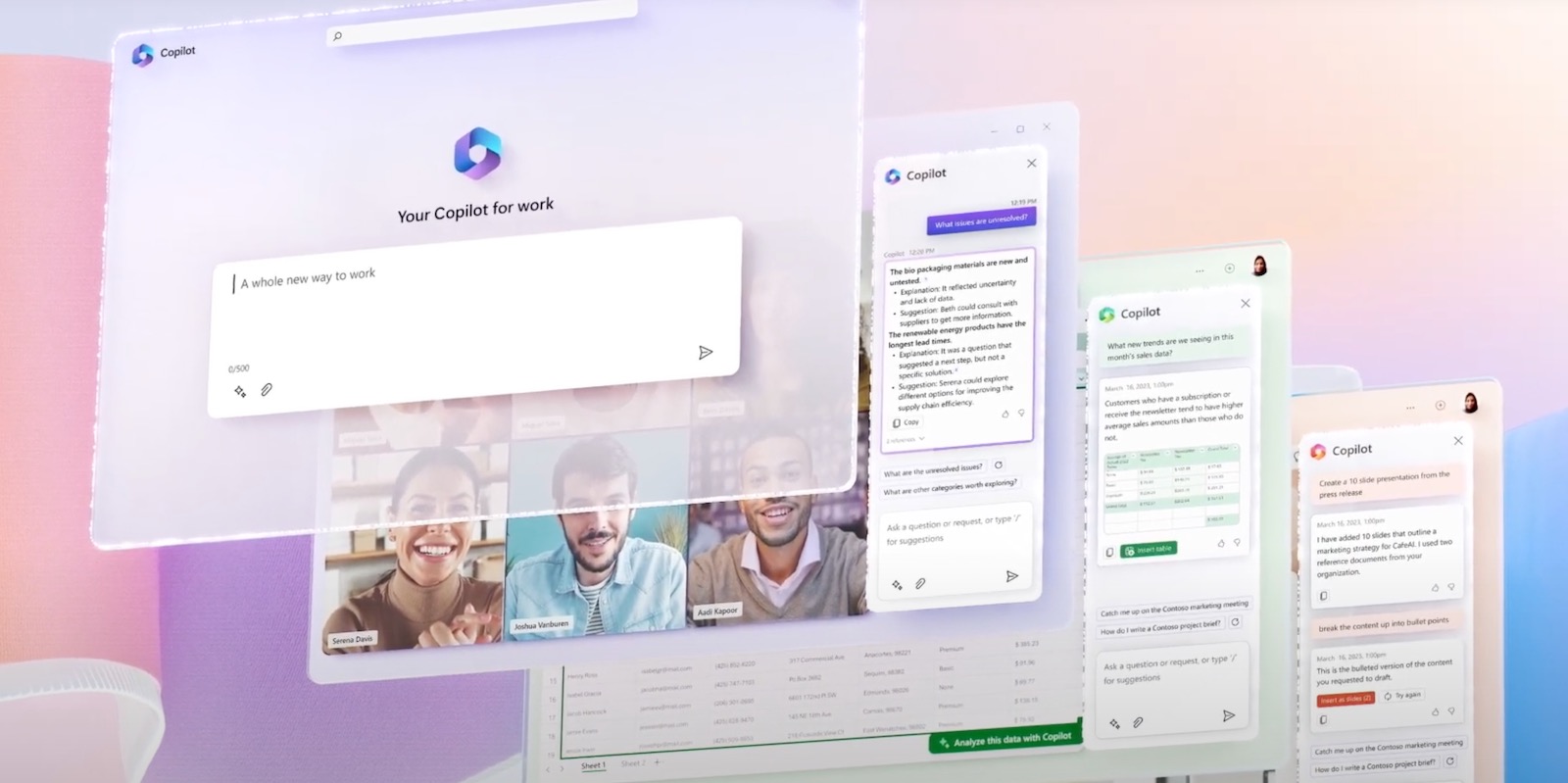 Microsoft Copilot is designed to help people create documents, emails, presentations, and more, saving them a lot of time.
Powered by OpenAI's GPT-4, Copilot will sit alongside Microsoft 365 apps as a chatbot in a sidebar, allowing Office users to activate it to create text in documents, Word document-based PowerPoint presentations, or even help with features like PivotTables in Excel.
"It works right next to you, and it's built into the apps millions of people use every day – Word, Excel, PowerPoint, Outlook, Teams and more," said Jared Spataro, President of Microsoft 365. "The co-pilot is a whole new way of working."
Microsoft 365 users will be able to connect to Copilot to provide information about an upcoming Microsoft Teams meeting, set up attendees with relevant project updates, organizational changes like recent hires, and even updates on colleagues who may have returned from vacations.
Copilot can also be called up in all Microsoft Office applications and used in Word to create documents based on other files as we saw in the presentation. The text generated by artificial intelligence can be freely edited and modified. Since Copilot is essentially a chatbot, you can even ask it to create a 10-slide PowerPoint presentation based on a Word document or analyze and format Excel data.
So Excel users can use Copilot to instantly create a SWOT Analysis or PivotTable based on the data provided by the user. In Microsoft Teams, the Copilot feature can transcribe meetings, remind you of things you might have missed if you joined the meeting late, or even summarize a list of topics discussed during the meeting.
Spataro was quick to note from the start of the show that a co-pilot will not always be right in his actions. "Sometimes Copilot will be right, other times it will be usefully wrong, giving you an idea that isn't perfect but something you can build on moving forward," the Microsoft CEO said during today's presentation.
Copilot will of course also be present in Outlook, so you spend less time deleting and replying to emails. Email threads can be summarized, and Copilot can also generate draft responses with toggles to adjust email tone or length.
Microsoft also plans to launch a Business Chat feature that will work across all data and apps in Microsoft 365. Business Chat uses the Microsoft Graph to aggregate documents, presentations, email, notes, and contacts into a single conversational environment in Microsoft Teams that can create summaries, roadmaps, plan work, and more.
Microsoft CEO Satya Nadella unveiled the new AI Copilot during a scheduled special event on the use of AI in the workplace. After recently bringing an AI chatbot to Bing, Microsoft is moving quickly to integrate OpenAI's large language models into its Microsoft 365 suite. The company's announcement comes just days after Google announced similar AI features for Google Workspace, including AI-powered text generation in Gmail. Docs and more.

Microsoft says it's testing Microsoft 365 Copilot with 20 customers right now and will expand the preview in the coming months. "We'll be sharing more about pricing and details in the coming months," the company said in a blog post today, which means Copilot will be charged separately.
As Microsoft moves quickly towards its vision of bringing AI to a much greater degree in Office, there are bound to be concerns about the speed of innovation and the accuracy of its AI models. This is especially important in this case, especially as Microsoft 365 users harness the capabilities of AI with business data in the coming months.
Spataro says Blog post today, referring to the company's AI principles. Microsoft recently launched the "Ethics and Society" team within the company's AI division. The team has been working to identify risks to Microsoft's adoption of OpenAI language models across its software and services.
That has left some people inside and outside Microsoft worried about the pace of AI integration into the company's software, with Spataro not sharing the same concerns. "In order to meet the unmet needs of our customers, we must move quickly and responsibly, learning along the way," he says characteristically. "We are testing Copilot with a small group of customers to get feedback and improve our models while expanding availability to more soon."
Watch Microsoft's intriguing presentation in full in the video below






3




"Avid problem solver. Extreme social media junkie. Beer buff. Coffee guru. Internet geek. Travel ninja."