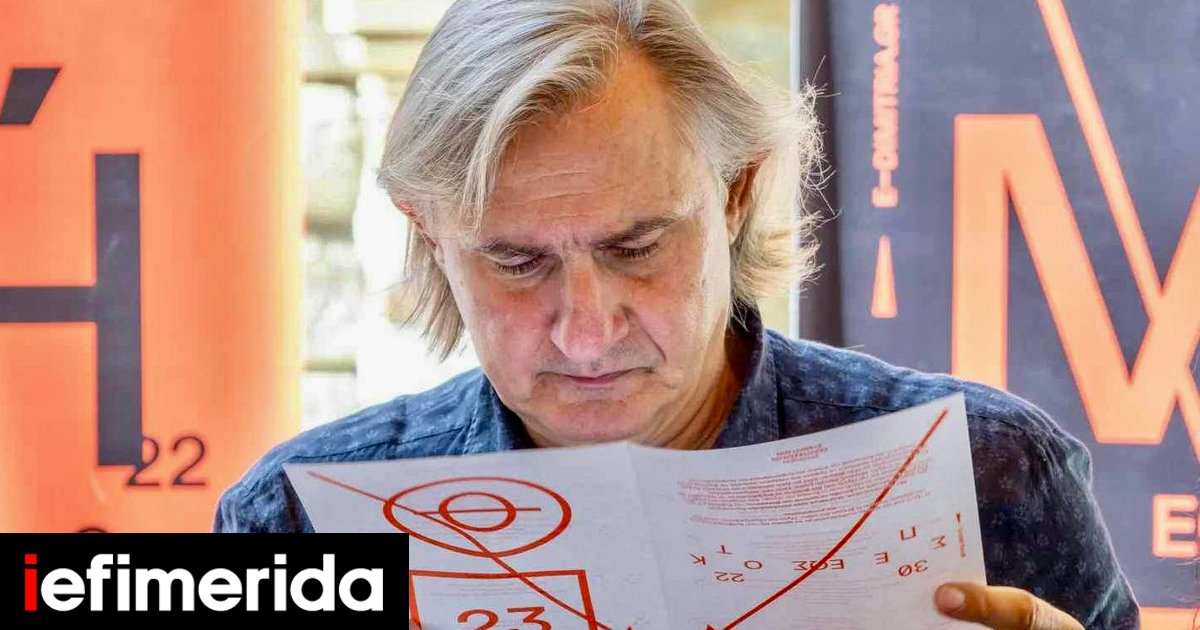 There is something comforting about hearing a candidate speak clearly, conclusively and directly, without thinking about the pitfalls. Famous actor Akis Sakellario, Demetria's artistic coordinator, a candidate for the position of advisor in the Macedonia region, has a big and clear goal, says Efemerida.
On Friday evening, on the stage of the State Theater of Northern Greece (KTHBE), actor Akis Sakellariou, as artistic organizer of the Historical Foundation "Dimitria" in Thessaloniki, supervises the installation of the scene for the legendary show "The Wedding of Maria Braun" directed by the great of European theater Thomas Ostermeier. .
I admit that in recent days, and perhaps even in recent weeks, it is not easy to locate the well-known actor, who is responsible for Demetrius, but who is also a candidate for the position of the Regional Council of Macedonia.
Our phone appointments go from postponement to postponement, and not because he is running to shake hands and distribute propaganda leaflets for his candidacy with the faction of Apostolos Tzizikostas. It is work, especially so-called "chamliki" work, not the office, that keeps him so busy. "The truck is late, I have to sort this out." "The stage is being carpeted and we need to see some problems." "I have to make an urgent phone call about Piovani," the famous Italian pianist and composer who works with the State Orchestra of Thessaloniki.
Meanwhile, on October 4th, he will be in Athens again, because for the second year, after last year's excellent performance, the show "The Circle of Lost Poets" is being shown at the Britannia Theater, where he himself plays the title role, of course. The role of John Keating, a passionate and inspiring teacher who urges his students to seize the opportunity.
The motto that is the title of Akis Sakellariou's life, especially at this time. At a time when we are now talking about the need for active players in politics and local governance, and when recent wounds make citizens almost hate politicians, Akis Sakelariu calls for a citizens' cross in Macedonia.
I ask him the question: who is politically experienced, or a market person for local government? "There is no doubt that experienced elected officials are more effective," he answers immediately. "Those who have knowledge of the subject are more effective. The country needs them. Times have changed, standards have changed. The world does not demand ideology as much as security. It requires specialized people. It requires management."
The way Akis Sakellariu has not turned into a sweet visionary politician is like music to my ears. We have seen his colleagues change their style and tone and polish the angles of their speech in order to remain popular with political bosses and "mislead" voters. This is not the case of Sakellario. See here how he answers me when I ask him how the suggestion was made by the Apostle Tzitzikostas and how he himself responded.
"A few years ago, the region and Tzizikostas started efforts to make Macedonia a center for audiovisual production at the international level. Some preliminary but important steps have been taken. So the governor called me and asked me if I would be interested in promoting this program, to make it more open, with more radiation. Something "I've been imagining it since I was a child! I replied, 'I'm not yours, but I don't belong to anyone else. What you're proposing matches a deeper inner motive of mine. That's how we shook hands.'"
Akis Sakellario enters the local government with very clear conditions and objectives. "I am called to help what has already been started, using the knowledge I have in theater and cinema. It is like starting a new journey that goes back to the place of the beginning, my city, Thessaloniki. You know, I always complained about my city, it bothered me that it is called a common capital – there is nothing Like this anywhere else in the world. I always wondered why films and series are not produced here, and why there are no studios. All of us migrant workers fleeing Thessaloniki who spend our time here in Athens had this complaint. Why should our city be located in This swamp for so many years?
If elected, he will take office on 1the January. What will he do from January 2 onwards? "Since we are joining the rest of the group that is already active in the field of audio-visual materials in the Macedonia region, there is a need for an influx of all films and proposals for film production in Macedonia. Hence, setting up studios, and continuing to obtain tax relief from EKOME for these production companies so that they can "Investing in Greece, creating big studios. Bulgaria has been doing this for years, and we missed the opportunity then. A. An opportunity we missed then."
He assures me that there are spaces that could become big studios, in Soroti, in Eresos, in big warehouses where action scenes for some films have already been shot. "Imagine how many jobs will be created, and how Thessaloniki, Macedonia and the whole of Greece will be strengthened. All young Greeks with skills, talents and specialized studies abroad who cannot find suitable work in Greece and are forced to work in small radio stations will also be benefited." Or immigration.
Technically, it will ring, but it won't shut up. After his exit at the Cannes Film Festival with Panos Koutras' brilliant Dodo, he's preparing another film – no spoilers here. And politics? Is local government the first step? "Then I'll put a period," he replied before hearing the question mark at the end of my sentence. "are you sure?" I asked him. "I'm pretty sure," he replies. "I just hope that I have put my little stone in place and that something important has begun with guaranteed stability for the future."
In the meantime, I understand that it is difficult to continue the conversation while negotiations are ongoing and crews are coming and going to Demetria. On Monday, October 2, "The Loser" will come to Avalija, Natasha Radulović's first directorial project at the Yugoslav Drama Theater. Radulovich combines the works of Pushkin, Mozart, and Salieri with Thomas Bernhard's The Loser, a novel about three young pianists who aspire to become the next Mozart. On October 3 and 4, the play "Garamond 12" by Maria Dreamy, which takes its title from the calligraphy, comes to Avalia, with direction signed by Russian Sergei Okunev, a graduate of the famous GITIS school. Meanwhile, the GAFF team and director Sofia Karagiannis bring to the stage Chronis Missios' story "…Well, She Was Killed Too Soon" on October 10 and 11. World-renowned choreographer Christos Papadopoulos' sweeping ELVEDON will be presented on October 5, among other performances.
Find the latest news from Greece and the world on
"Total alcohol fanatic. Coffee junkie. Amateur twitter evangelist. Wannabe zombie enthusiast."