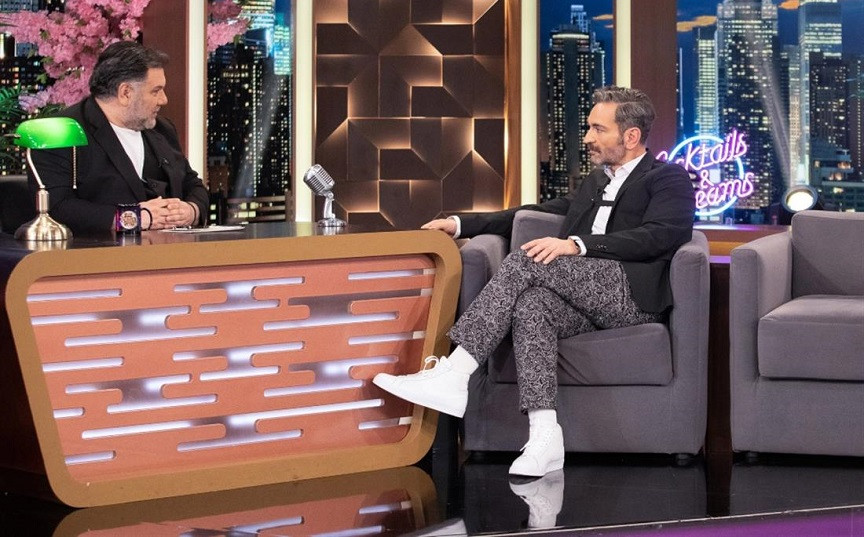 in his company "2 Night View" On Monday (15/5) guest Grigoris Arnatoglu is found Konstantinos Dedis. successful Dentist, presenter, but also head of Technopolis He met Gregoris for the first time and revealed unknown and very interesting aspects of his life.
What is it like growing up in a large farming family in Capandrete? What did he decide the first time he went to plow the fields?
The famous dentist had decided from a young age to pursue a career in dentistry, although he had difficulty at first.
«My parents were farmers and we were four children, one big family. We helped him a lot with farm work. My father did not teach, but he gave me examples. I mean we're going to the vineyard at five in the morning and he'd tell me "My child, if you don't feel like reading, that's fine. You will become a farmer.". What teenager wants to get up at four in the morning? Farm work is tough, you have all weather conditions over your head. I made a decision that I would not participate from the first moment I went to plow the fields. I was a good student, truant, and took prizes. I have a problem. I didn't want the professor to tell me to "sit, unread". I couldn't stand it» reported at the beginning.
What did he do when he opened his first clinic with a loan and no one intervened for two months?
«I opened a clinic in Markopoulos 17-18 years ago, and took out a loan. I start the world before I go somewhere. Not a single person has set foot for two months. Someone entered once, and I had 20 in my pocket. I was glad we were going to have something…and he sold me an orthodontic. And I, because I was still at the beginning, bought this fish and 10 euros left. In the third month, the father who had paid me the first two rents told me he would not pay again. I was in Ceres with a group of people and we said Let's win the lottery. I didn't want to, I took it by force and I was the only one who won sThe lottery is 450 euros. That's how much I got out of my rent and I knew I wasn't supposed to close it. I now have a multi-specialty clinic with my best friends in 12 specialties. Because I lived in Athens, my circle was there. Crisis broke out and they asked me to find them in Athens. And my best friend and I decided to open a clinic in Kifisia. Even if we don't have a job, we'll have a great time."
He also described how he felt when he saw reports that he was wanted as the husband and father of Zita Makripolia's child..
«We laugh at the covers that want us to be associated with Zeta. There are two things you can do with these covers. You either laugh or wonder, "Did they print that? Did they cover it?". If you think about it calmly, do you wonder if it could turn into something more serious? While on friendship and love he said:
"I really believe in friendship and without my friends I would be a different person. I also believe in the power of love to distort the truthThat what you fell in love with was not what you thought, but what you wanted to see. The best thing about love is that it never asks you when it's coming or when you're ready. He has insane strength."
He explained how he had the unprecedented experience of being on Live Otherwise, alongside Sofia Liberty..
"Jones Kalimiris calls me and asks if I want to turn on the TV. I tell him "Should I turn on the TV?". We made an appointment, I really liked the concept and I liked it a lot. When they also told me the name of Sofia Liberty, with whom we were very attached three times, I was not interested in anything else.. I'm having a great time, so cute. I am ignorant of the danger, but I feel good because Sophia is by my side. He has a magical way of telling you which way to go with lots of love just by looking at him. I like and care about getting the information out right."
. "Certified social media geek. Passionate webaholic. Unapologetic music specialist. Food ninja."