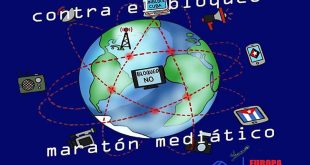 The effort will be sent 24 hours a day with complaints and claims for the cessation of the siege that has plagued the island for more than 60 years.
The marathon starts this Saturday at 8pm French time. (Photo: PL)
The European Left Party (PIE) and the American Solidarity Program for Peace, Pasters for Peace, will join the media marathon this Friday to condemn Washington's blockade of Cuba this weekend.
In its latest update on initiative participants, the Europa por Cuba channel features a two-hour, 24-hour uninterrupted delivery of goods in a marathon that starts at 8:00 pm French time this Saturday. The siege should be stopped as the island has been affected for more than 60 years.
The PIE celebrated the call and launched a solidarity and international call to join it, calling on the media, civil society associations, political forces, members of parliament and citizens on five continents to speak out against the United States in January. Economic, commercial and financial siege.
The European Left called the policy applicable to Cuba a criminal offense, violating human rights and international law, and demanded its immediate repeal.
Peace preachers also confirmed their participation in a video sent to a platform created in October 2020 to support the island and put an end to the siege and the occupation it faces.
The largest interfaith organization in the Antilles is desirable for its well-known caravans to provide assistance to Cubans in defiance of the hostile policy of their country's government, a program launched in 1992.
Over the past few hours, the Communist Party of Spain, Mexican intellectual Fernando Buen Abbott and French journalist Maurice Lomoine have joined the media marathon against the siege.
According to Europe for Cuba, a comprehensive list of media companies that have confirmed their contribution to the 24-hour effort includes news organizations Brenza Latina, Sana & Sputnik, Telesur, Hisbandiv, Al Mayadeen and Cubavision International Networks and ANTV. Of the Venezuelan National Assembly.
Radio stations such as Radio del Sur, Radio Patagonia, Radio Rebel and Radio Habana Cuba, the Latin American abstract of the publication and many traditional and alternative media confirmed their participation.
In terms of organizations, the list includes the Federation of World Trade Unions, the Latin American Network of Solidarity with Cuba, and the National and International Public Relations Council.
. "Professional creator. Subtly charming web advocate. Unapologetic problem solver. Devoted student."