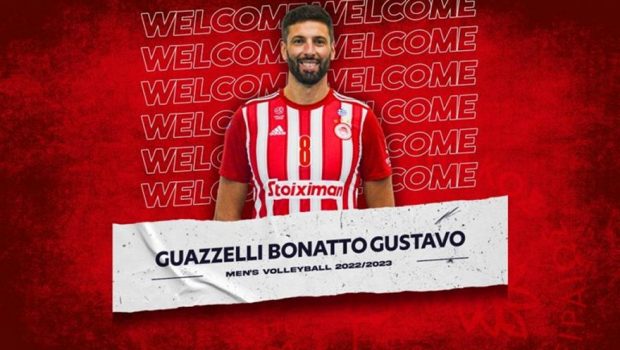 He threw … the S bomb Olympic! "Red and White" formalize the acquisition Gustavowith the Brazilian greatly strengthening Alberto Giuliani's team in Greece and in European Challenge Cup matches.
The Brazilian central made its first statements, expressing its joy at the move to the Grand Port.
Also read: The numbers give the answer: Mitchell 11 concrete and closed rotation made the change…
Piraeus declaration in detail:
SFP Olympian announces the start of its collaboration with Gustavo Guaselli Bonato (Gustavao). The Brazilian player (2.15m, born 2/1/1986) has signed his new contract and joins the club's men's volleyball team roster.
Gustavo, who has a long career in Brazil and a transfer from Argentina (2016-17), will compete for the second time in Europe, after his 'stint' at VC Greenyard Maaseik in Belgium, during which he emerged as the best blocker of the tournament. UEFA Champions League (2020-21)
Gustavo's statement on olympiacossfp.gr:
"I am very happy to be here, in the Olympiacos family. I have welcomed everyone so well and that makes me even more determined to help this great club achieve all the goals it has set for this season. I am looking forward to my first match in the Olympiacos shirt and to all the matches with our fans on the field.".
Previous teams:
2022 Joinville Volibrazil (Brazil)
2021-22 VC Greenyard Maaseik (Belgium)

2020-21 FIAT / Minas (Brazil)
2019-20 Sesc-RJ (Brazil)
2017-19 Sesi-SP (Brazil)
2016-17 UPCN Volley Club (Argentina)
2015-16 Sesi-SP (Brazil)
2010-15 Kirin / Campinas (Brazil)
2009-10 Sesi-SP (Brazil)
2007-09 Unisol / Joinville (Brazil)
2003-07 Fatima / UCLA (Brazil)
"Certified social media geek. Lifelong coffee aficionado. Passionate food buff."