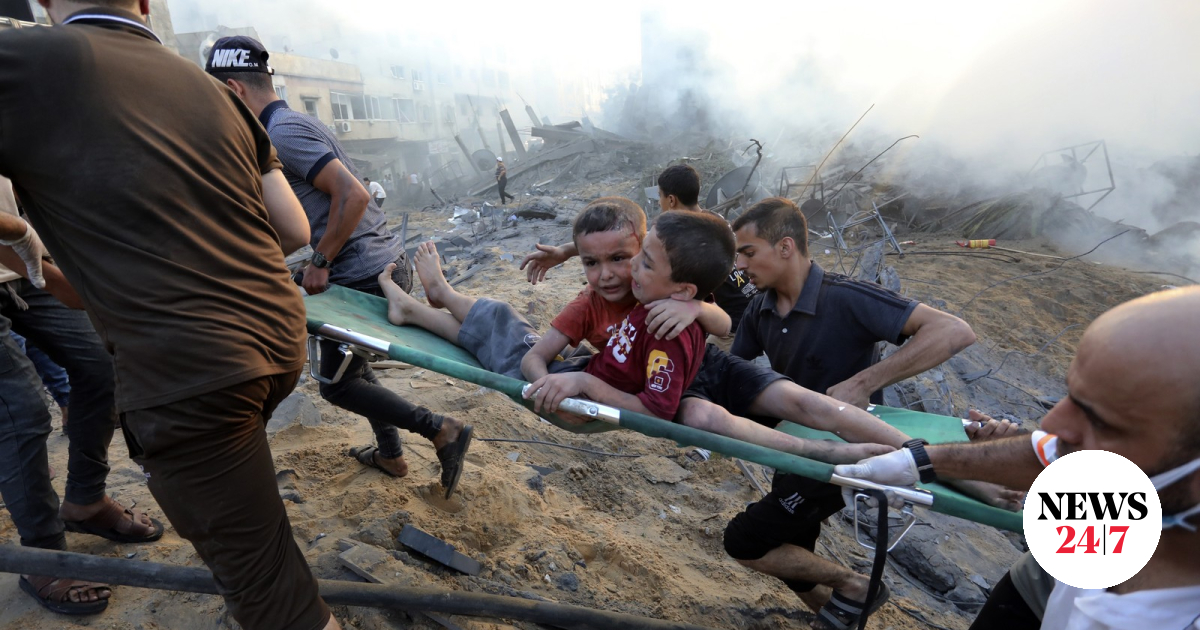 Greece's abstention from the UN referendum on the Gaza Strip puts the government in a difficult position:
On the one hand It does not want to spoil relations with Israel. But on the other hand She cannot easily justify her attitude Against the proposal for a humanitarian ceasefire in Gaza.
After all, a recent poll by the ETERON Institute showed that 43.3% of Greeks say they do not feel close to either side in the Israeli-Palestinian war, while 28.5% side with the Palestinians and 22.1% do. Israelis.
But among New Democratic voters, 42.5% say they side with Israel, but nearly the same percentage, specifically 42.2%, say they're on neither side.
Above all, however, the government cannot justify not voting in a body that our own country is appealing to, not only to defend its sovereign rights against Turkey's expansionist ambitions, but also to mediate in the Cyprus conflict.
Government excuses
After a barrage of reactions, the Ministry of External Affairs A communication crisis management initiativeIt also includes some logical stunts.
Diplomatic circles indicated that Athens held from the first moment "Equilibrium Posture" The real reason is hidden in this phrase.
However, the same sources stated that abstention in the context of the UN is by no means the same as voting against. They were actually saying that prohibition was…creative. It helps achieve a qualified two-thirds majority, with the argument that the country is not counted among those present.
It was also cited that most of the EU countries and in particular 15 countries abstained from voting with 8 voting in favor and 4 voting against.
Real reasons for abstinence
Obviously, of course, the government did not refrain from voting for a humanitarian ceasefire in Gaza… to help pass the resolution. But because this resolution was filed by the Arab countries His approval will make Israel sad.
The resolution was finally passed, although condemned by Israel and the United States, and did not mention Hamas in the text, with 120 votes in favor, 14 against, and 45 abstentions.
A non-binding resolution would "lead to an immediate, permanent and lasting humanitarian ceasefire, leading to a cessation of hostilities". as well as "immediate, complete, sustained, safe and unhindered humanitarian access". Israel has been called on to withdraw its order to evacuate northern Gaza.
It should be noted that during the recent meeting of the European Council, EU leaders struck a balance and sent messages to Israel about the need to resume political dialogue and a two-state solution. But they were not talking about a ceasefire but humanitarian channels.
Prime Minister Kyriakos Mitsotakis tried to act as a mediator with the Palestinian Authority by inviting Mahmoud Abbas, but at the same time he moved precisely in the logic of balance with Israel.
While this stance is a clear departure from the original line of unconditional support for the Netanyahu government, The government does not want to spoil cooperation with Israel, especially in the energy sector.
Erdogan's attitude and Ankara's flirtation with Hamas seem to have doomed the possibility of Israel-Turkey reconciliation.
Now the government wants to build a humanitarian corridor through Piraeus
A day after "avoiding embarrassment", diplomatic sources said our country was exploring the creation of a humanitarian sea route to transport essential goods to the region.
For this project, as they mentioned, the Greek government is directly discussing with interested parties, European partners and international organizations.
It is noteworthy that Greece is associated with the European Union's Civil Protection Mechanism. Waiting for the green light Transferring aid from Piraeus to Egypt and from there to the Palestinians Via the Rafah Pass.
Heavy fire from the opposition
Opposition parties criticized the Greek government's approach and demanded an explanation for the abstention.
SYRIZA leader Stefanos Kassalakis called it a "shameful day for Greek diplomacy, the Greek people and their history".
He noted among other things: "120 countries like France, Spain and Portugal took the side of peace. Mitsotakis is not Greece. We didn't vote.
In a statement, Syriza complains: "By withdrawing from the UN resolution for a ceasefire, Mr. Mitsotakis is turning Greece into a negative factor for peace".
Athens' approach to abstaining from voting in the UN General Assembly was criticized by PASOK's leader Nikos Androlakis. He mentioned that it is inconceivable that our government did not support the United Nations resolution for a humanitarian ceasefire in the Middle East yesterday. And he expressed his opinion: "Humanity must not enter into any equilibrium—geopolitical equilibrium".
The KKE accused the ND government of supporting Israeli massacres. The government: "is on the side of a 'bandit' and 'criminal' and is engaging the country in US-NATO programs on the side of Israel's military machine," he said. As he emphasized:
"There is no solution other than the creation of a sovereign, independent and viable Palestinian state. As of the 1967 borders, East Jerusalem is its capital. This is the only correct side of the story."
. "Professional creator. Subtly charming web advocate. Unapologetic problem solver. Devoted student."