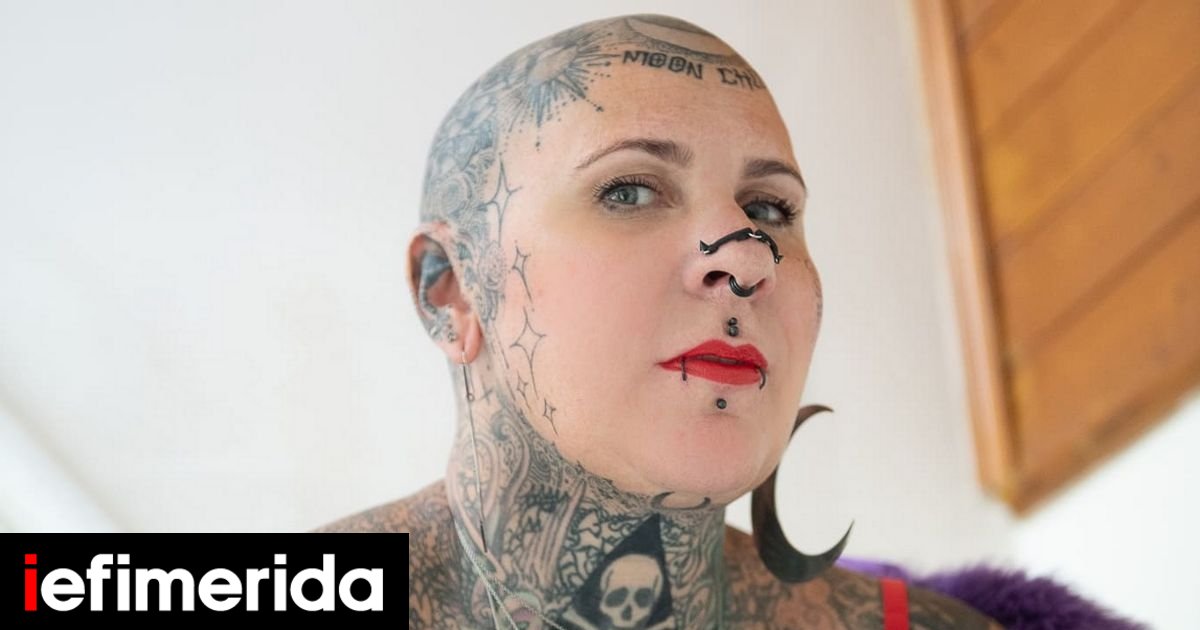 Keri Moon started her extreme journey in tattoo 15 years ago. She loves her look and says she "can't wait" to see what she'll look like in her 80s.
A mother of three who spent thousands of pounds tattooing her body has revealed her incredible transformation. In fact, she has left her call center job to pursue body modification.
Keri Moon, a 43-year-old mother who lives in West Sussex, is nothing like she used to be. Now, her body was almost completely covered in tattoos, and she also shaved her head.
This young lady gets a tattoo every week and sees what her body looks like now
A 56-year-old grandmother spent £25,000 getting tattoos all over her body [εικόνες]
How did the tattoo start?
Call center worker turned body piercer started tattooing 15 years ago. Keri has always considered herself an outsider and was a tomboy who grew up, but years later, she turned to extreme body tattoos as a way to "find herself" after a difficult breakup.
I've always loved body art and piercings. Today, she is in a relationship with Ben, 44, who is now her boyfriend and boss. Introduced her to the world of extreme body tattoos and now she has completely changed her look.
"As I approached the age of 30 and as my relationship with my son's father, Tyri, fell apart, I started doing more for myself, including more tattoos. I started tattooing more intensely without really thinking about it.
My tattoo artist, Ben, had just finished a design on the inside of my left arm and I was excited. It was the biggest piece I've ever made and I was in love with it.
I knew then that I wanted more and when Ben said "Hey, let's do a full sleeve. I've never done anything like that with a woman", that was the beginning of my adjustment journey."
Her tattoos are countless
From that moment that changed her life, Keri has not regretted modifying her body, as she now has too many tattoos to count.
Concerned about whether her tattoo would affect her work at the time, Keri explained: "At this point I was running a call center in Croydon and had to ask my employers' permission if it worked out. At that moment they agreed, as long as I can cover my hands during work and in meetings. "
But it wasn't long before she quit her call center job to do a complete body makeover.
"By the time I finished both sleeves I was obsessed, I knew that was who I was and how I was supposed to look, I also knew I wanted to be fully covered. If I could get into the industry myself that would be even better. So I left the call center to do an internship My tattoo professional, unfortunately that didn't work out, but what I did was get into the side of the body piercing."
In 2016, Kerry's tattoo artist opened his own shop, so she joined his team — starting as a receptionist and working her way up to body piercing.
She found her new identity through tattoos
Although it was a dark period in Keri's life, she believes that leaving their relationship ten years ago allowed her to find her true identity.
"Before my transformation I didn't feel much to be honest. Just a normal girl living a normal life."
"I've always loved the world of tattoos, and I think changing my life, leaving a ten-year relationship since I was young, felt like I had found myself."
Keri's intense tattooing journey began 15 years ago, but she got her first tattoo when she was just 17 years old.
When asked if she knows the cost of her body changes over the years, she said, "I really don't know how much a change cost me, maybe a few thousand, it's hard to estimate because I haven't paid for any alterations since 2016. I've had modifications for 15 years and still Ongoing, so that's proof that it's a real commitment."
After spending hours in a chair, Keri reveals which parts of the body are most affected when tattooing: "There are a lot of places that really hurt, my ribs, my hips, my armpits, the backs of my knees, the inside of my thighs, my thumbs, it seems like the older I get the more pain."
Keri gets mostly positive feedback on her tattoos, but she says the most polarizing part is her head tattoo.
"In real life, it's mostly positive, if someone approaches me to talk to me, it's generally because they are interested in the way I look," Kerry said.
"A lot of people are afraid of me."
"A lot of people say they find me intimidating until they talk to me and realize I'm just a normal person. The tattoo on my head is a bit like a marmite, you either love it or you hate it."
Keri says her children are not bothered by her tattoos and see her as a mother above all else. She admits that sometimes other moms stare at her, but once they know her, they're just a part of her.
"None of my children have been bullied or influenced by tattoos or earrings," Kerry adds.
"My little kids don't know anything different, I've always looked like this and look different from other parents. All three said they wanted a tattoo, and it seemed like there was a long wait for the two youngest and they might change their minds as they get older."
I'm proud of the way I look, I love the way I look, I'll never be ashamed, and for all the people who ask me what I'm going to look like when I'm 80, well, I can't wait to find out.
I hope to be the weird old lady with the tattoo. I've been committed to my body for 15 years, and haven't done it on a whim or for fashion reasons.
I did it because I love it, I love the industry, I love art, I love the way the tattoo world is always evolving, and so do I, I don't and will never regret my edits."
follow her on Google News and be the first to know all the news
Find the latest news from Greece and the world at
. "Certified social media geek. Passionate webaholic. Unapologetic music specialist. Food ninja."